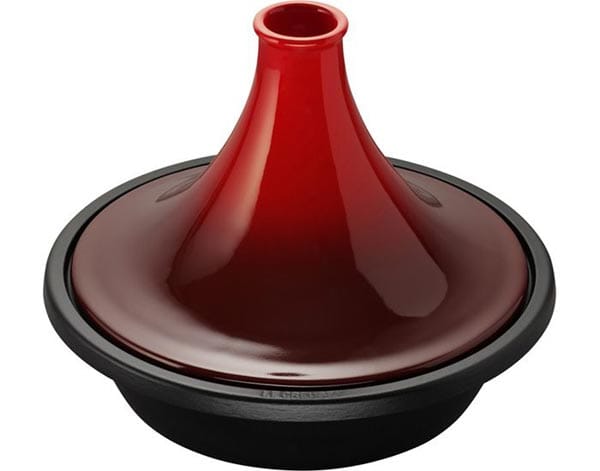 UPDATE: The winner is Annie W.
I am partnering with my friends at Le Creuset to giveaway a 2 Qt. Le Creuset Moroccan Tagine, MSRP: $199.95
The tagine is the traditional cooking vessel for the slow-cooked dishes of North Africa that share its name. These fragrant stews can be sweet, spicy, or savory (or some combination of the three), meaning there is a tagine recipe out there for just about everyone. The lush, layered flavor of a tagine is due not only to the ingredients, but also to the vessel itself. The conical lid captures and recirculates rising steam, keeping the stew tender as it cooks. Not only does this iconic shape serve a purpose, it also makes for an unforgettable presentation at the dinner table.
Traditionally, the tagine was placed on top of burning embers to cook over low heat. Our updated version includes a durable cast iron base, which cooks food evenly and allows for browning meats and vegetables over high heat.
Features:
The cast iron base is designed for browning vegetables and meat on the stovetop
Durable interior enamel requires no seasoning
Stoneware lid circulates heat and moisture
GIVE US SOME LOVE!
Like Rasa Malaysia on Facebook. (Click on the Like button below.)