5 Wishes, 5 Questions, and 5 Reasons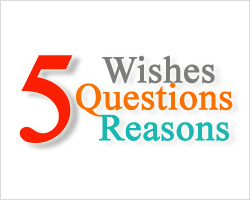 http://rasamalaysia.com/5-wishes-5-questions-and-5-reasons/
5 Wishes, 5 Questions, and 5 Reasons
I was tagged by Da Wheel of Life and Happiness about 5 Wishes, 5 Questions, and 5 Reasons. I guess it's time Rasa Malaysia readers know more about me…
5 Wishes This Year:
I wish to visit more Unesco World Heritage sites this year; for example: Hoi An in Vietnam, Lijiang in Yunnan, China, and Luang Prabang in Laos.
I hope to buy my new dream car end of this year. Can you guess what is it? Clues: It starts with a B, and it's topless!
I hope Rasa Malaysia continues to grow in terms of popularity and readership. (Thanks everyone for your kind support and encouragement!)
I love tropical islands. The clear blue sky, aquamarine water, and gentle sea breeze always make me deliriously happy. Hopefully I will get to go to Maldives this year.
Last but not least, I wish all my loved ones are blessed with great health (and wealth) this year.
5 Questions:
5 Reasons Why I Blog:
I want the world to learn more about Malaysian food.
I love to cook (and eat, too).
I am passionate about digital photography (a wannabe!).
I am conveniently addicted to the internet.
Most importantly, I want to document all my favorite recipes, especially those from my family.
You Might Also Like These Recipes Below:
LOVE THE RECIPE & PHOTOS? PLEASE SHARE:
Sign Up for Email Updates
Enter your email for new updates: recipes, giveaways, and more!