Almost Famous? Or Maybe Not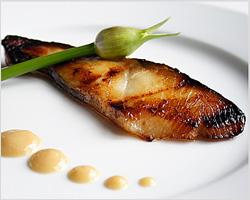 http://rasamalaysia.com/almost-famous-or-maybe-not/
Almost Famous? Or Maybe Not
I am slow when it comes to tracking incoming links to Rasa Malaysia so it came as a very pleasant surprise when I realized that Serious Eat featured my Nobu-inspiredBlack Cod with Miso as "Required Eating." WOW, that's nice!
I would like to take this opportunity to thank the kind editor at Serious Eat for spotlighting my creation and your link love. Terima kasih banyak banyak (thank you very much in Malay)! Do come back and visit my humble blog again…
On a related note, my idol Chubby Hubby is also featured on Serious Eats. Click here for the complete article to find out what he likes to eat and what he thinks of Malaysian street food. (Hint: If you are a fan of his and a Malaysian, you will love him even more now!)
Talking about link love, one of my favorite food blogs Cookthink also wrote some very kind words about Rasa Malaysia. Hop over there now but please bring along some Kleenex as you will be drooling over their food pictures, so consider yourself warned.
Have a great weekend and happy eating!
You Might Also Like These Recipes Below:
No similar posts.
LOVE THE RECIPE & PHOTOS? PLEASE SHARE:
Sign Up for Email Updates
Enter your email for new updates: recipes, giveaways, and more!