Asian Tofu Cookbook Giveaway (CLOSED)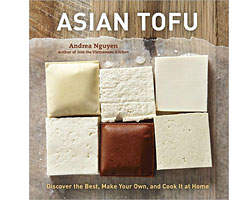 http://rasamalaysia.com/asian-tofu-cookbook-giveaway/
Asian Tofu Cookbook Giveaway (CLOSED)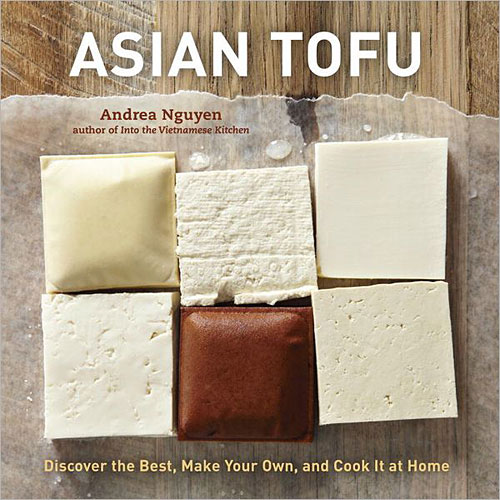 Update: The winner is Tyra G.
Following the tahu bakar recipe post, you can enter to win Andrea Nguyen's cookbook Asian Tofu: Discover the Best, Make Your Own, and Cook It at Home. There will be one (1) winner whom will receive one (1) copy of Asian Tofu: Discover the Best, Make Your Own, and Cook It at Home by Andrea Nguyen. The retail value of Asian Tofu: Discover the Best, Make Your Own, and Cook It at Home by Andrea Nguyen is US$30.
About Asian Tofu: Discover the Best, Make Your Own, and Cook It at Home
From sleek, silken tofu with delicate toppings to piping-hot fried satchels in a robust sauce, tofu provides a versatile canvas for the intricate flavors and textures that Asian and vegetarian cooks have long enjoyed. America has embraced tofu as a healthy, affordable ingredient. And while it has been welcomed into sophisticated mainstream dining, tofu is often hidden in Western guises and in limited applications. In her third intrepid cookbook, celebrated food writer and teacher ANDREA NGUYEN aims to elevate this time-honored staple to a new place of prominence on every table.
Asian Tofu's nearly 100 recipes explore authentic,ancient fare and modern twists that capture the culinary spirit of East, Southeast, and South Asia. There are spectacular favorites from Japan, Korea, Thailand, Singapore, and India, as well as delicious dishes from Taipei, San Francisco, Santa Monica, and New York. Andrea demystifies tofu and interprets traditional Asian cuisine for cooks, sharing compelling personal stories and dispatches from some of the world's best tofu artisans along the way.
For those who want to take their skills to the next level, the tofu tutorial clearly outlines tofu-making technique, encouraging readers to experiment with the unparalleled flavors of homemade varieties. But time-pressed cooks needn't fear: while a few recipes, such as Silken Tofu and Seasoned Soy Milk Hot Pot, are truly best with homemade tofu, most are terrific with store-bought products. Some traditional dishes combine tofu with meat in brilliant partnerships, such as Spicy Tofu with Beef and Sichuan Peppercorn and Tofu with Kimchi and Pork Belly, but this collection is predominantly vegetarian and vegan, including the pristinely flavored Spiced Tofu and Coconut in Banana Leaf and vibrant Spicy Lemongrass Tofu Salad. And innovations such as Okara Doughnuts reveal tofu's more playful side.
For health- and eco-conscious eaters and home chefs who are inspired to make the journey from bean to curd, Asian Tofu is the perfect guide.
Asian Tofu: Discover the Best, Make Your Own, and Cook It at Home can now be purchased at all major bookstores and online stores such as Amazon.com, Barnes & Noble, Book Depository, etc.
About the Author
Andrea Nguyen is one of the country's leading voices on Asian cuisine and the author of the acclaimed Asian Dumplings and the James Beard– and IACP-nominated Into the Vietnamese Kitchen. She has written for Saveur magazine, where she is also a contributing editor, the Los Angeles Times, and many more publications. She is also the creator of the Asian Market Shopper app. Her engaging and knowledgeable writing on cuisine and culture has attracted a loyal and well-deserved readership that actively follows her blog, www.vietworldkitchen.com. Andrea lives in Santa Cruz, California.
To enter to win, just enter your name and email address using the entry form below. Please don't forget to click on the "Submit" button.
Eligibility
US and Canada
Closing Date
May 20, 2012, 11:59 pm PST. Winner will be randomly selected and contacted via email on May 21, 2012.
Number of Entries
You can enter every day using the entry form. One entry per day strictly enforced; comments left on Facebook do not count as entry to this giveaway.
Bonus Entries
.
The New Entry Form
If you're a regular on Rasa Malaysia, I'm sure you noticed that my comment system was down when the KitchenAid giveaway reached over 5,000 entries and you couldn't enter a comment to win.
This new entry form will be able to handle many entries without breaking my site. All entries will be stored in my website database and you will have a fair chance of winning.
Sign Up for Email Updates
Enter your email for new updates: recipes, giveaways, and more!