Bean Sprouts with Tofu Puff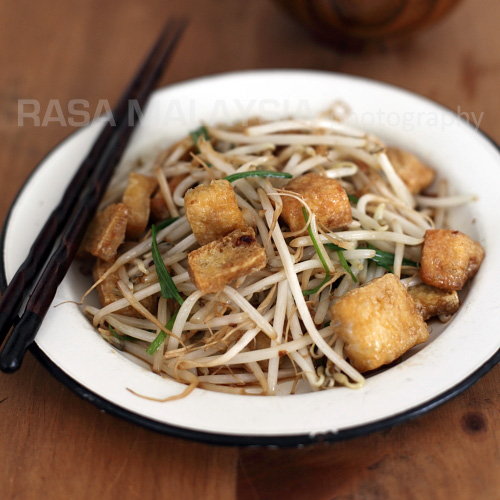 http://rasamalaysia.com/bean-sprouts-recipe/
Bean Sprouts with Tofu Puff
Happy New Year! I hope everyone has had a fun and festive celebration and I wish you all a great 2010.
Following my Teochew porridge post on preserved turnip eggs (菜圃蛋), I would like to share with you yet another simple dish that goes well with porridge—bean sprouts with tofu puff. My father loved bean sprouts with bean curd (tofu) but I actually prefer my bean sprouts stir-fried with tofu puff. I just love the idea of tofu puff because of its spongy texture, and that it tends to soak up the flavor of the other ingredients.
Bean sprout, or properly known as mung bean sprout, is a healthy food that is loaded with vitamins, minerals, and it's absolutely cholesterol free. It's used extensively in Asian food—in noodles, stir-fries, and vegetarian dishes. However, as good as it sounds, bean sprouts are not common outside of Asia. The crunchy and refreshing good taste are pleasing and it's a taste that is easy to acquire.
This bean sprouts recipe is good with either porridge or steamed rice. It's super easy to prepare and you can make it with salted fish, too, if you like. Otherwise, substitute tofu puff with bean curd (tofu) for a more substantial meal.
Sign Up for Email Updates
Enter your email for new updates: recipes, giveaways, and more!