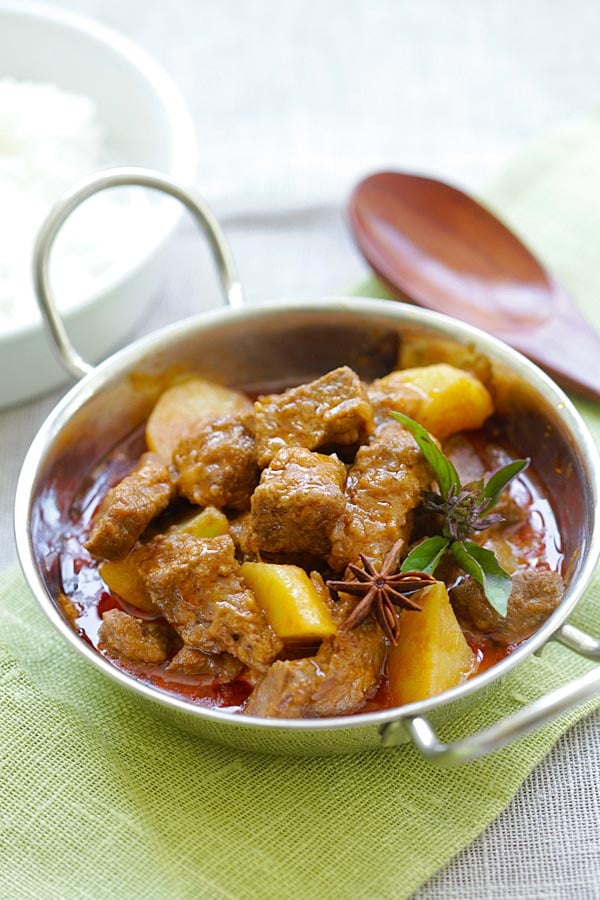 Beef Massaman Curry
Beef Massaman Curry – crazy delicious Thai beef massaman curry. Learn how to make massaman curry with this easy and fail-proof recipe.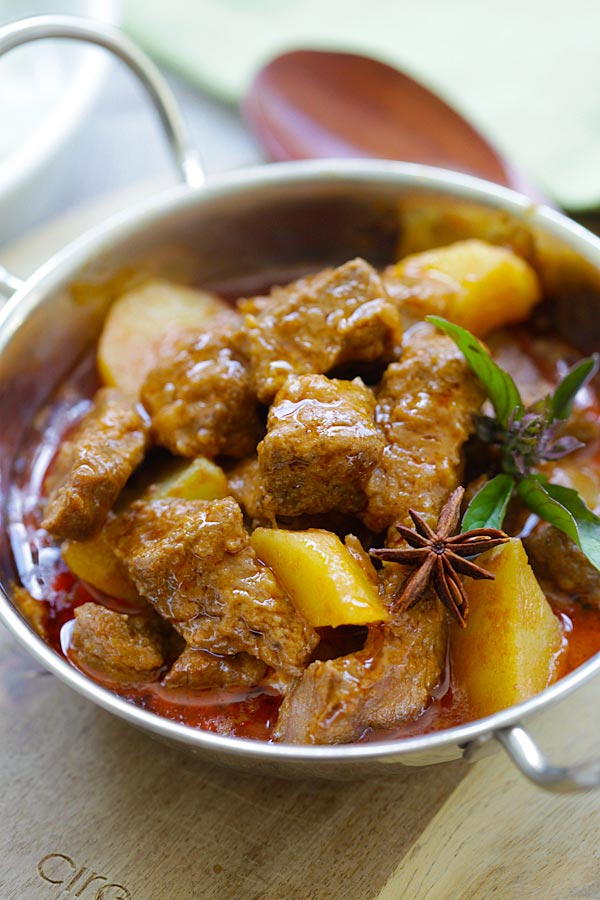 Massaman curry is a popular Thai curry that is rich in flavor. It's made with coconut milk, beef, potatoes and peanuts. While you can make the Massaman curry paste from scratch, a store-bought curry paste works just fine. It's very convenient and delivers amazing and authentic results.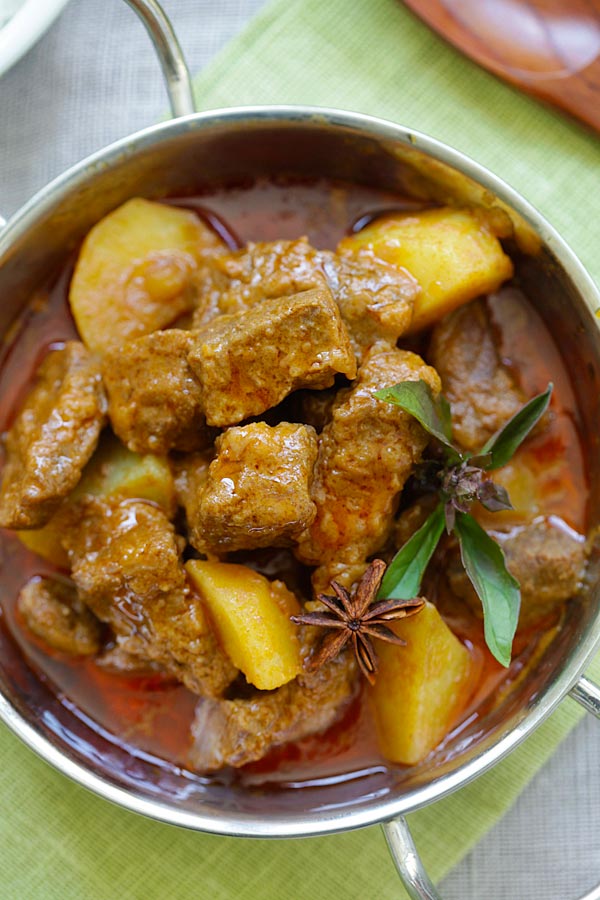 This recipe does take a bit of time to cook as you want to slowly cook the beef so it becomes tender, soft, and melt in your mouth. Be rest assured, the active time is actually really short, so you can watch TV, read a magazine while waiting for the massaman curry to cook.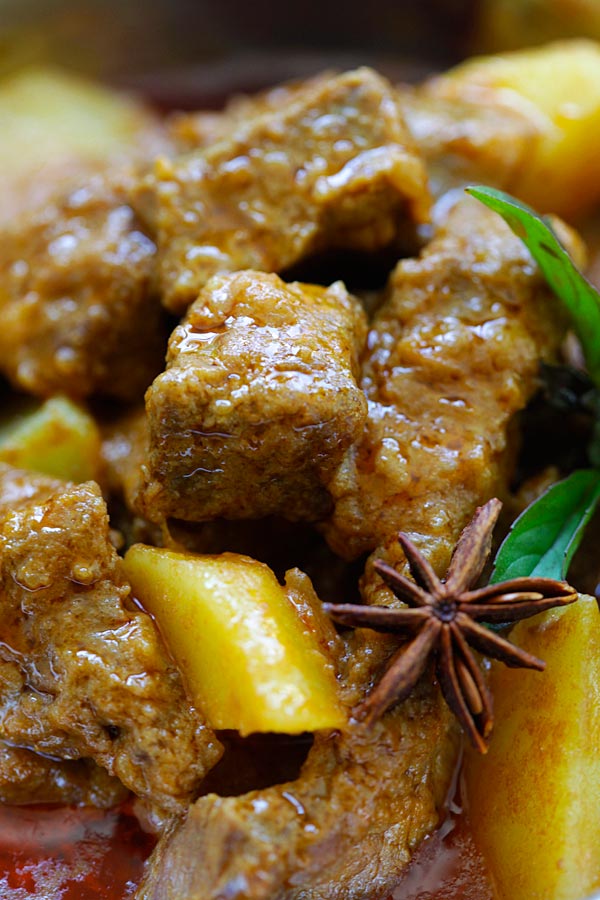 Do try this massaman curry which is from Taste Buddies. Enjoy!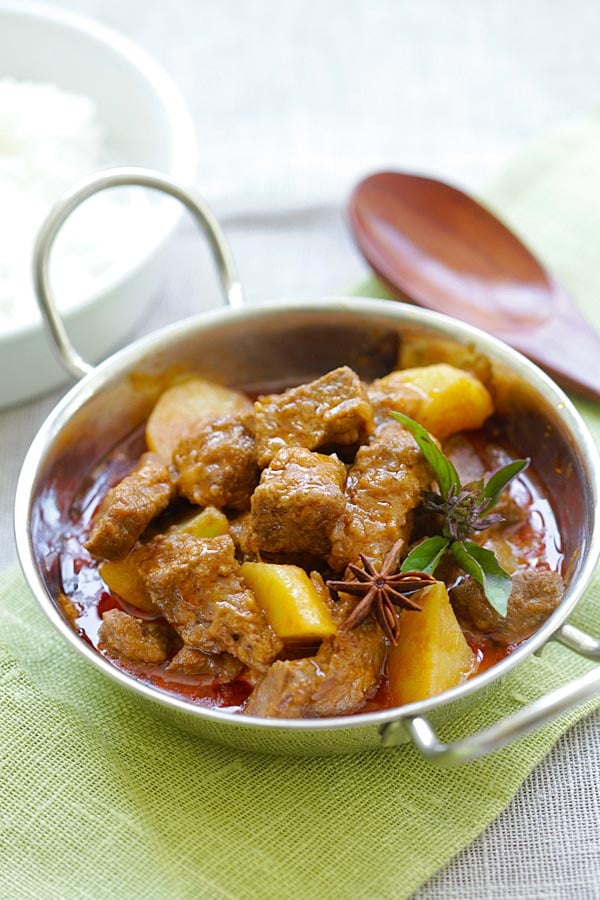 Beef Massaman Recipe
Serves 4 | Prep Time: 15 Mins | Cook Time: 90 Minutes
Ingredients:
1 1/2 pounds cubed chuck beef or stewing beef
3 tablespoons Massaman curry paste
10 green cardamom seeds
2 cinnamon sticks
3 star anise
8 small shallot onions, peeled
2 small cans (5.6 fl oz) coconut milk
1 cup water
2 1/2 tablespoons fish sauce or to taste
5 new potatoes, peeled and halved
1/2 tablespoon tamarind paste
2 tablespoons palm sugar or brown sugar
4 tablespoons unsalted roasted peanuts
2 tablespoons cooking oil
A handful of fresh Thai basil leaves
Method:
1. Coat beef in 1 tablespoon of oil and massaman curry paste. Stir well and set aside.
2. In a large pot, heat remaining oil over medium heat. Stir-fry the cardamom, cinnamon and star anise for 40 seconds. Add the whole shallots and fry until golden brown.
3. Add the beef and brown for 1-2 minutes. Stir to mix well with the spices.
4. Add 1 can of coconut milk, 2 tbsp of fish sauce and 1/2 to 1 cup of water until the beef is just covered by the liquid. Stir well and then bring to the boil. Once boiling, turn heat down very low and cover. Gently simmer for 1 hour.
5. Add the remaining can of coconut milk, potatoes, peanuts and half the basil leaves. Stir well. Taste and add a little more fish sauce if necessary.
6. Turn heat up to medium-low and cover. Cook for another 30 minutes or until potatoes are tender.
7. Once the potatoes are cooked, remove the curry from the heat. Stir in the palm sugar, tamarind juice and remaining basil. Stir well and serve the curry with steamed rice.
Most-Pinned Recipes
Ginger Garlic Baked Chicken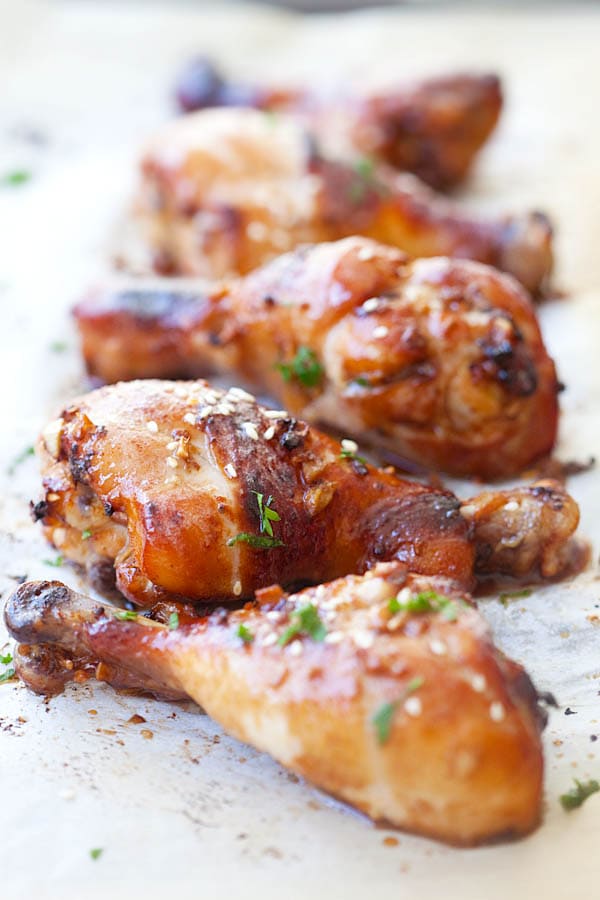 Crab Rangoon (Cream Cheese Wontons)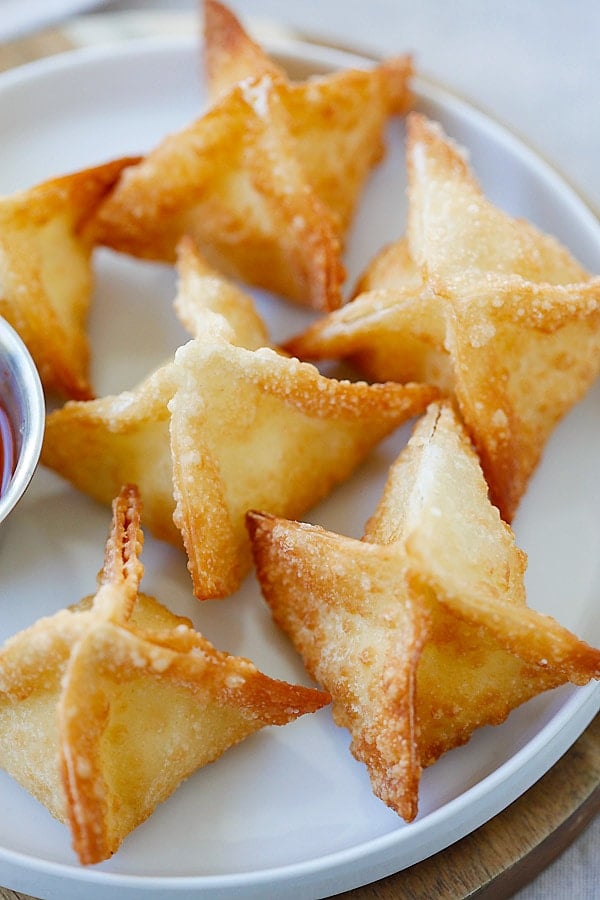 Chicken Wontons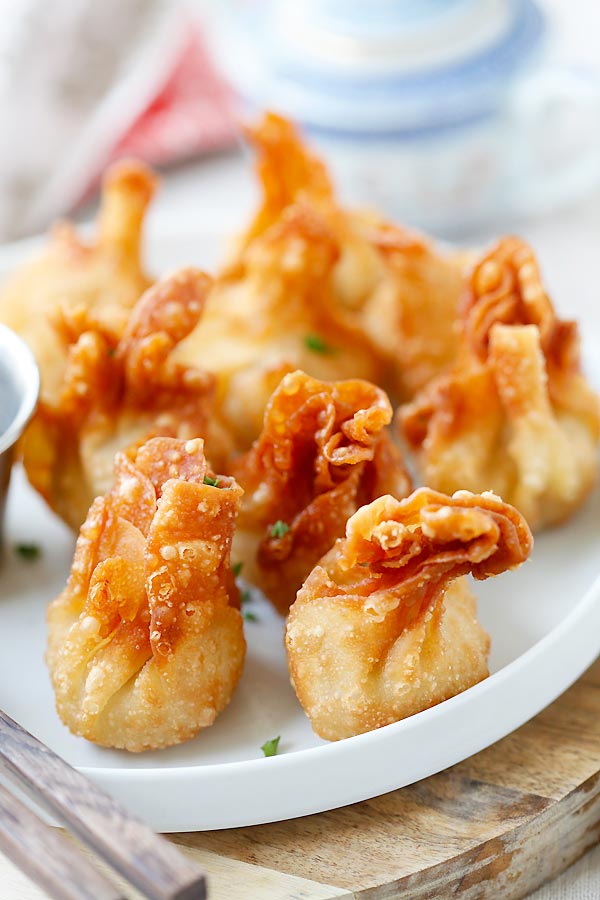 Onion Scallion Beef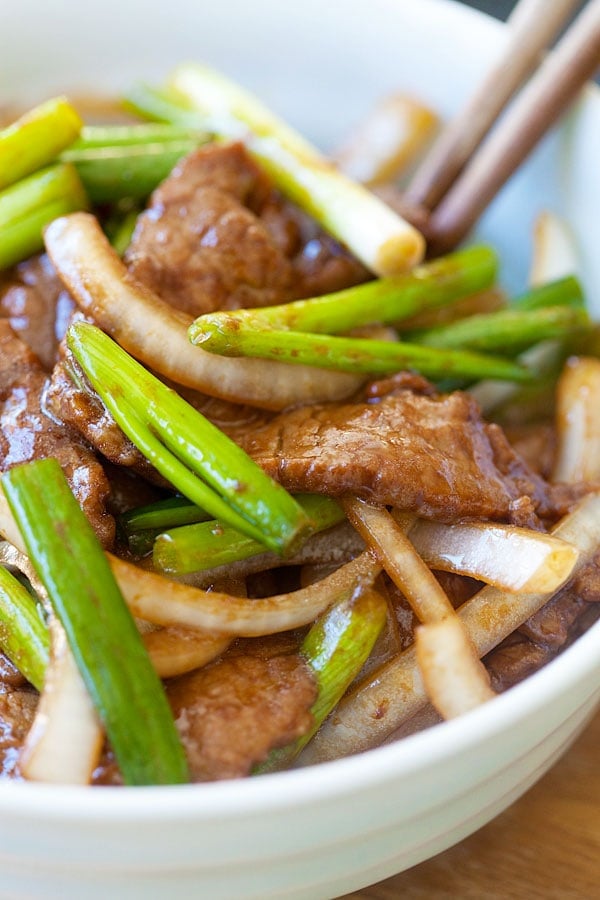 Thai Chicken Sate with Peanut Sauce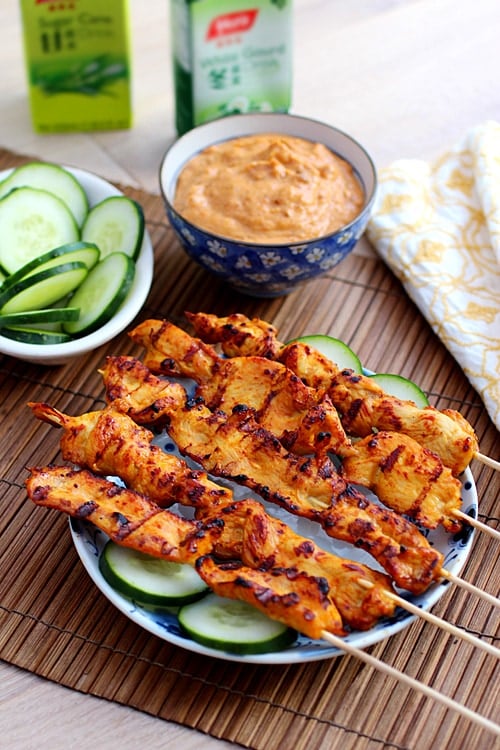 Thai Peanut Sauce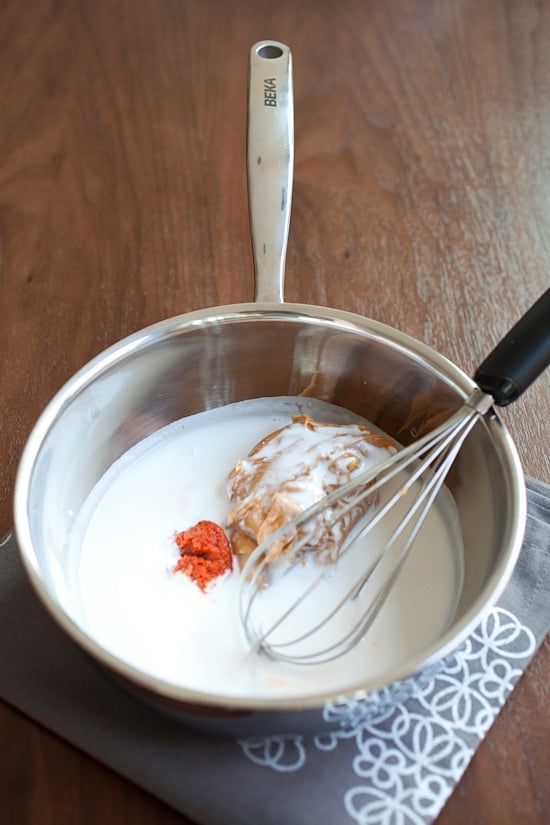 Limited Time Offer: $5.99 only. Available for download WORLDWIDE!
**Use it on Your Tablet, Mobile Phone, Desktop or Laptop**
Copyright © 2016 Rasa Malaysia. All rights reserved.