Beef Satay with Spicy Peanut Sauce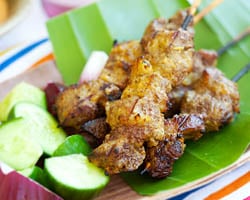 http://rasamalaysia.com/beef-satay-recipe/
Beef Satay with Spicy Peanut Sauce
As I have mentioned in my Beef Panang post, I have saved a couple of juicy pieces of top sirloin sponsored by my friends at TX Bar Organics for an upcoming recipe, which is this one. Top sirloin is a very versatile cut of beef that can be enjoyed as a nice juicy piece of steak, sliced up for a beef stir-fry, or diced up, skewered and grilled ala shish kebabs or satay. Since I am in the mood for an appetizer, I decided to use it to make some Malaysian-style Beef Satay.
I would say Satay is undisputably Malaysia's "King of Street Foods". It is enjoyed by people from all walks of life, regardless if you is looking for a light appetizer or a complete meal. It is the perfect item to order, especially when you're out with a group of friends. And it will definitely impress anyone that you are introducing Malaysian street food to for the first time.
Just as Ampang is famous for Yong Tau Foo and Klang for Bak Kut Teh, Kajang is another town in the State of Selangor that is famous for a signature street food – Satay. Kajang Satay is renowned for it's signature Satay sauce and slightly larger portion of meat among other secret ingredients used that have yet to be made public. I am sure it's a closely guarded family secret just like KFC's 11 herbs and spices. Anyway, nowadays you don't have to make a special trip to Kajang just for the Satay as more and more Kajang Satay outlets are springing up all around Malaysia. If you are jonesing for some Satay right at home, you can always follow my recipe to satisfy your craving instead.
Click Images Below for Similar Recipes:
LOVE THE RECIPE & PHOTOS? PLEASE SHARE:
Sign Up for Email Updates
Enter your email for new updates: recipes, giveaways, and more!