Beka Clean Cooking Fry Pan Giveaway (CLOSED)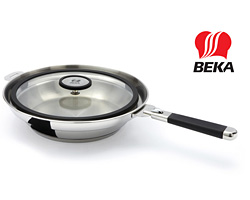 http://rasamalaysia.com/beka-clean-cooking-fry-pan-giveaway/
Beka Clean Cooking Fry Pan Giveaway (CLOSED)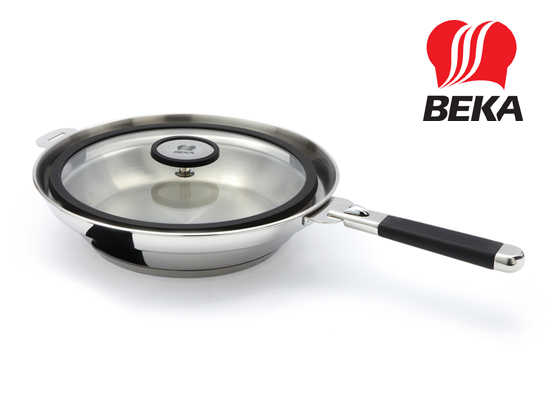 Update: The winner is Mauro S.
I'm partnering with my sponsor Beka Cookware to giveaway a Clean Cooking Fry Pan with Anti-Splatter Lid and Removable Handle. There will be one (1) winner whom will receive one (1) Beka Cookware Clean Cooking Fry Pan with Anti-Splatter Lid and Removable Long Handle (MSRP: $130).
Everyone loves the flavor, color and caramelization that frying and roasting imparts to foods, but no one enjoys cleaning up the mess that is left over. Now greasy spatters and the messy clean up they cause are a thing of the past thanks to the unique pan and anti-spatter lid design of Beka's Clean' Cooking fry pan.
The problem is how to put a lid on a fry pan without producing the soggy results that the trapped steam will produce. Using scientific research Beka engineers discovered that during frying grease particles are always projected in a straight line. Using their data, the engineers went on to design a pan with a gradient that projects grease particles towards the center of the pan. Next they designed a lid with six small feet around its edge that rest on the curved rim of the pan leaving a gap through which steam can escape and air can circulate. This design traps the messy spatters inside the pan while producing perfectly fried and seared foods that are done to perfection.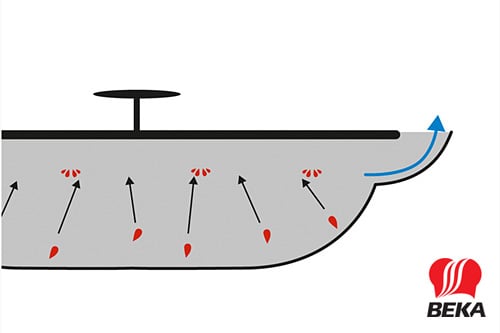 "It may look like just another pan but the Clean' Cooking fry pan provides a unique way to fry foods without all the mess," says Adelheid Deltour, President of Beka International. "Everyone loves the flavors that are produced by frying and searing but no one likes the clean-up afterwards. This design allows the ventilation needed to prevent steam build up producing crispier foods without creating a big mess."
The Clean' Cooking fry pan is constructed from long lasting stainless steel with an encapsulated aluminum base for greatly improved heat conduction. It is available in both 9.5 inch and 11 inch diameter sizes and includes removable handles that easily clip on and off for easier storage. It is compatible with all cooking surfaces including induction.
Like all Beka cookware, these pans are built to last using the highest quality materials and the latest in high-tech Belgium design techniques. All Beka cookware is designed to enhance the cooking process, and save energy with materials and construction that diffuse and store heat for even, fast cooking.For more information about Beka's extensive line of gourmet cookware please visit their website at www.beka-cookware.com.
Eligibility: United States only. Closing Date: December 31, 2013, 11:59 pm PST. Winner will be randomly selected and contacted via email on January 1, 2014. The prize is proudly sponsored by Beka Cookware.
Other Amazing Prizes & Giveaways:
Click Images Below for Similar Recipes:
LOVE THE RECIPE & PHOTOS? PLEASE SHARE:
Sign Up for Email Updates
Enter your email for new updates: recipes, giveaways, and more!