Beka Tri-Lux Conical Saucepan Giveaway (CLOSED)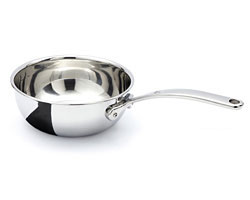 http://rasamalaysia.com/beka-tri-lux-conical-saucepan-giveaway/
Beka Tri-Lux Conical Saucepan Giveaway (CLOSED)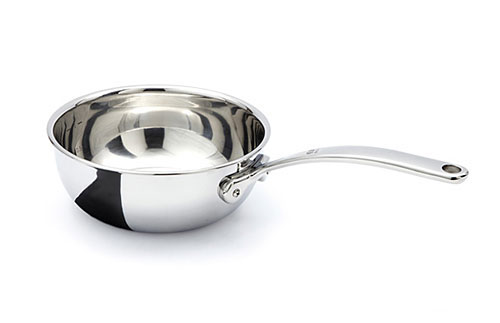 Update: The winner is Ratana K.
I am partnering with my friends at Beka Cookware to give away a Tri-Lux conical saucepan. There will be one (1) winner whom will receive one (1) Beka Tri-Lux conical saucepan. I have recently used this amazing saucepan to make an easy Thai peanut sauce.
Pots and pans serve a very basic function in the cooking process – transfer the heat from the cooking surface to the food that they contain. The efficiency and speed at which they can accomplish this task will determine how much energy and time will be required to cook the food. Beka's new Tri-Lux line of cookware uses a unique Tri-ply construction that utilizes the superior heat conductivity of aluminum and the beauty and strength of stainless steel to create cookware for the chef who likes to save time and energy when cooking.
"The Tri-Lux line is engineered to take advantage of the best attributes of both aluminum and stainless steel," says Robert Trinque, Vice President of Sales and Marketing for Beka North America. "The result is a beautiful piece of cookware that heats faster, distributes that heat more evenly and retains heat longer."
The exterior and interior of each piece of the Tri-Lux line is constructed using the finest stainless steel polished to a mirror finish. Encapsulated inside this stainless steel exterior is a thick layer of aluminum providing the benefits of aluminum's greater heat conductivity and the long lasting durability and beauty of stainless steel. This special construction means Tri-Lux cookware heats more quickly, distributes that heat more evenly and retains it longer than conventional pots and pans.
Tri-Lux handles are constructed of cast steel that is ergonomically designed to fit the users hand perfectly and welded for easy cleaning. The interior of each pot is inscribed with capacity markings that make it easy and quick to add ingredients without the need for a measuring cup. Dishwasher safe, the Tri-Lux features easy pouring thanks to a specially designed closed pouring rim.
Like all Beka cookware, these pans are built to last using the highest quality materials and the latest in high-tech Belgium design techniques. All Beka cookware is designed to enhance the cooking process, and save energy with materials and construction that diffuse and store heat for even, fast cooking.
Eligibility: United States only. No purchase necessary and subject to this official giveaway rules. Closing Date: Feb 23, 12:00 am PST. Winner will be randomly selected and contacted via email on Feb 24, 2014. The prize is proudly sponsored by Beka Cookware.
Sign Up for Email Updates
Enter your email for new updates: recipes, giveaways, and more!