Braised Chicken with Carrot and Mushroom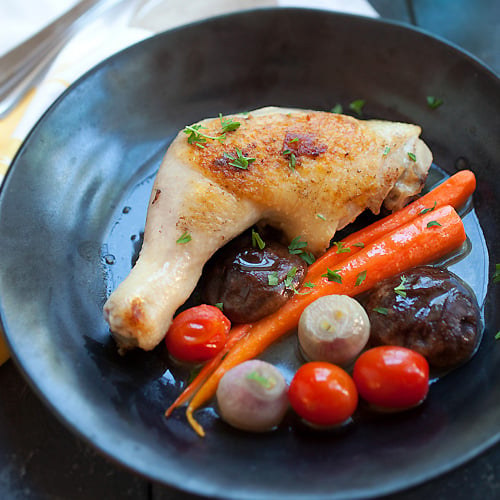 http://rasamalaysia.com/braised-chicken-recipe/
Braised Chicken with Carrot and Mushroom
It goes without saying that I love cooking. However, just like everyone else, I don't like the "aftermath" of cooking—oil splattering all over my cooktop (even my hands), greasy kitchen backsplash, countertop, and kitchen floor. I don't enjoy the clean-up because as a clean freak, I pretty much have to mop my entire kitchen every time after I cook. Not fun.
So, I am thrilled to be working with Beka Cookware on its new Clean Cooking Fry Pan with Anti-Splatter Lid. I got the fry pan a few days ago and yesterday, I tested it out with my favorite braised chicken with carrot and mushroom. I usually make this dish with a French Oven, but Clean Cooking fry pan is a perfect alternative.
First I pan-fried the chicken, and then I braised it over low heat. The braised chicken was absolutely scrumptious, crispy on the outside while tender and moist on the inside…the best thing of all, my kitchen countertop and cooker hobs were clean with no messy spatters everywhere. It was amazing!
I love Beka Cookware Clean Cooking Fry Pan and its unique lid which sits low on the fry-pan. Regular lids often trap too much steam and as a result render the food soggy, or worst still, set off even more spatters as the steam/water drops back into the pan. The engineers at BEKA Cookware came out with an innovative design that allows air to circulate while controlling the spatters from frying or searing. The design also allows the ventilation needed to prevent steam build up and thus producing perfectly fried and seared foods that are done to perfection, without creating a big mess!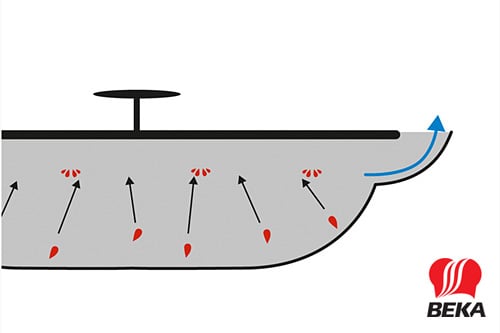 Without further ado, let's start cooking with Beka Cookware with my braised chicken with carrot and mushroom recipe. This dish is perfect and hearty for Fall/Winter. With Beka Cookware, you can actually spend more time with your family, instead of in the kitchen cleaning. Please stay tuned for the giveaway of Clean Cooking Fry Pan later this week…one lucky reader will be walking away with the pan!
About Beka Cookware
Founded in 1899, Beka Cookware combines over 100 years of engineering excellence with a young and ambitious spirit. This experience and determination has given birth to the brand new Eco-Logic cookware utilizing high-tech Bekadur non-stick coatings to promote healthier lifestyles and a safer environment. Using quality materials and the latest in advanced manufacturing processes Beka creates products that are built to last while setting new standards in the cookware industry.
Buy Beka Cookware Products: http://www.beka-cookware.com/
Like Beka Cookware at Facebook: https://www.facebook.com/BekaCookware
Follow Beka Cookware Pinterest Boards: https://www.pinterest.com/BekaCookware/
Subscribe to Beka Cookware YouTube: http://www.youtube.com/BekaCookware
Click Images Below for Similar Recipes:
LOVE THE RECIPE & PHOTOS? PLEASE SHARE:
Sign Up for Email Updates
Enter your email for new updates: recipes, giveaways, and more!