Bubur Cha-Cha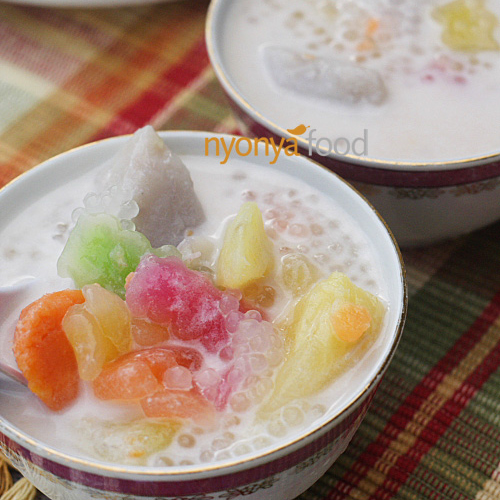 http://rasamalaysia.com/bubur-cha-cha/
Bubur Cha-Cha is probably one of the more well-known Nyonya desserts, so much so that they are commonly found in Hong Kong/Cantonese-style cafes. Even here in the United States, I can find it on the menu of some Asian cafes as Nanyang Bubur Cha-Cha or 南洋摩摩喳喳. Nanyang means "south of sea," generally known as Southeast Asia in Chinese…
Each country in Southeast Asia has its own variation of this dessert—a medley of sweet potatoes (in yellow, orange, and purple color), yam (taro), black-eye peas, etc., cooked in a sweet coconut milk base. Bubur cha cha is a colorful and sweet dessert, and is generally prepared during festive seasons in Penang, and a must have on Chap Goh Meh (the 15th and last day of Chinese New Year). My aunt loves making Bubur Cha-Cha; she is immaculate when it comes to the balance of colors and its presentation. She would make a pink color tapioca jelly to complement the yellow, orange, and purple color in her bubur cha-cha. To me, the tapioca jelly—chewy and stretchy in its texture—is the best part of it all, I love it more than the sweet potatoes and yam.
Click Images Below for Similar Recipes:
LOVE THE RECIPE & PHOTOS? PLEASE SHARE:
Sign Up for Email Updates
Enter your email for new updates: recipes, giveaways, and more!