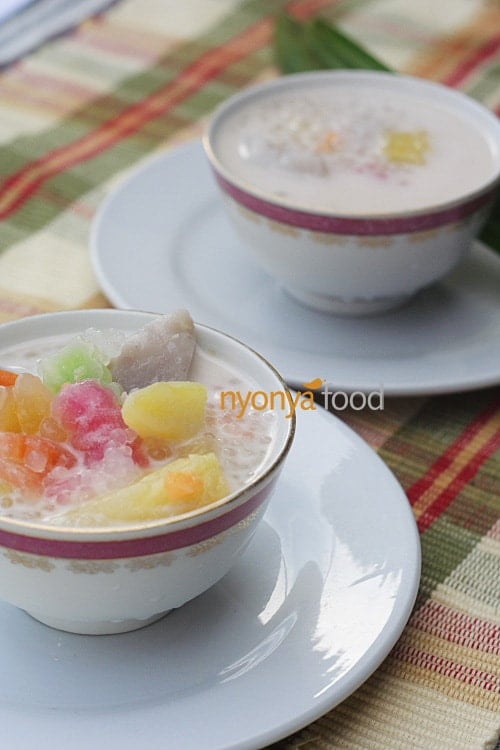 Bubur Cha-Cha is probably one of the more well-known Nyonya desserts, so much so that they are commonly found in Hong Kong/Cantonese-style cafes. Even here in the United States, I can find it on the menu of some Asian cafes as Nanyang Bubur Cha–Cha or 南洋摩摩喳喳. Nanyang means "south of sea," generally known as Southeast Asia in Chinese…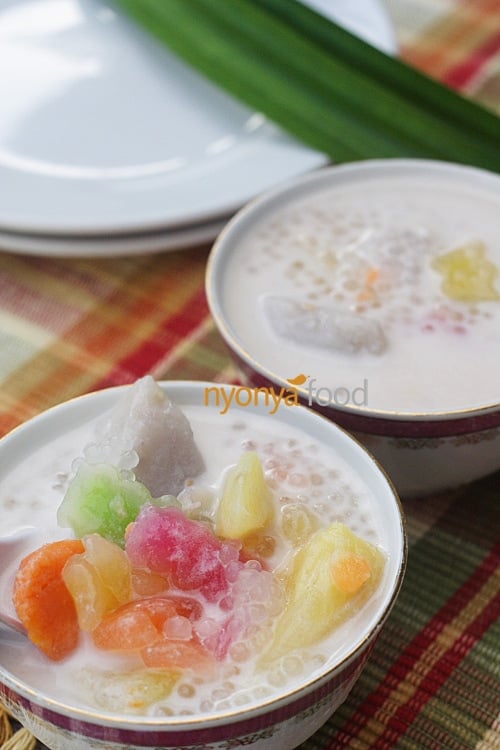 Each country in Southeast Asia has its own variation of this dessert—a medley of sweet potatoes (in yellow, orange, and purple color), yam (taro), black-eye peas, etc., cooked in a sweet coconut milk base. Bubur cha cha is a colorful and sweet dessert, and is generally prepared during festive seasons in Penang, and a must have on Chap Goh Meh (the 15th and last day of Chinese New Year). My aunt loves making Bubur Cha-Cha; she is immaculate when it comes to the balance of colors and its presentation. She would make a pink color tapioca jelly to complement the yellow, orange, and purple color in her bubur cha-cha. To me, the tapioca jelly—chewy and stretchy in its texture—is the best part of it all, I love it more than the sweet potatoes and yam.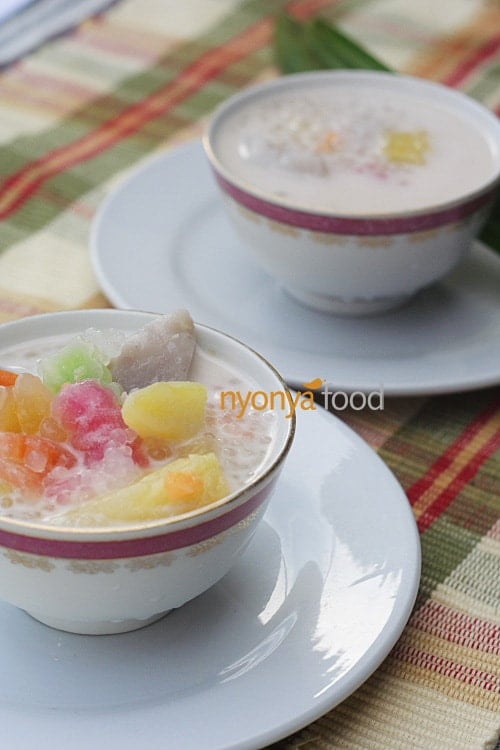 Bubur Cha-Cha Recipe
Ingredients:
80g    Purple Sweet Potato
80g    Orange Sweet Potato
80g    Yellow Sweet Potato
150g  Yam (Taro)
10g     Sago (Tapioca pearls)
50g     Black-eye beans (soaked for 1 hour)
Tapioca flour jelly
100g   Tapioca Flour
½ cup Boiling Water
Red coloring
Coconut Milk Base
3 liter water
1 cup Thick coconut milk
120g Sugar
3 Banana (peeled and cut half inches thick)
2 Pandan leaves
Salt to taste
Method:
In boiling water, boil black-eye peas until soft. Boil sago separately, until translucent and cooked.
Peel and cut all potatoes and taro into cubes or desired shapes. Steam, separately, until cooked.
To make tapioca flour jelly, place the flour in mixing bowl. Pour in boiling water. Mix the flour and water until well
incorporated. When the dough is cool, roll it out evenly on a well floured surface and cut into cube or desired shapes.
Bring a pot of water, add in 1 table spoon sugar, pour in banana and boil for 5 minutes. Drain and set aside.
In boiling water (3 liters), add in thick coconut milk, sugar, salt, pandan leaves and cook over low heat about 10–20 minutes.
Pour in all the ingredients, together with the sago, tapioca jelly into coconut milk base and mix well. Serve hot or cold, as you like.
Most-Pinned Recipes
Ginger Garlic Baked Chicken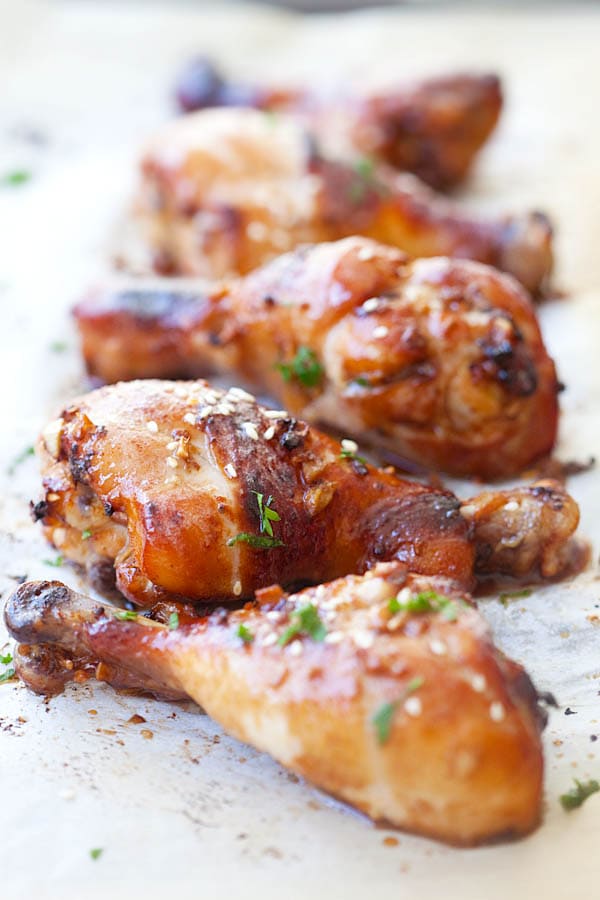 Crab Rangoon (Cream Cheese Wontons)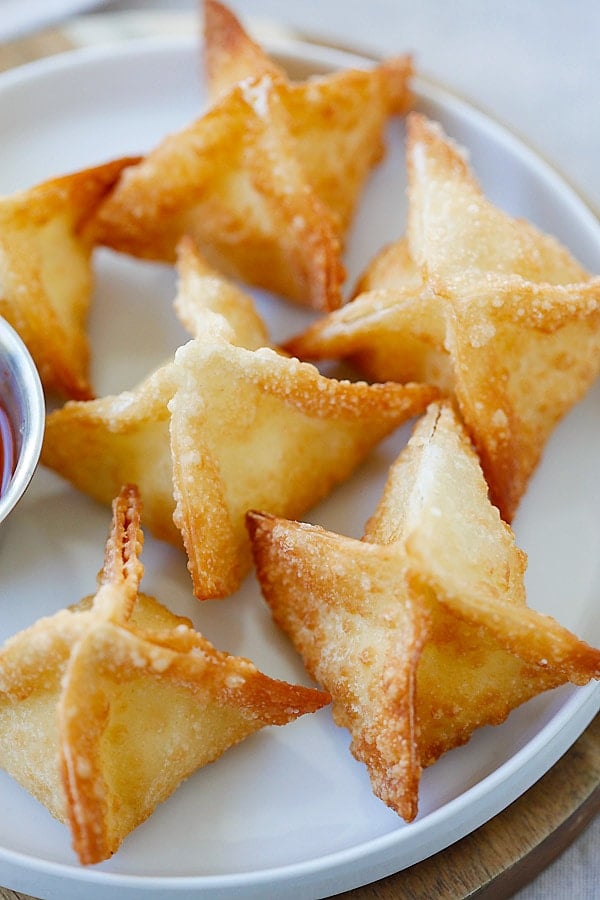 Chicken Wontons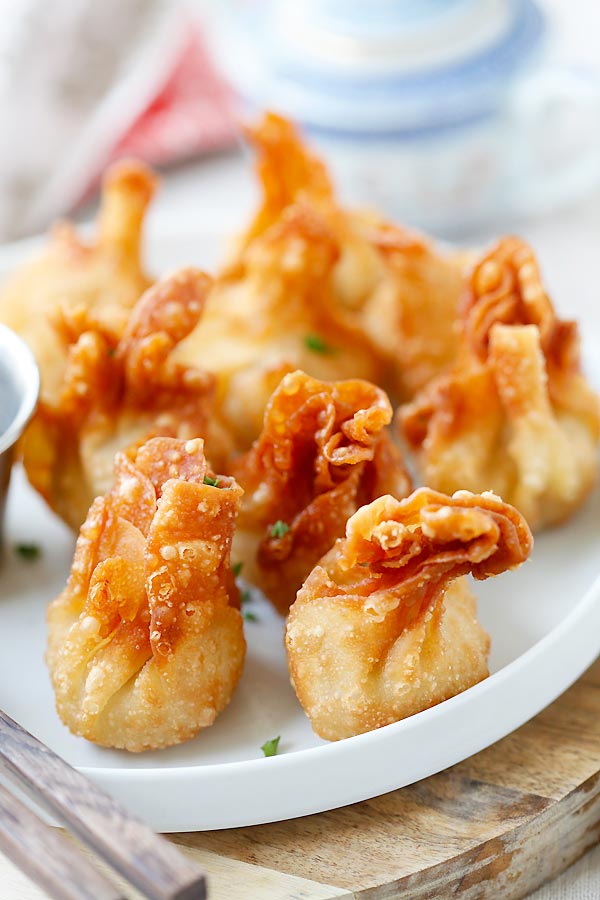 Onion Scallion Beef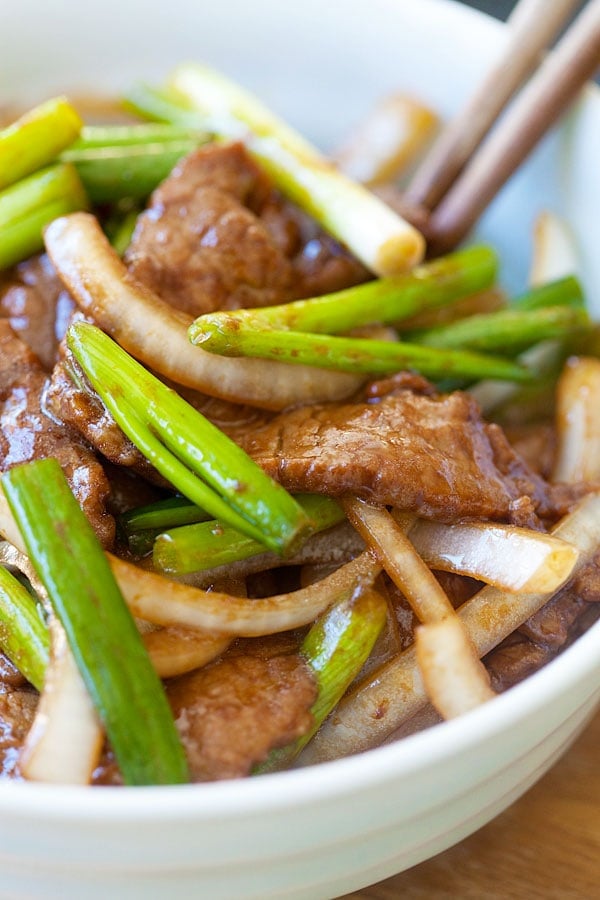 Thai Chicken Sate with Peanut Sauce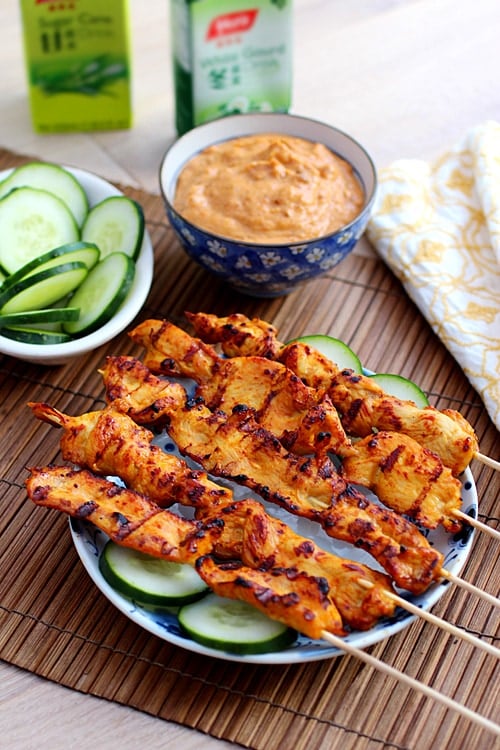 Thai Peanut Sauce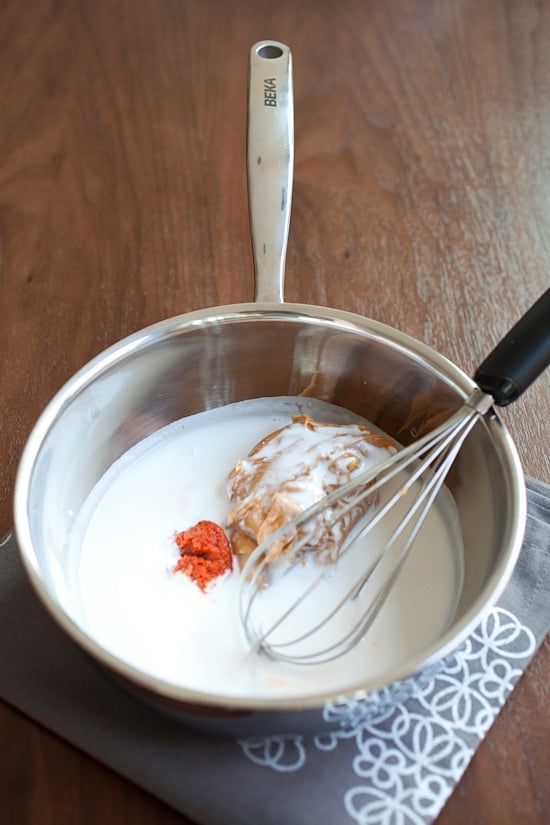 Limited Time Offer: $5.99 only. Available for download WORLDWIDE!
**Use it on Your Tablet, Mobile Phone, Desktop or Laptop**
Copyright © 2016 Rasa Malaysia. All rights reserved.