Cambodian Lemongrass Shrimp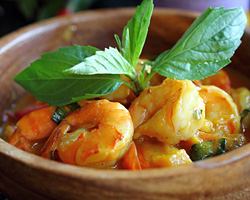 http://rasamalaysia.com/cambodian-lemongrass-shrimp/
Cambodian Lemongrass Shrimp
During my childbirth confinement, I missed eating seafood so much, especially my favorite shrimp. So, there was no surprise that as soon as the confinement ended, I headed straight to my favorite seafood restaurant and had a feast of seafood meal. I have also resumed cooking, albeit in a small way as I am adjusting to motherhood and my new lifestyle. Needless to say, seafood has been a big part of my diet lately. It's great to finally return to a normal diet, but time is scarce these days as I dedicate most of my time to my baby, so cooking elaborately and everything-from-scratch will have to take a back seat for the time being…
I think you might remember my Indonesian mie goreng (fried noodles) post not too long ago. After trying out World Foods mie goreng instant paste, I like their products so much that I've decided to work with them on a couple of new recipes.
I made this shrimp dish with World Foods Indochina Cambodian Pineapple Lemon Grass Stir-Fry Sauce.  As it's an instant sauce, I dressed things up a bit—some coconut milk, bird's eye chilies, and basil leaves to complete the taste. The dish took about 30 minutes to make and fit my tight schedules perfectly, and the big plus is that the end result is quite authentic and satisfying.
Sign Up for Email Updates
Enter your email for new updates: recipes, giveaways, and more!