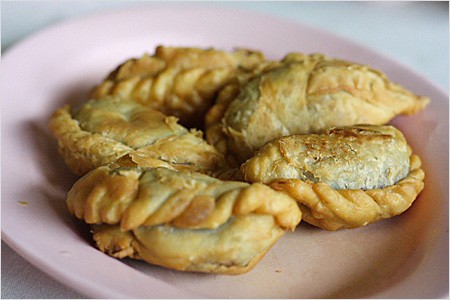 Be it "can" (pronounced the American way), or "can't" (pronounced the British/French way), I am heading to Cannes in south of France tomorrow. I know, I am really a lucky one.
Other than Cannes, I will also check out Nice, St. Tropez, and Monaco (Monte Carlo). I am getting myself a nice little rental car to explore around. Nice, very nice!
I will probably be MIA–but hey, do check back on Rasa Malaysia as I might well surprise you with a post or two from the French Riviera.
For now, I wanted to share this very exceptional dessert with you, Or Nee (Taro/Yam Paste) Puffs which are practically to die for. Don't believe me, ask Robyn and Dave at Eating Asia for their objective opinions…
If you are in Penang, or will be going to Penang, do yourself a favor. Go dine at my favorite Chinese (Teochew) restaurant in Georgetown called Goh Huat Seng (I have previously raved about it here and here) and ask for these after you savor their oysters and steamboat. Not many patrons know about these Taro/Yam Paste Or Nee puffs, but considered the secret revealed.
Too far from Penang? Don't fret, you can make these at home by combining two of my recipes into one:
Recipe: Taro Dessert (Or Nee / 芋泥)
Recipe: Curry Puff
(Without the curry puff filling, that is.)
Happy eating and stay tuned for my complete food reports and travel photography from south of France.