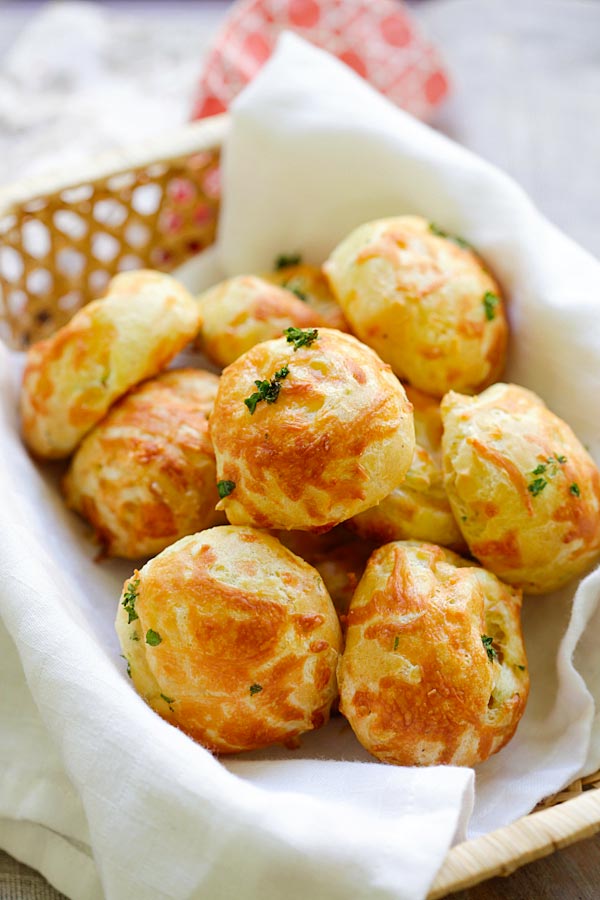 Cheese Puffs (Gougeres)
Cheese Puffs (Gougeres) – best and easiest recipe for puffy, light and airy French cheese puffs. Loaded with mozzarella and parmesan cheese, so good!
Originally published in November 2012, updated with new photos.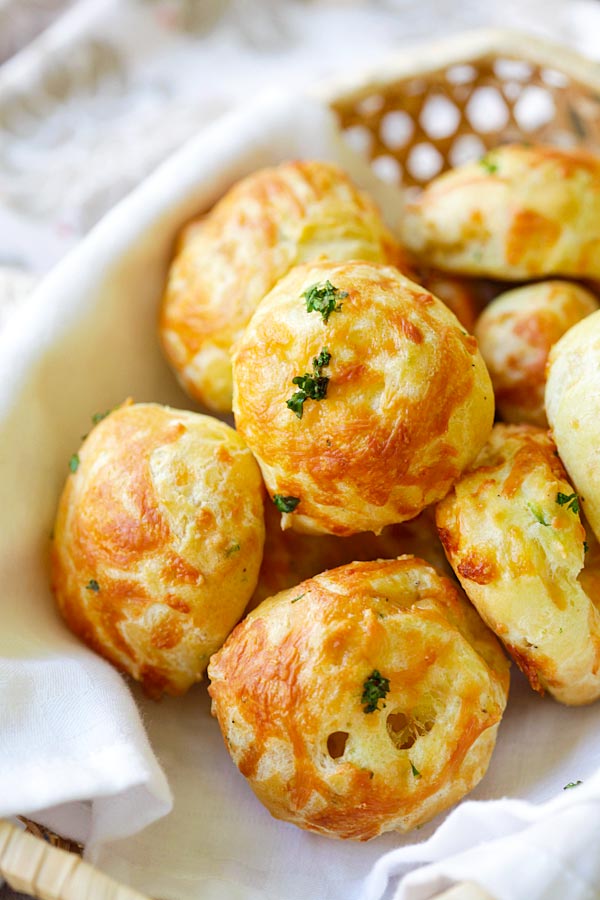 Cheese puffs, or Gougeres are my favorite things to bake when I crave for something cheesy. They are such delightful—and addictive—little packages packed with wonderful aromas and delicate flavors. I just can't stop eating these fresh-off-the-oven cheese puffs, loaded with mozzarella and Parmesan cheese.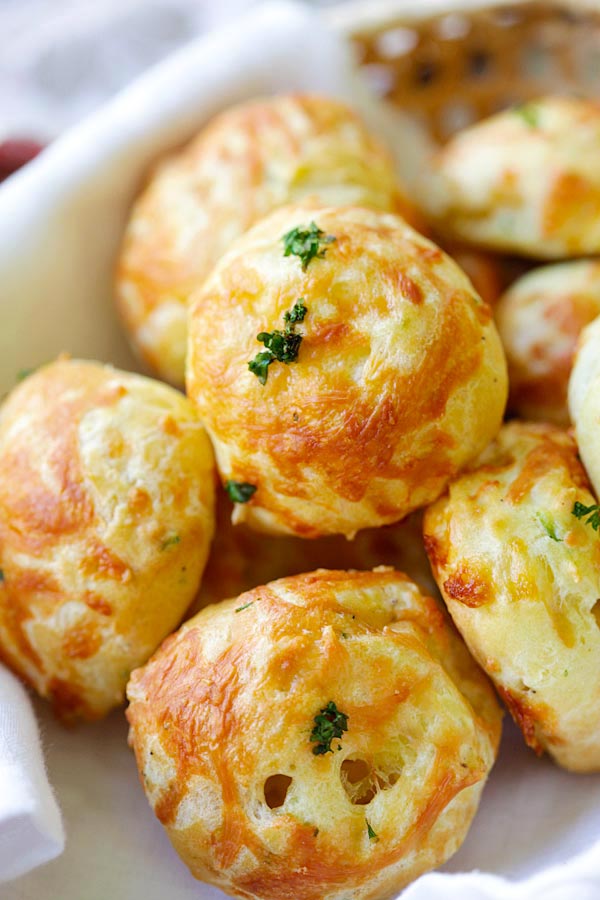 I learned how to make these cheese puffs from Home Cooking Adventure. Her video offers clear step-by-step instructions so this cheese puffs recipe is fail-proof and fool-proof.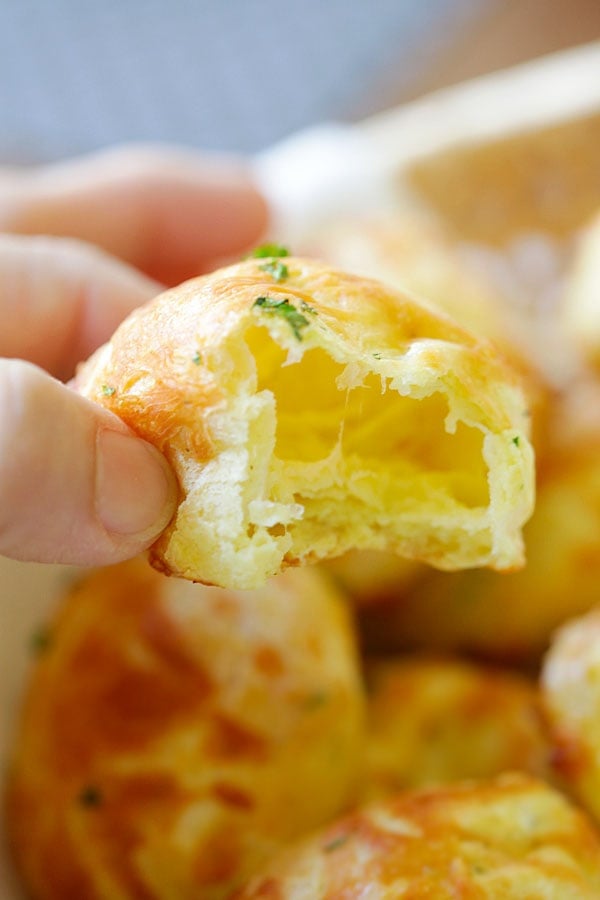 This recipe yield golden-hued, puffy, light and airy cheese puffs. Depending on how big you make them, you get about 16-18. Trust me, you might want to make two batches as they will fly off the kitchen counter top in no time as they are so addictive. Once you start eating, you want more.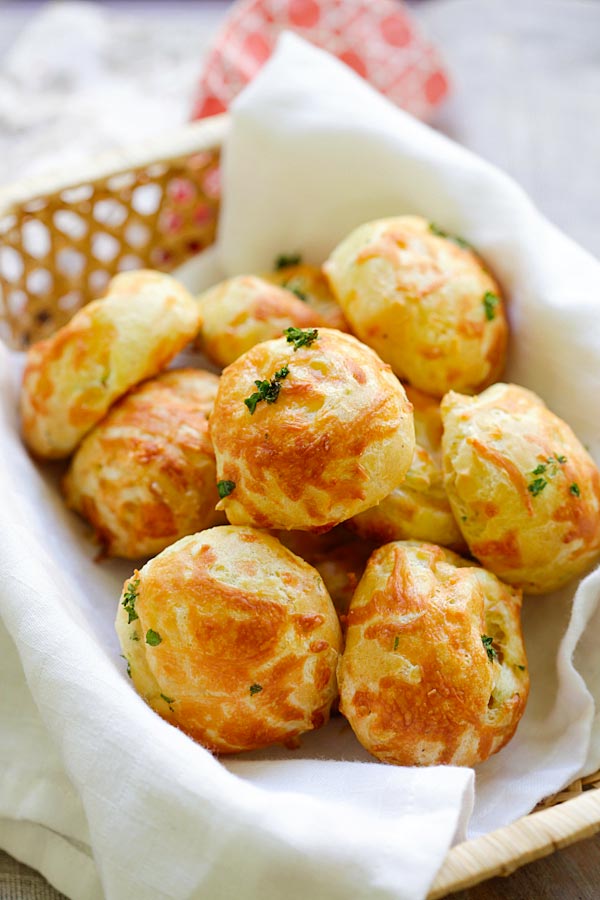 Cheese Puffs (Gougères) Recipe
Adapted from Home Cooking Adventure
Yield 16-18 | Prep Time: 20 minutes | Cook Time: 30 minutes
Ingredients:
3/4 cup water
5 tablespoons (70g) butter
1/2 teaspoon salt
1/8 teaspoon freshly ground black pepper
1 cup plain flour
4 large eggs
3/4 cup grated mozzarella cheese
1/4 teaspoon minced parsley
1/2 cup grated parmesan cheese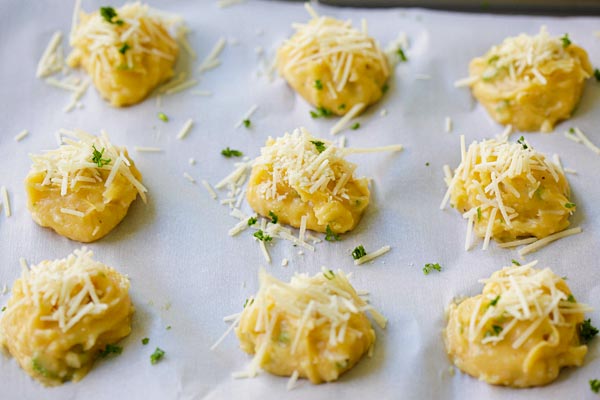 Method:
Preheat the oven to 425°F (220°C). Line a baking sheet with parchment paper.
In a medium sauce pan, bring the water, butter, salt and ground black pepper to a boil. Add the flour and stir until it forms a dough. Cook another 2 minutes to dry out the dough.
Transfer the dough to a bowl and let it cool slightly. Slowly add the eggs, one at a time and stir until well combined.
Add the mozzarella cheese and parsley, mix well. Using 2 tablespoons to round each ball of dough and drop it onto the prepared parchment paper. Set them 1.5″-2″ apart. Sprinkle some grated parmesan cheese on top.
Bake for 10 minutes at 425°F (220°C) and another 20-25 minutes at 380°F (190°C) until golden brown. Serve warm.
Cook's Note:
You can use any type of grated cheese or herb for this recipe.
Most-Pinned Recipes
Brownie Butter Cake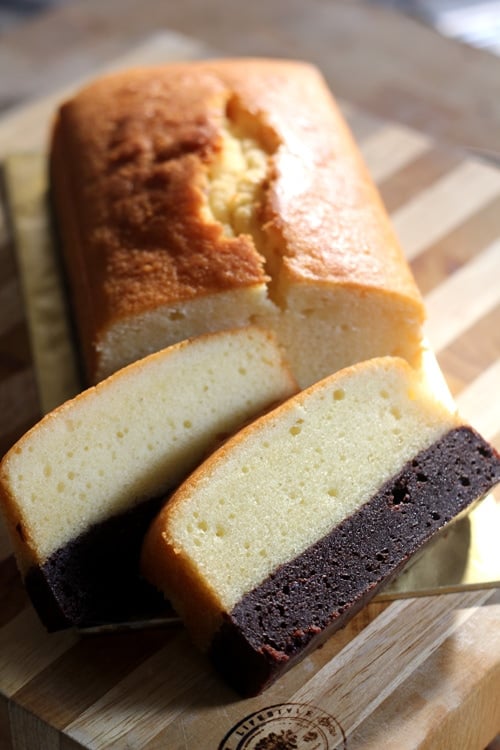 Nutella Cheesecake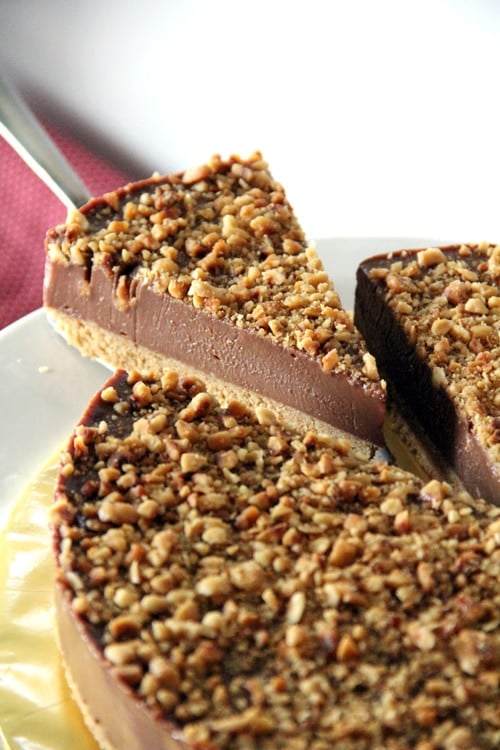 Chocolate Chip Cookie Dough Cheesecake Bar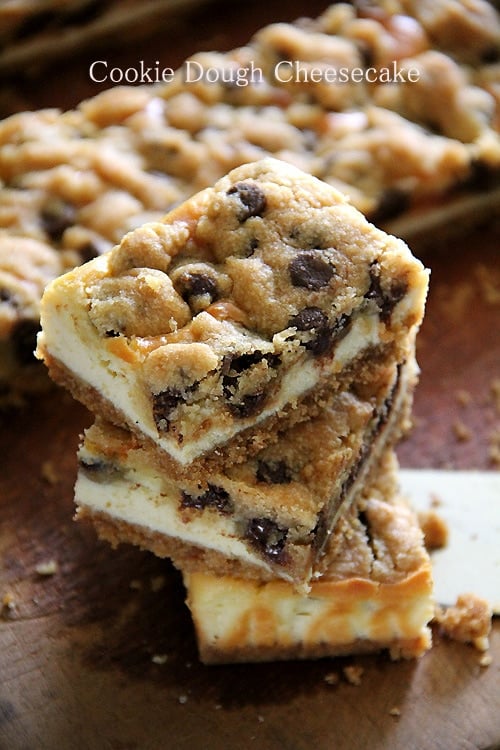 Butter Cake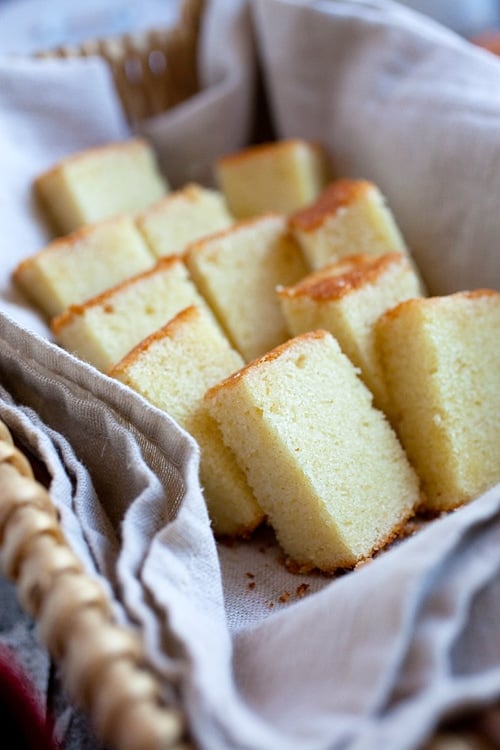 Peanut Butter Cheesecake Brownies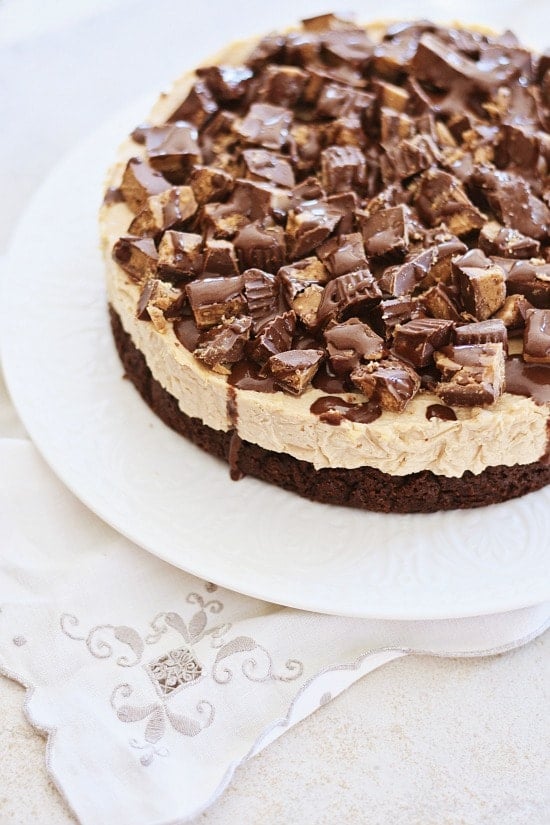 Meyer Lemon Pound Cake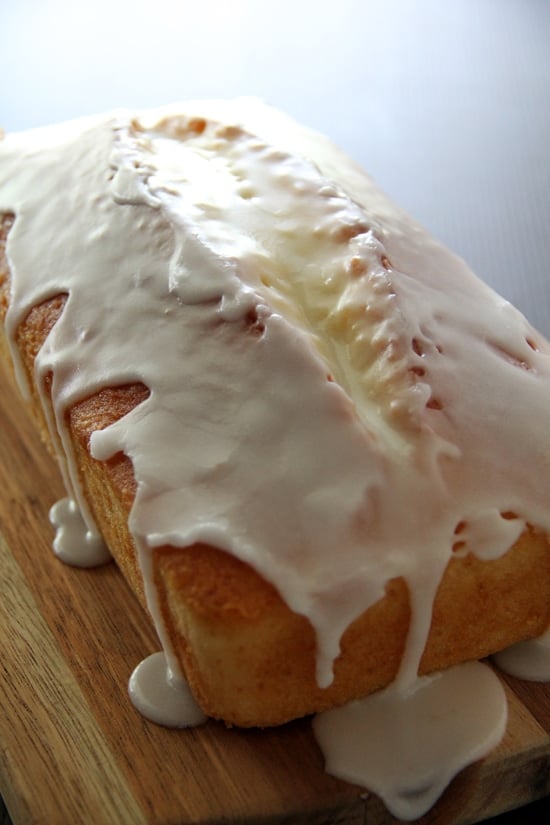 Limited Time Offer: $5.99 only. Available for download WORLDWIDE!
**Use it on Your Tablet, Mobile Phone, Desktop or Laptop**
Copyright © 2016 Rasa Malaysia. All rights reserved.