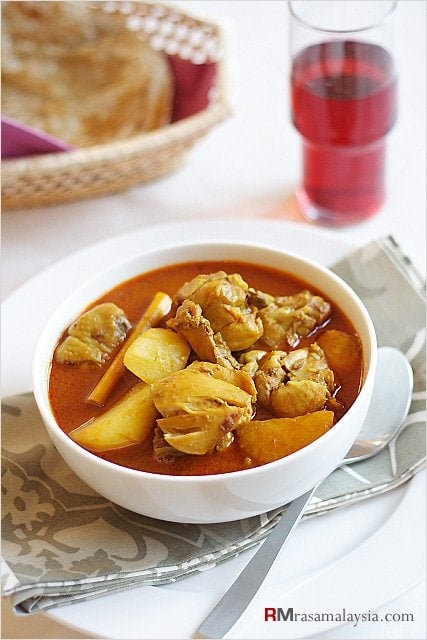 There are many variations of chicken curry in Malaysia: Indian, Chinese, Nyonya, Malay, but chicken curry with potatoes is possibly the most common chicken curry in Malaysia. Everywhere you go where curries are served, you will probably find this type of chicken curry.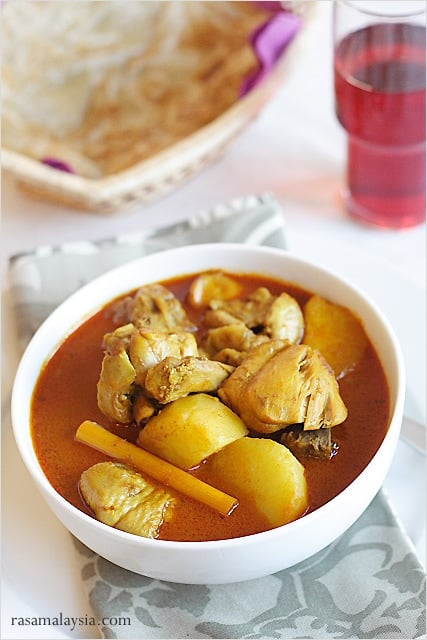 For the Nyonyas in Penang, chicken curry  is especially popular and often served with nasi kunyit (coconut milk and turmeric-infused sticky rice). In fact, there is a Nyonya ritual that celebrates the first month of a new born baby. Called "mua guet" or 满月 in local dialect, this celebration comes complete with a nice food package–in the old days, the food package was packed in a delicate and beautiful Nyonya sia na (wood basket) —that contains chicken curry, nasi kunyit, and a few other goodies.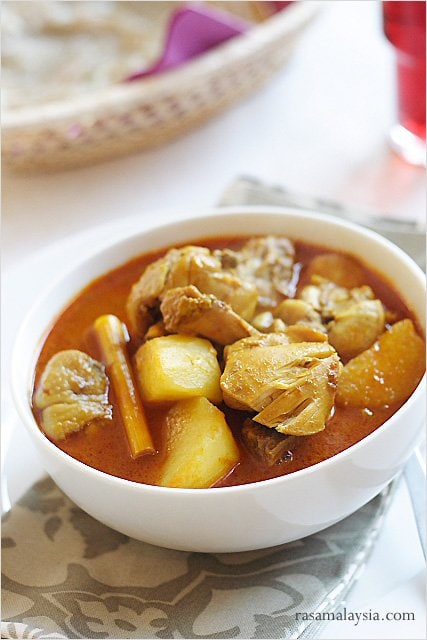 I often make chicken curry here in the US and I love serving the chicken curry with roti canai (I buy the frozen ones from Asian food stores). As there are no spice vendors here so I rely on my favorite instant curry paste which is made in Penang.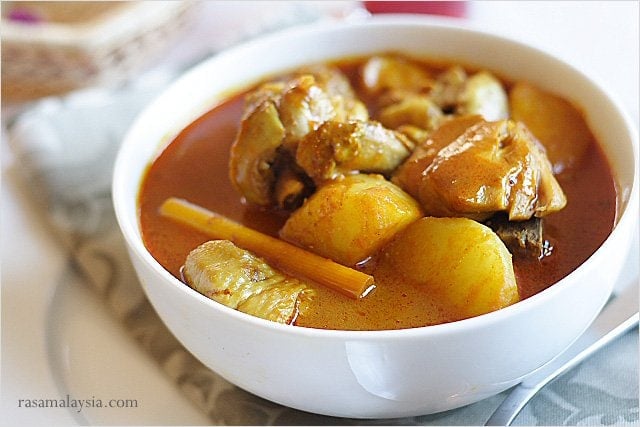 If you like to make chicken curry from scratch, then try out my other chicken curry recipe.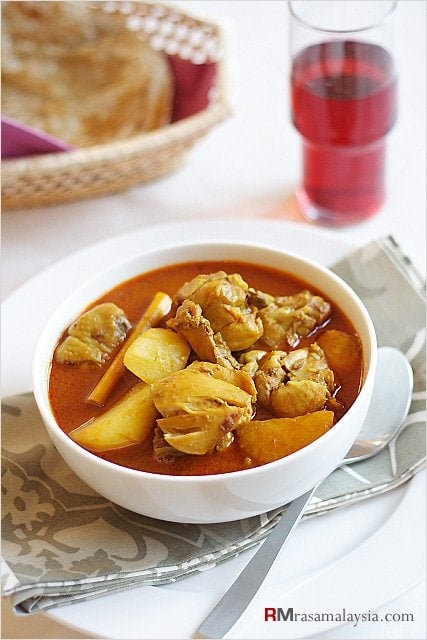 Chicken Curry with Potatoes Recipe
Ingredients:
1 pack instant curry paste (8 oz or 250 grams)
8 oz peeled potatoes
4 chicken leg quarters (4 drumsticks and 4 thighs or 2 lbs chicken)
3 shallots (peeled and sliced thinly)
2 lemongrass (use the white parts only, pounded)
1 tablespoon oil
2 cups water/500 ml (use less water if you want thicker curry or more if you want more curry sauce)
1/2 cup coconut milk (100 ml)
Some curry leaves (optional)
Method:
Cut the chicken into pieces. Leave the chicken bone-in. If you prefer boneless chicken meat, then debone the chicken.
Heat up a deep pot and add the oil. Saute the sliced shallots until aromatic or light brown in color. Add the curry paste into the pot and stir until aromatic. Add the chicken meat and lemongrass. Stir for 1 minute before adding the water.
Cover the pot and lower the heat to medium. Bring the curry chicken to boil and then lower the heat, add the potatoes and simmer for 20 minutes or so or until the chicken become tender. Add the coconut milk and bring it to boil. Serve hot.
Alternatively, you can leave the chicken overnight before adding the coconut milk the next day. This cooking method ensures that the chicken meat is really tender and aromatic as the flavor develops overnight. Serve the chicken curry the next day if you use this method.
Cook's Note:
Malaysian curries taste different compared to Thai curries. First of all, we don't use fish sauce and sugar in Malaysian curries. Also, Malaysian curries are not as rich and milky as we use much less coconut milk, so the tastes of the various spices really shine through. Hence, Malaysian curries are more spice-laden and aromatic in my opinion. According to my Indian friends, Malaysian curry is closest in taste to Indian curry.
Most-Pinned Recipes
Ginger Garlic Baked Chicken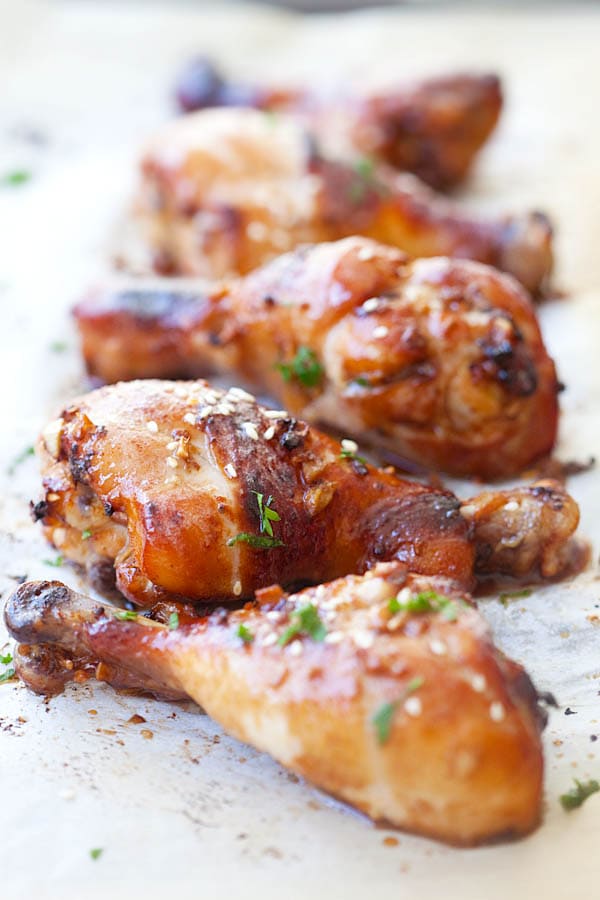 Crab Rangoon (Cream Cheese Wontons)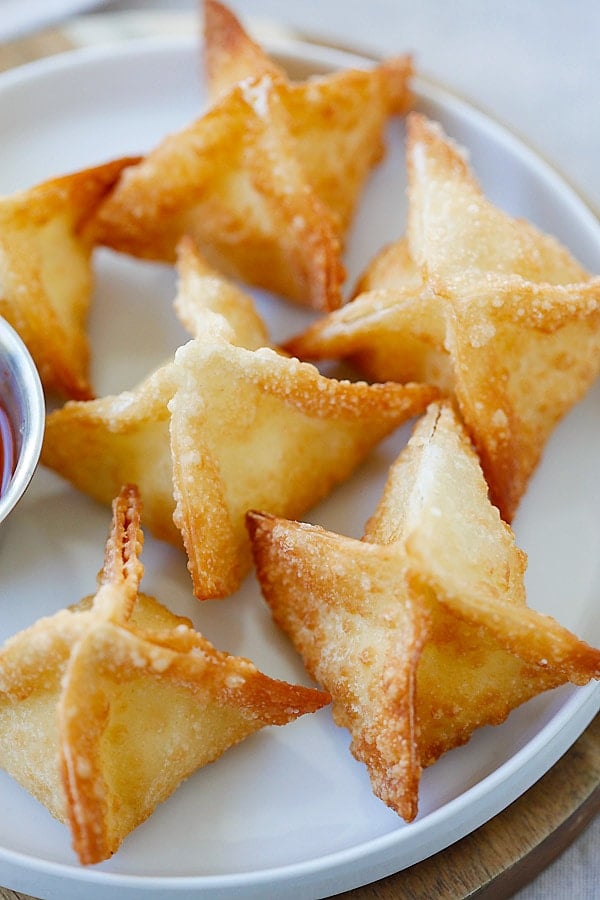 Chicken Wontons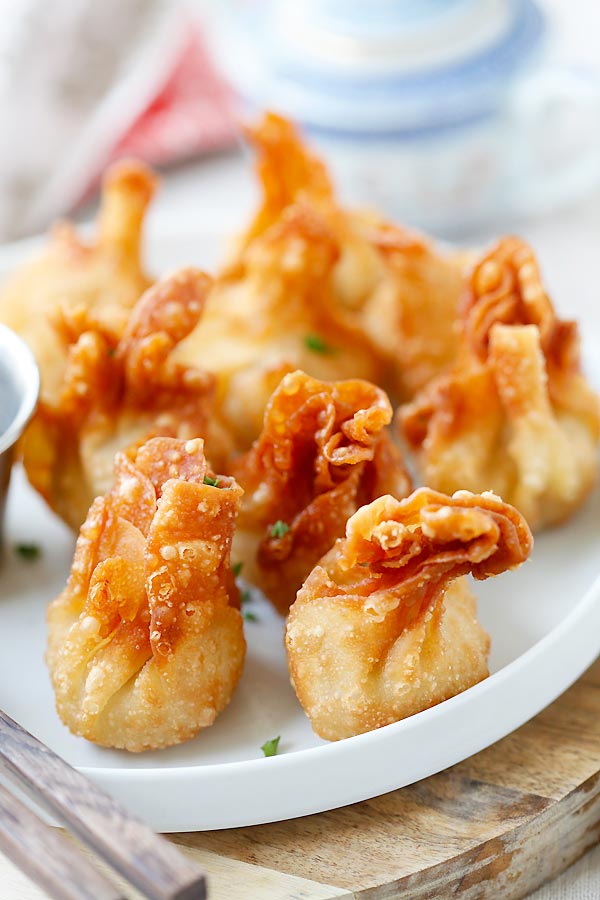 Onion Scallion Beef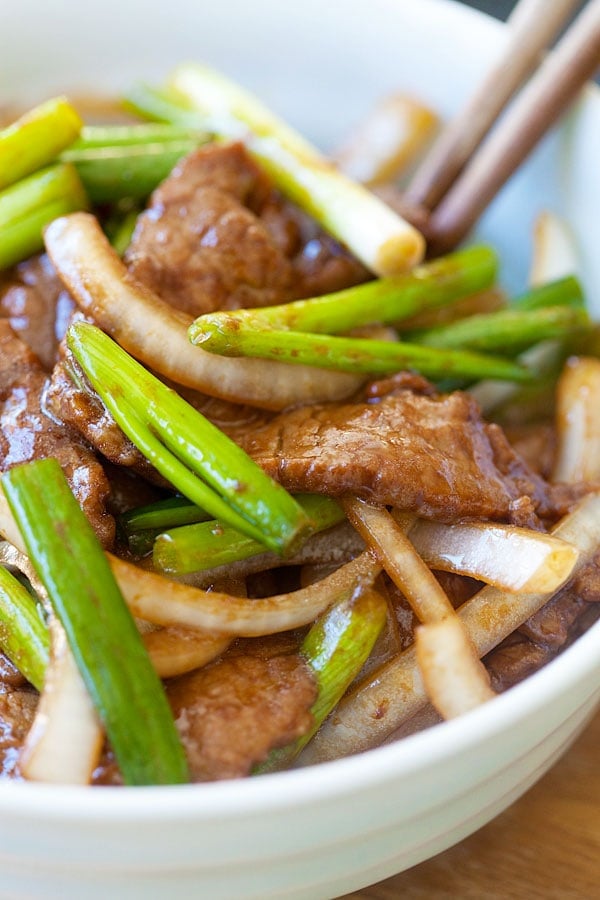 Thai Chicken Sate with Peanut Sauce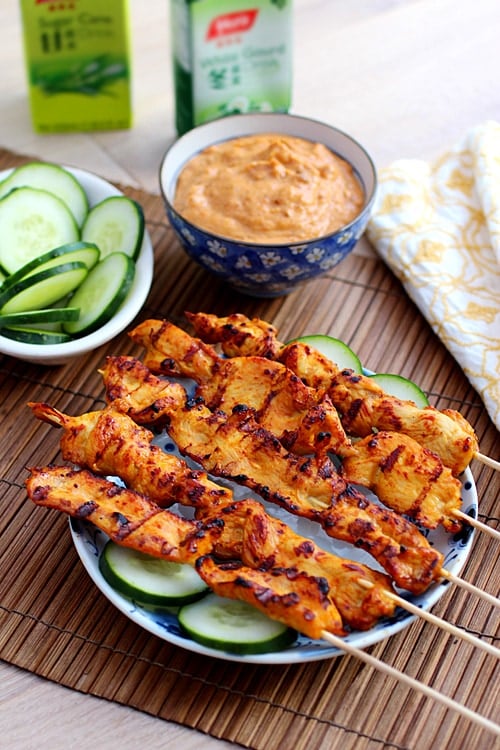 Thai Peanut Sauce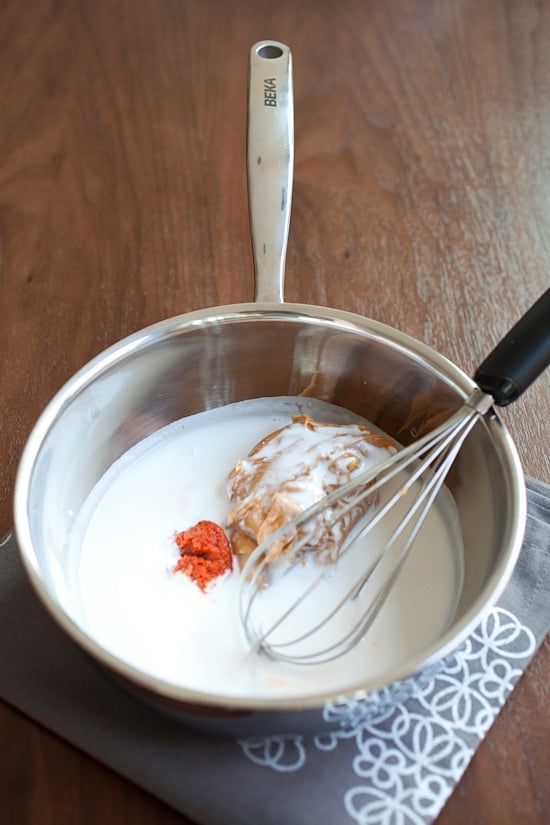 Limited Time Offer: $5.99 only. Available for download WORLDWIDE!
**Use it on Your Tablet, Mobile Phone, Desktop or Laptop**
Copyright © 2016 Rasa Malaysia. All rights reserved.