Chicken Fried Rice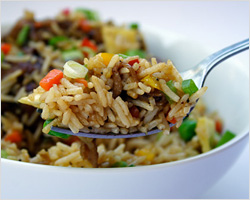 http://rasamalaysia.com/chicken-fried-rice/
I have known the lovely Cynthia at Tastes Like Home for a while; she is one of the early supporters of Rasa Malaysia. Last year when we were on a Caribbean cruise, we met up with her in Barbados. A few months ago, I invited Cynthia to write a guest post. Personally, I am intrigued by Caribbean-influenced Chinese food, and thought Cynthia would be the best person to write a post on the topic. We chose fried rice, a simple Chinese dish that has no geographical boundary. Please welcome Tastes Like Home with her beautiful and mouthwatering Chicken Fried Rice, Caribbean-style. Yum!
Earlier this year, I read with pleasure, the invitation by Rasa Malaysia to write a guest post for her blog. Rasa Malaysia has been among the first blogs I visited when I started blogging back in 2007 and I have been hooked since then. I've long admired her food and her photography. I bought the camera I use based on her recommendation! Coming from the Caribbean where countries such as my birth-land, Guyana, is made up of a vast number of Chinese, it is easy to understand how at home I feel when visiting Rasa Malaysia.
Guyana, Jamaica, Trinidad & Tobago and Suriname have long been home huge Chinese populations, today, that influence can also be seen in other Caribbean countries such as Barbados, Grenada, St. Vincent, St. Lucia, and Dominica etc. Whether you are in any of the aforementioned countries, Turks & Caicos or St. Kitts-Nevis, a dish that gets made weekly either as part of the Sunday-lunch spread, a weekday meal or special occasion is Fried Rice, specifically Chicken Fried Rice. So popular is this dish that I wrote a column discussing the importance of Fried Rice to the Caribbean cuisine, especially in places such as Guyana. You can click here to read the column.
Each country and each household has it's own recipe of ingredients for Chicken Fried Rice and method of making it. One thing that we call agree on is that it should have a lot of vegetables. The version I present to you today is one made up from different home cooks.
Click Images Below for Similar Recipes:
LOVE THE RECIPE & PHOTOS? PLEASE SHARE:
Sign Up for Email Updates
Enter your email for new updates: recipes, giveaways, and more!