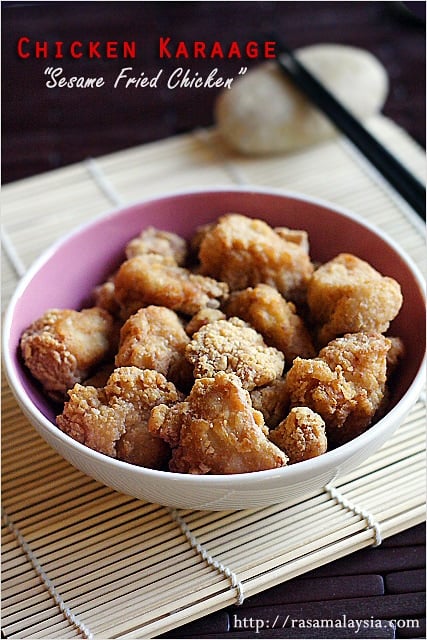 Near the Sensoji temple in Asakusa, Tokyo, where many street vendors set up stalls to sell various snacks and street food, chicken karaage (唐揚げ) is one of the popular offerings. A quick walk around and you can find many vendors with a big wok/pot of boiling oil, deep-frying their chicken karaage to golden perfection. I had my first real taste of chicken karaage when I first visited Tokyo many years ago and it has since become my favorite. I always order it at Japanese restaurants or izakaya here in the United States–which is commonly labeled as "sesame fried chicken."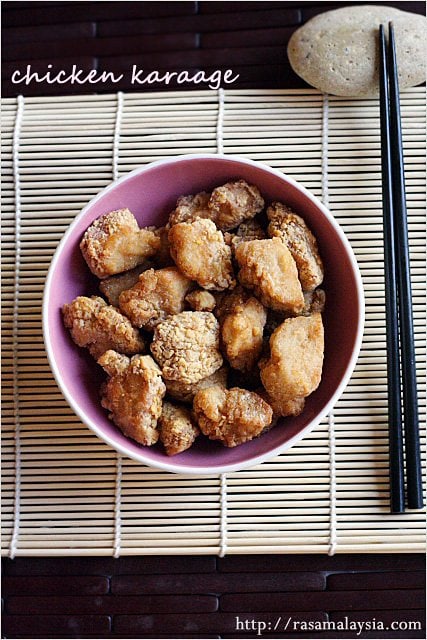 Inspired by my recent trip to Tokyo, I made this delicious and crunchy chicken karaage the other day. According to Just Hungry, the word kara means "Chinese" (唐) and "age" means "deep-fried." The cooking method is fundamentally Chinese but as Just Hungry pointed out, I can't think of a Chinese fried chicken dish with the exact recipe! The closest variation would be the popular Taiwanese fried salt and pepper chicken or 盐酥鸡.
Chicken karaage calls for really simple ingredients but the end result is pleasing. I love it that the flavors are very clean–which is a signature style of Japanese cooking. In no time, I finished my one bowl of chicken karaage and had to fry up a second serving to satisfy my hunger and craving.
Chicken karaage/sesame fried chicken is also a simple meal to prepare and takes less than 30 minutes (I marinated the chicken for only 10 minutes!). You can also add a little sesame oil to the chicken and I guess that's the reason why this dish is also referred to as sesame fried chicken in the United States. I ate my chicken karaage without any dipping sauce, but it's commonly served with a slice of lemon and/or mayonnaise.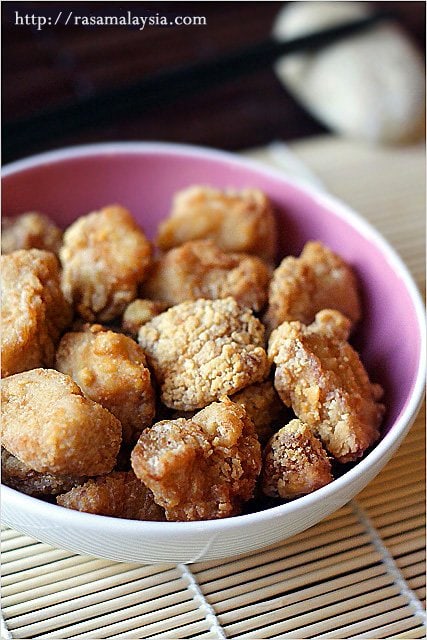 So here you have it, my take on Japanese chicken karaage or sesame fried chicken. Do try the recipe and let me know what you think. If you love Japanese food, you might want to check out my Japanese recipes, for example: miso ramen, steamed clams with sake, tofu salad, grilled cod with miso, and more!
Do try my chicken karaage (sesame fried chicken) recipe. If you have any questions about the recipe, please drop me a comment.