Traditionally, Lo Mein is a popular noodle style in Hong Kong where noodles are boiled, drained and then stirred in with clear broth or on the side or with a house special soy sauce. The 'stirred noodles' are served with vegetables, wontons, and meats such as BBQ pork, Cantonese beef stew, etc. However, the popular chinese take-out Lo Mein here in America is a whole other version. American-chinese Lo Mein is prepared with boiled noodles, and then stir-fried with vegetables, meat, etc. in a house special sauce, and MSG laden.
A personal house special Lo Mein can be as easy and flexible as you want it to be. Simply put, use fresh noodles, or spaghetti, your choice of protein, or seafood and vegetables, a light sauce, smoky hot wok, and there you go – a healthy yet delicious home-cooked Lo Mein. My favorite Lo Mein dish has always been Chicken Lo Mein. Noodles tossed in light sauce, and then cooked with chicken broth. For added flavor, mix in some chinese mushroom and some seasonal vegetables.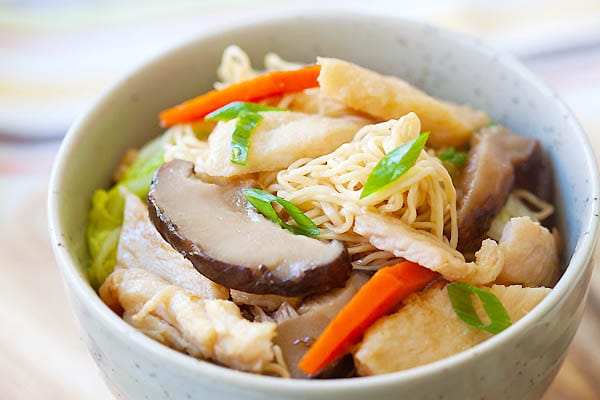 Chicken Lo Mein is one of the most popular take-out items you can find on the menu of Chinese restaurants worldwide. But of course if you are not in that much of a rush to get your noodle fix, you will find that it is such a simple dish to prepare at home and such a joy to customize it to your own liking.
Click "Like" to Get New Recipes
and Updates on Facebook Daily!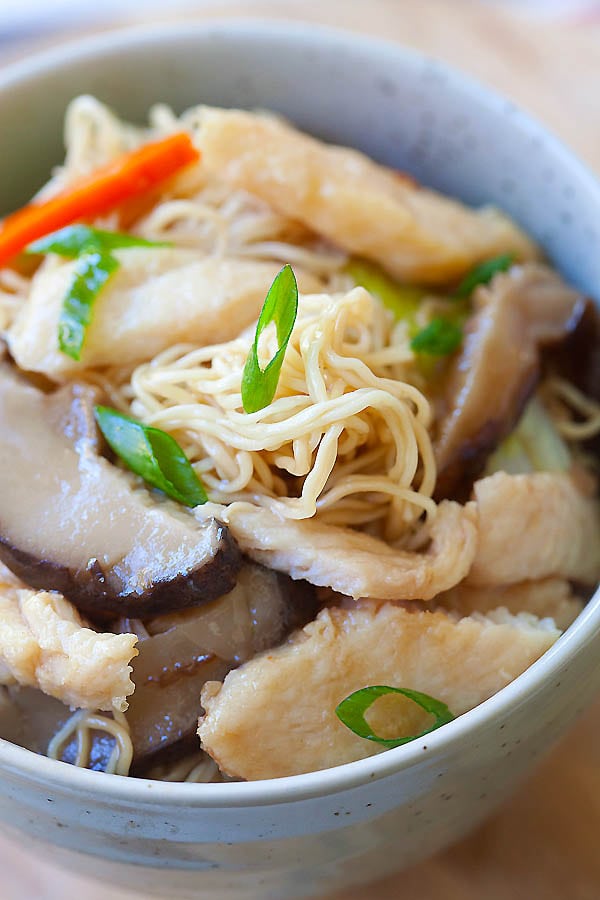 Chicken Lo Mein Recipe
Ingredients:
8 oz fresh noodles (regular/thin or spaghetti noodles)
2-3 cups water with salt per taste (for boiling noodles)
8 oz boneless chicken breast, cut into strips
4 tablespoons oil
3 cloves garlic, peeled and minced
1 shallot, peeled and minced
1 cup sugar snap peas
2 caps chinese mushroom, soak in water and cut into strips
1/3 cup carrots, peeled and cut into desired size
1/4 cup mushroom juice (reserved from the pre-soaked mushrooms)
1/4 cup chicken broth
Marinade:
1 teaspoon sesame oil
1 teaspoon sugar
1 teaspoon Shaoxing wine, or any chinese cooking wine
2 dash of white pepper
1 teaspoon cornstarch
1 teaspoon Tamari or light soy sauce
Seasoning:
1 tablespoon Tamari or light soy sauce
2 teaspoon sweet soy sauce
1 teaspoon oyster sauce
1/4 teaspoon sesame oil
1/2 teaspoon white pepper
salt, sugar and pepper to taste
Method:
1. Bring a pot of water to boil, gently loosen up the noodles and put it in and let it boil. When the water starts to shimmer, cook noodles according to packaged instructions or until pre-al dente because you're going to finish cooking the noodles later in the wok. Drain and dry the noodles. (Here, I used Shanghai regular noodles and cooked for 3 minutes)
2. Prepare to season the noodles. In a bowl, mix all the Seasoning ingredients together and toss in the noodles and stir well. Salt, sugar and pepper to taste. Set aside.
3. Marinade the chicken strips and set aside for 5-10 minutes.
4. Heat up a wok with 2 tablespoons of oil. Stir-fry 1 tablespoon of minced garlic until fragrant, add in the mushroom strips, sugar snap peas, carrots and stir-fry for about 2 minutes. Mix in the marinated chicken strips and continue to stir-fry for another 1-2 minutes. Dish up and set aside. Lightly wipe the wok clean.
5. In the same wok, heat up 2 tablespoons of oil until very high heat, add the remaining minced garlic, shallots and toss in the seasoned noodles and quickly stir well before the garlic gets burn. Continue to stir-fry for 1 minute. Pour in the mushroom juice, chicken broth and let it sizzle, toss in the vegetables and cook until the noodles are soft enough to your liking. Add extra soy sauce, salt, sugar, etc. to taste. Dish up and ready to serve.
Copyright © 2014 Rasa Malaysia. All rights reserved.