Chicken Lollipop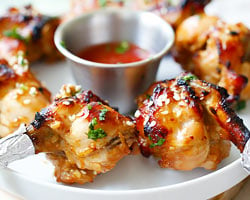 http://rasamalaysia.com/chicken-lollipop/
Are you prepping your grill for the upcoming 4th of July weekend cookout with friends and family? If you've got your burger, steak, kebab, and ribs ready to entertain, but are still looking for that perfect appetizer that will appeal to all your guests, then you have definitely got to try this Chicken Lollipop recipe. Bite-size finger foods are always a hit at any gathering, picnic party, etc., especially if it's on a stick and so easy to prepare (no skewers needed). Yet the result is so scrumptious, flavorful and has a cool name like Chicken Lollipop.
The basic idea of the chicken lollipop is to cut the meat around the base of the chicken wing drummette and pull it towards the top so it's shaped like a lollipop. The great thing about it is the many ways that you can choose to prepare it. You can fry it as it is, bread it, or even bacon-wrap it before frying. And the choices of dipping sauces are practically limitless.
For now, I'm all in for a simple and delicious chicken lollipop with an Asian flair—with Hoisin and ginger marinade. In fact I would really love for you to share some of your favorite chicken lollipop styles and dipping sauce ideas with me. And for more July 4th weekend food ideas, do check out my personal picks of BBQ recipes here, and summer recipes here.
Click Images Below for Similar Recipes:
LOVE THE RECIPE & PHOTOS? PLEASE SHARE:
Sign Up for Email Updates
Enter your email for new updates: recipes, giveaways, and more!