Chicken Teriyaki
Chicken teriyaki is a Japanese recipe. Easy chicken teriyaki recipe with 2 simple ingredients: chicken and teriyaki sauce to make chicken teriyaki.

I'm so thrilled to be sharing this chicken teriyaki recipe with you. First of all, it's one of the easiest recipes you will find around, and secondly, I have a video to show you how to make chicken teriyaki at home!
Many people thought that chicken teriyaki is a dish that you can only enjoy at Japanese restaurants, and that it calls for numerous ingredients that you are not familiar with or can't get easily without going to Asian supermarkets. This is a misconception.
To make teriyaki sauce, you only need three (3) ingredients: soy sauce, sugar, and mirin (I recommend Mitsukan Mirin Sweet Cooking Seasoning), which you can get at the ethnic section of general grocery stores. Yes, you've heard it right. An authentic chicken teriyaki is really easy to make at home, and takes less than 30 minutes of your time.
The secret to sinfully delicious chicken teriyaki is the shattering crispy chicken skin. I pan-fried the chicken thighs (skin-on but boneless) until evenly browned and the chicken skin becomes really crispy. Slice the chicken into pieces and drizzle with the homemade teriyaki sauce and serve immediately with steamed rice. It's that easy!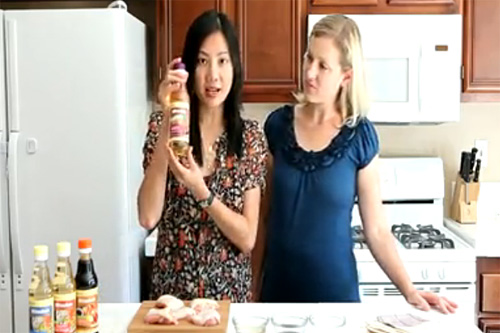 To view the cooking process, please check out the chicken teriyaki video on the Mitsukan Facebook fan page. My friend La Fujimama and Meat Me collaborated on the project in early September. We had a lot of fun shooting the videos and everyone who tasted the chicken teriyaki thought it was moist, authentic, and delicious.
To learn more about Mitsukan sauces and where to find them, please watch the video shopping guide below. If you like what you see, please click on LIKE on the Mitsukan Facebook fan page. Thank you so much!