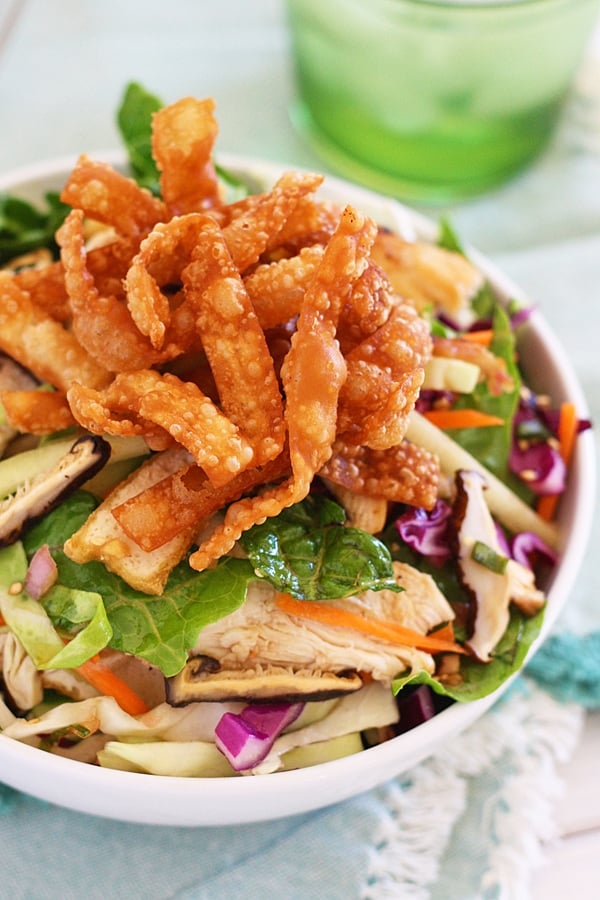 Chinese Chicken Salad
A chicken salad recipe that is healthy and so easy to make. It tastes so good you'll want to eat this Chinese chicken salad every day.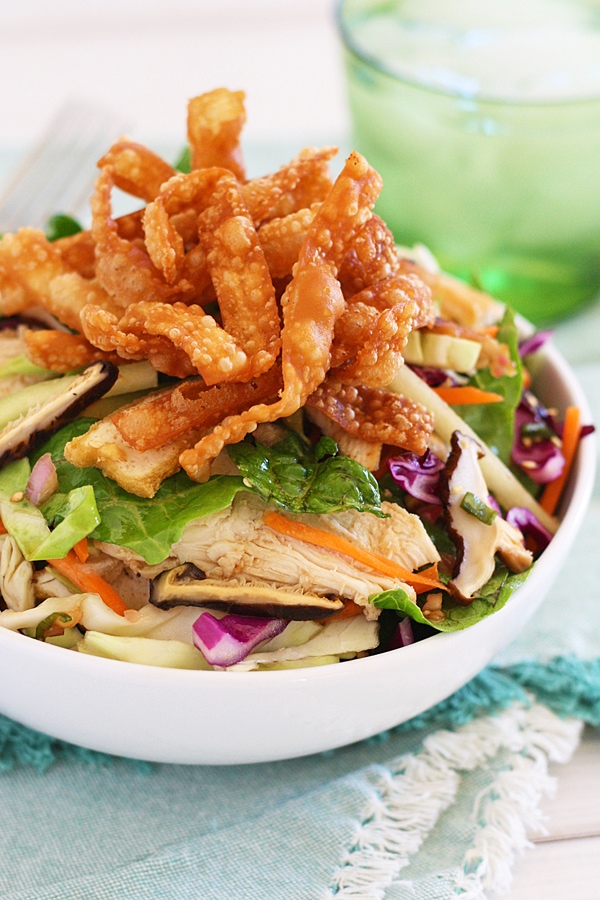 Just like its cousin the fortune cookie, the Chinese Chicken Salad did not originate from China and is certainly not a part of authentic Chinese cuisine. Even the Chinese term for salad (沙拉 pronounced sha la) is derived from the pronunciation of the English word. So what is it that makes the Chinese Chicken Salad Chinese? The ingredients, of course!
Ingredients commonly found in Chinese cooking like soy sauce, sesame oil, and ginger and toasted sesame seeds are used to make the dressing. Popular toppings for the Chinese Chicken Salad include crispy noodles, fried wonton skin strips, chinese mushroom, mandarin orange, grilled tofu and almonds. But of course you can mix and match these according to your preference. The end result is a light and healthy salad perfect especially to complement a heavy meal.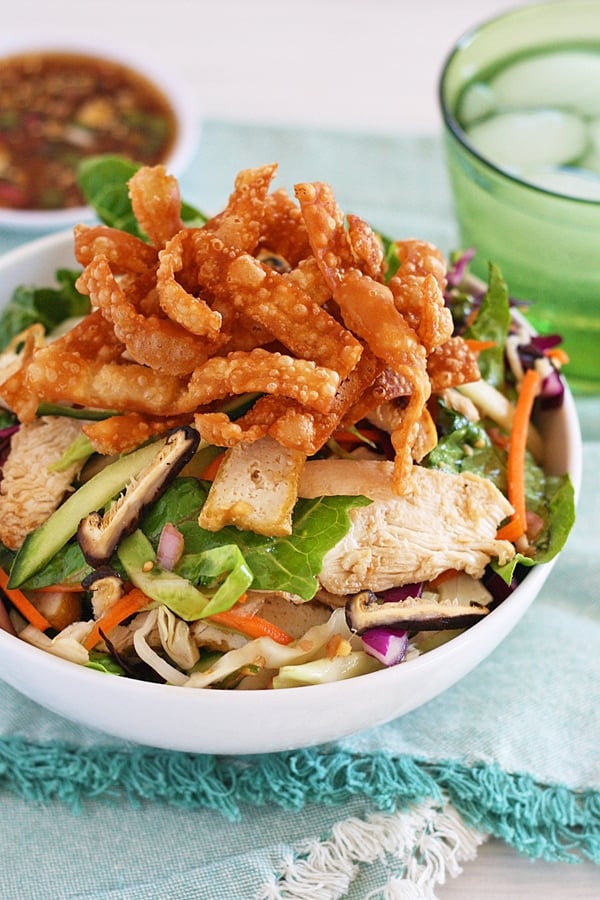 This classic east meets west salad can be found at classy joints like Wolfgang Puck's or Madam Wu's but why pay through the nose for a dish so simple you can toss up as much as you want in the comfort of your own kitchen, especially since the dressing is vinaigrette-based and can keep longer in the fridge than mayonnaise-based dressings.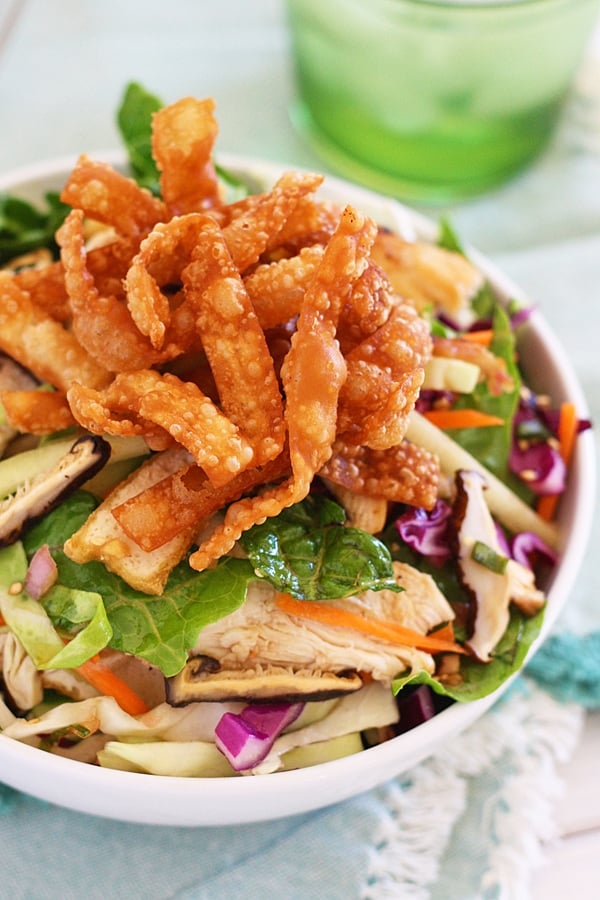 Chinese Chicken Salad Recipe
Ingredients:
3 cups mixed salad greens (1 1/2 cups bite-size romaine lettuce + 1 1/2 cups shredded green and red cabbage)
1/4 cup shredded carrots
1/2 cucumber, peeled, deseeded, and julienned
Sesame Ginger Salad Dressing
1 lb boneless, skinless chicken breast fillet
5 wonton wrappers
2 cups oil (to make crispy wontons)
Sesame Ginger Salad Dressing:
1/2 cup brown sugar
1/4 cup low-sodium or light soy sauce
1/4 cup pure sesame oil
2-inch ginger, peeled and minced
2-3 cloves garlic, peeled and minced
1 stalk scallion, cut into thin rounds
1 small shallot, peeled and minced
2 tablespoons red wine vinegar
2 tablespoons rice wine vinegar
1 teaspoon sesame seeds, lightly toasted
Whisk all the Salad Dressing ingredients together and set aside for at least 1 hour. Refrigerate until use.
Method
For Chicken:
1. Marinate chicken with a little salt, black pepper, and 2 1/2 tablespoons of Sesame Ginger Salad Dressing for 30 minutes. Discard marinade before cooking.
2. Preheat oven broiler/grill for 10 minutes.
3. Put the marinated chicken onto the broiler rack and broil for 8-10 minutes on each side, or until the meat is completely cooked. Remove chicken and cool down. Cut into thin slices.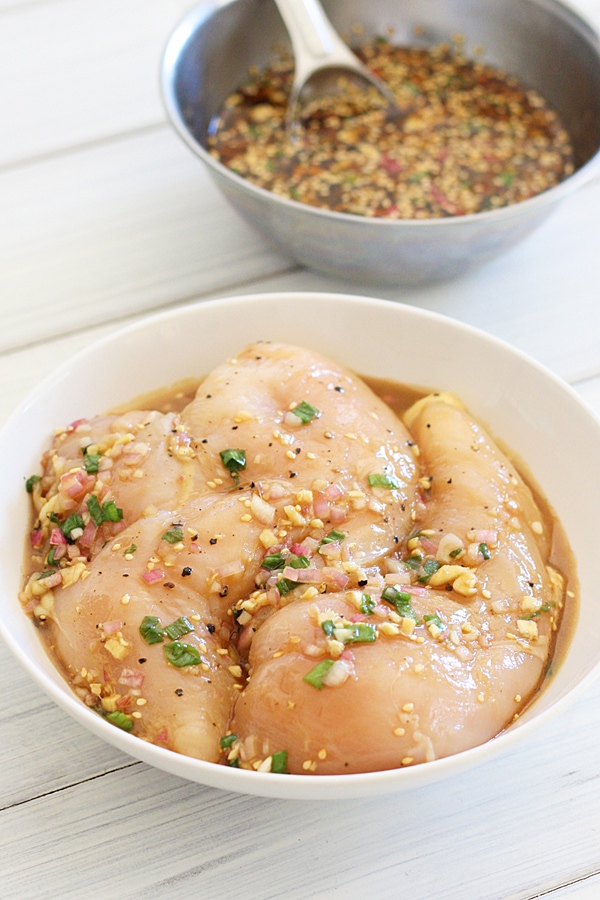 For Crispy Wontons:
1. For each wonton wrapper, cut into 8 strips.
2. Heat up oil in a wok to medium-high heat. When the oil starts to shimmer, briskly deep-fry the wonton strips until golden brown. Dish up and drain on paper towels. Cool down and store in an air-tight container.
For The Salad:
1. In a large bowl, mix the salad greens, sliced chicken, mushroom strips and tofu with generous amount of Sesame Ginger dressing. Toss well.
2. Chill for 5 minutes. Just before serving, spoon in extra Sesame Ginger Salad Dressing. Garnish with crispy wontons.
Cook's Notes:
To substitute crispy wontons, use store-bought crispy chow mein or home-made crispy rice stick noodles.
If you prefer a spicy Sesame Ginger Salad Dressing, add a teaspoon or two of chili sauce and/or chili oil to the dressing.
Copyright © 2015 Rasa Malaysia. All rights reserved.