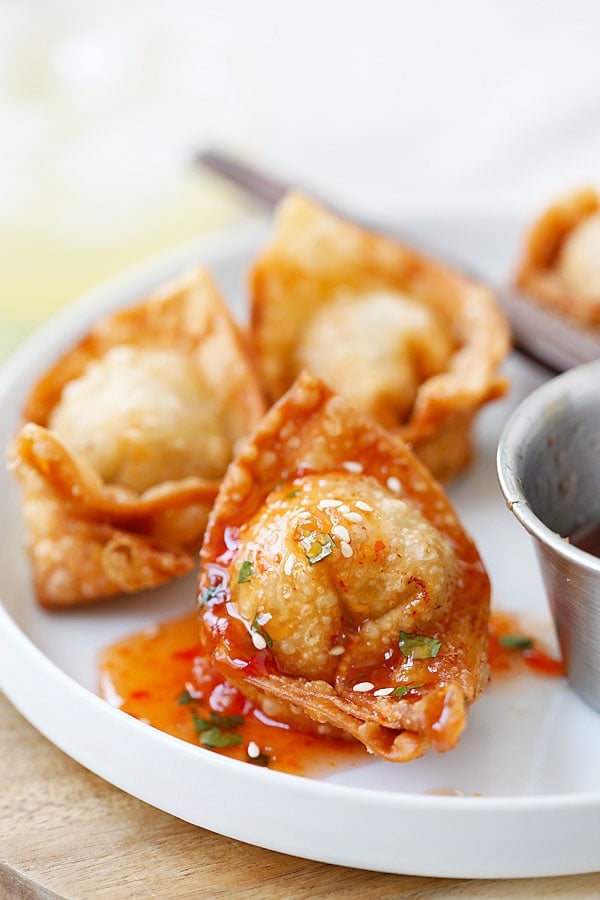 Fried Wontons
Fried wontons – BEST wontons recipe! Homemade, crispy, simple ingredients. Learn how to make wontons with this easy Chinese recipe.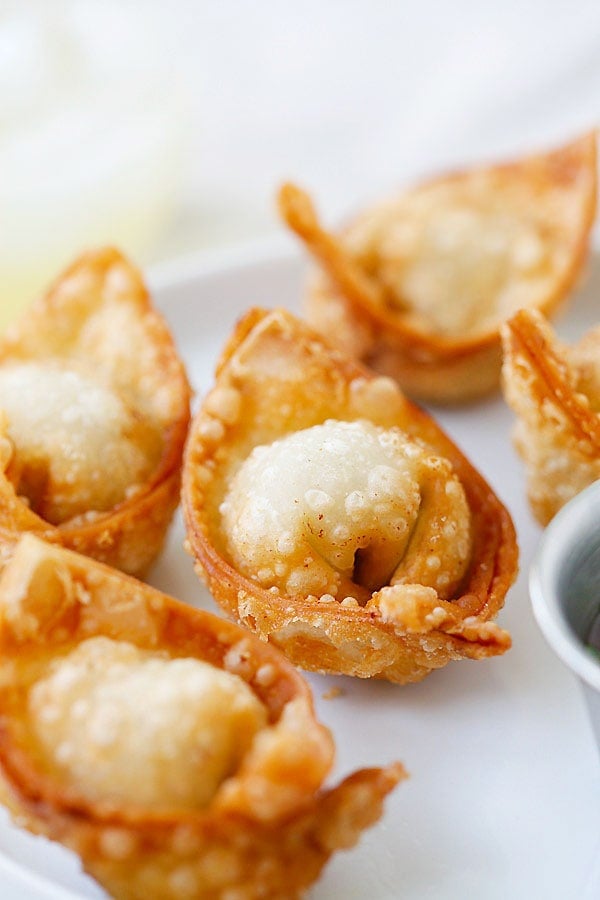 Fried wontons are especially popular in the Chinese restaurants here in the United States. They are commonly served as an appetizer and comes with a pinkish-red sweet and sour dipping sauce. Everyone loves fried wontons…they are crispy and filled with savory meat or meat and seafood filling, and the sweet and sour sauce makes them even more appetizing. Wontons come in small parcels and are available in many forms: deep-fried, boiled, steamed, or in soup.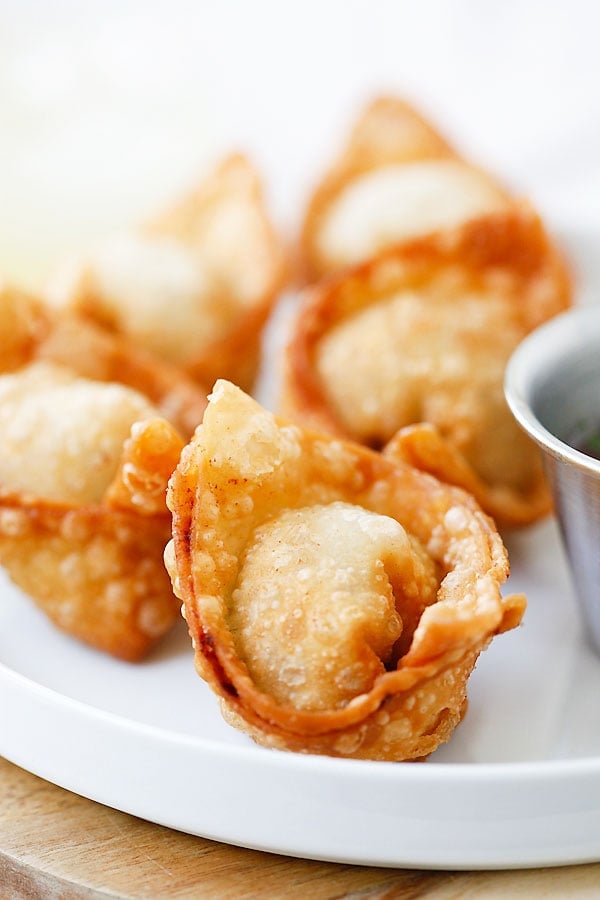 Whenever I have a craving for something light, appetizing, yet not overly complicated to make, I would make then. They are so pretty and delicious, and it takes less than 30 minutes to make them!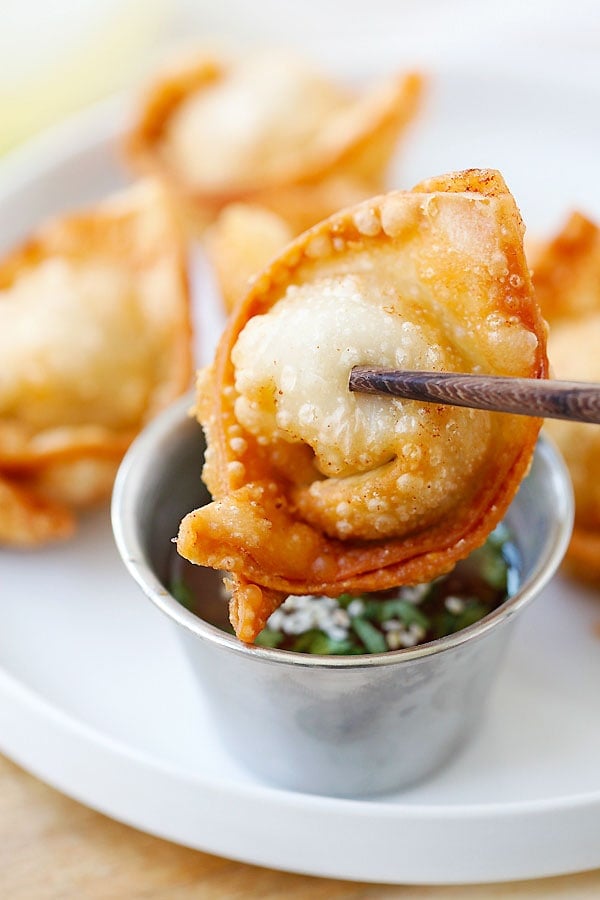 I used some shrimp and mixed them with ground pork. I also added some water chestnuts to give the wontons that extra crunchiness and interesting texture. You can be totally flexible with the fillings and use chicken or turkey instead of pork. You can add some shrimp, scallop, or even crab to the filling or just plain with meat. Here is my easy recipe that you can make at home.
Enjoy!
To make this recipe a lot more accessible, check out the following video. Make sure you subscribe to my YouTube channel for future videos.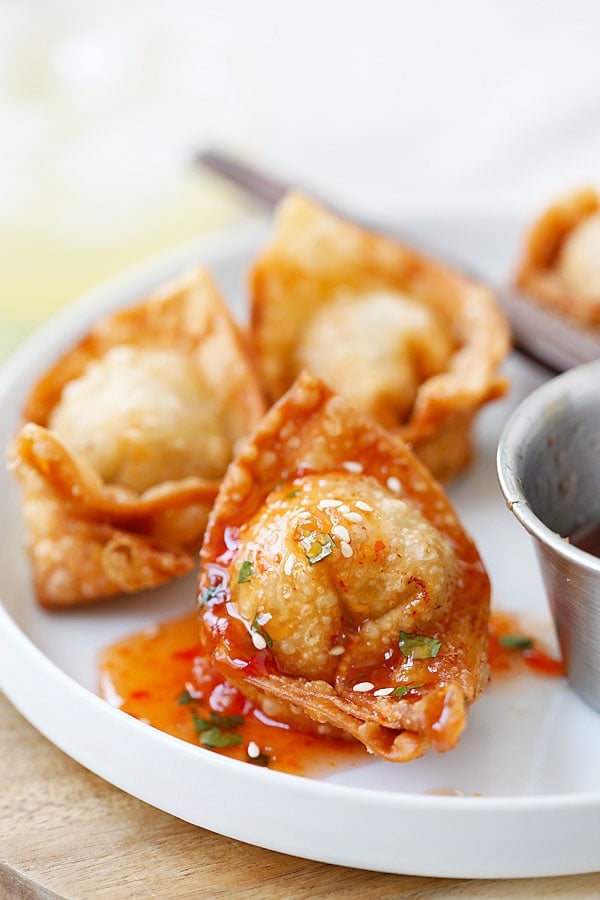 Fried Wontons Recipe
Serves 3 | Prep Time: 20 Minutes | Cook Time: 10 Minutes

Ingredients:
1/2 lb ground pork, chicken or turkey
1/4 lb shrimp, chopped into small pieces
1/2 teaspoon soy sauce or fish sauce
1/2 teaspoon sesame oil
3 dashes white pepper powder
1 pack wonton wrappers
Water, for sealing
Oil, for deep frying
Method:
To make this recipe a lot more accessible, check out the following video. Make sure you subscribe to my YouTube channel for future videos.
In a bowl, mix the ground pork, shrimp, soy sauce, sesame oil and white pepper together. Stir to combine well to form a sticky filling.
To wrap the wontons, lay a piece of the wonton wrapper on your palm and add 1/2 tablespoon of the filling in the middle of the wrapper. Dip your index finger into the sealing water and trace it on the outer edges of the wonton wrapper.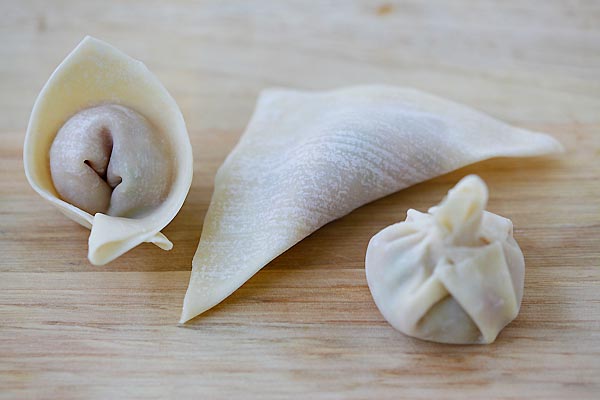 You can wrap the wontons three ways. To make a triangle, just fold it up to form a triangle. Pinch the edges to seal tight. To make them into the pretty shape (far left in the above picture), just pull the two corners of the triangle down so one overlaps the other, pinch and seal with water. To make them into Hong Kong style wonton (far right in the above picture), please watch my YouTube video below.
Heat up some oil for deep-frying. Deep fry the wontons until golden brown. Serve hot with Thai sweet chili sauce or regular chili sauce.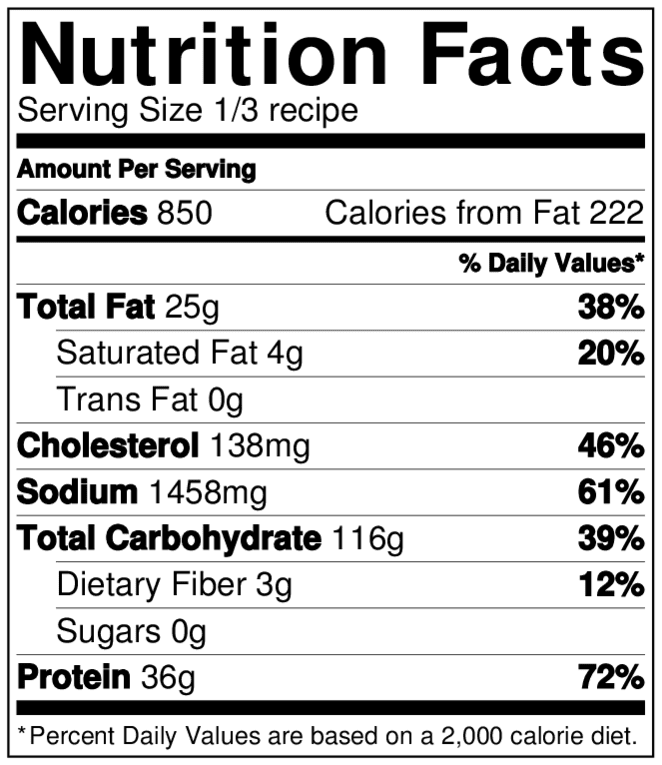 Most-Pinned Recipes
Ginger Garlic Baked Chicken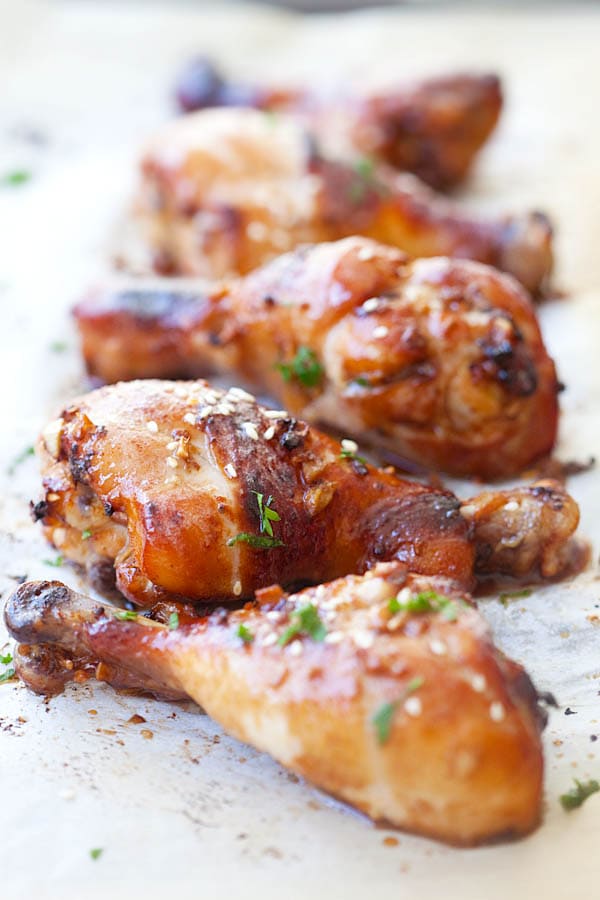 Crab Rangoon (Cream Cheese Wontons)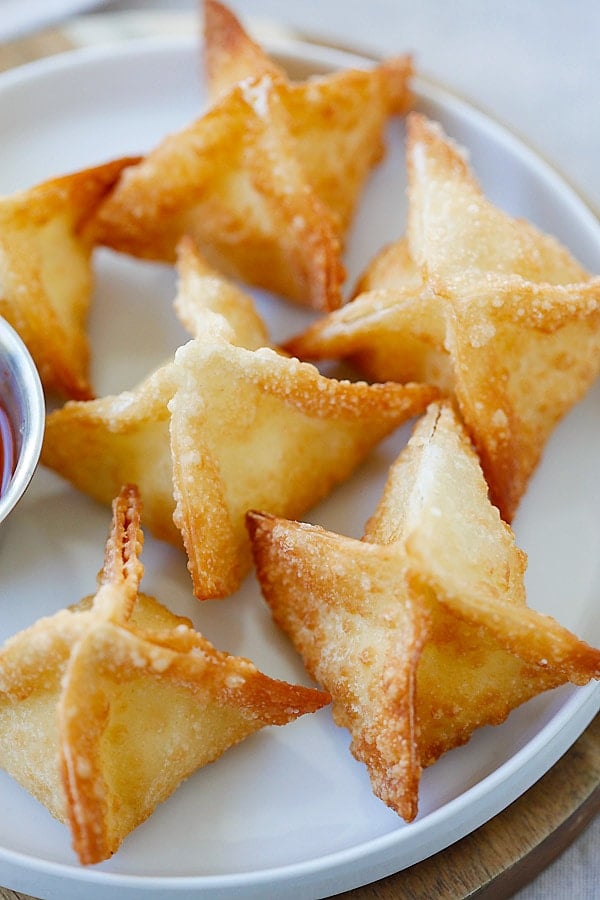 Chicken Wontons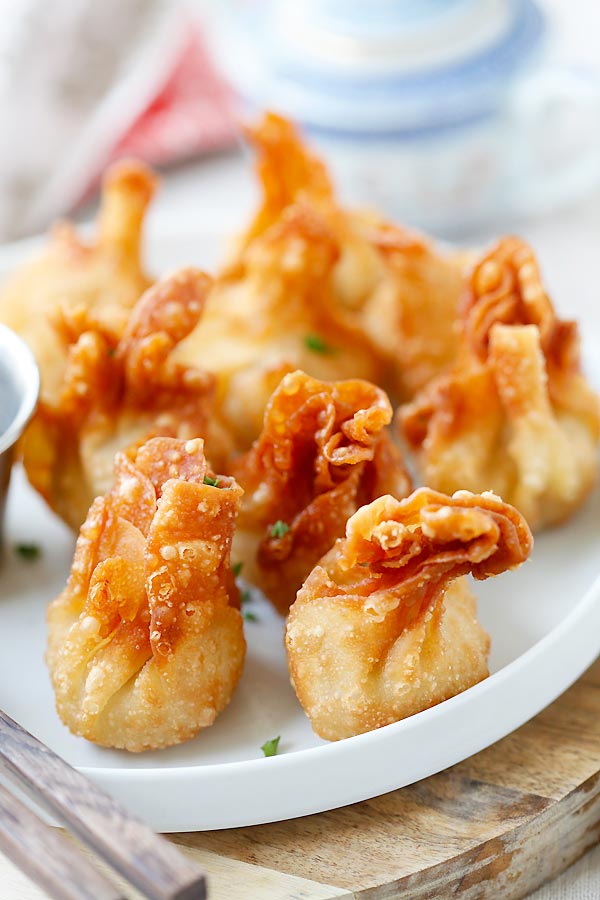 Onion Scallion Beef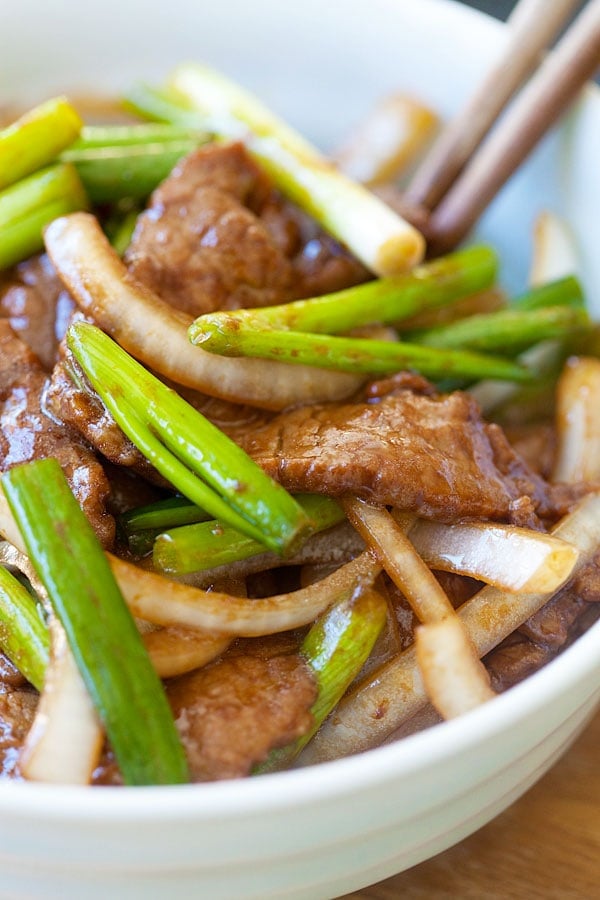 Thai Chicken Sate with Peanut Sauce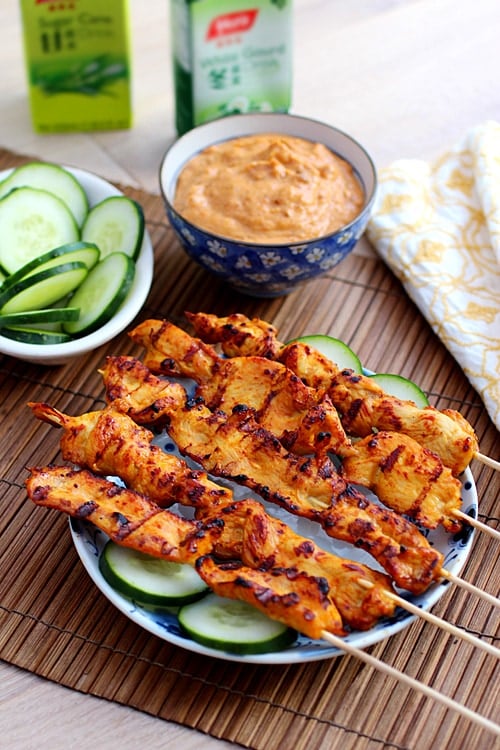 Thai Peanut Sauce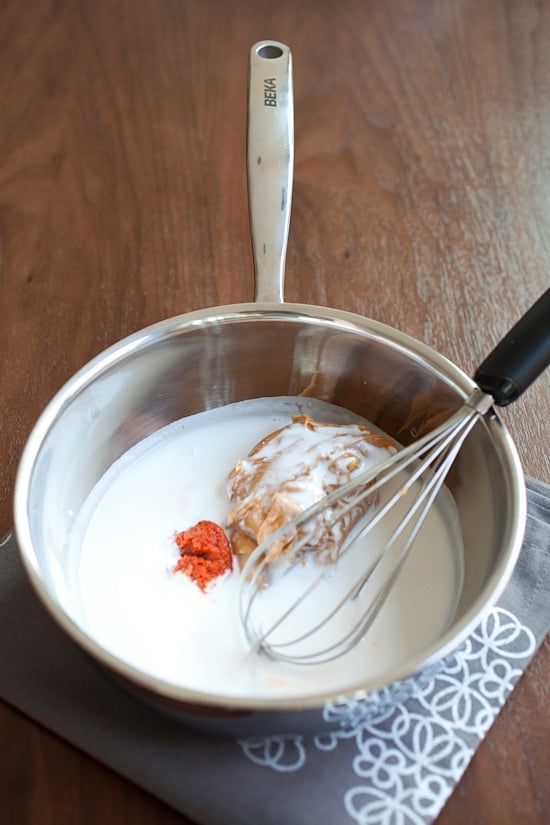 Copyright © 2016 Rasa Malaysia. All rights reserved.