Sichuan (Szechuan) Wok-fried Chicken Recipe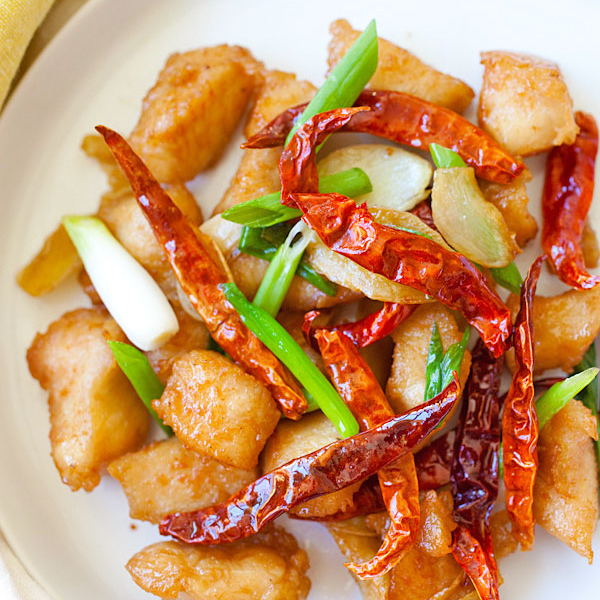 http://rasamalaysia.com/chinese-recipe-szechuan-wok-fried/
Sichuan (Szechuan) Wok-fried Chicken Recipe
(Chinese recipes, prepare authentic Chinese food now!)
My love affair with Szechuan food began about 2 years ago when I first visited China. Before my trip to China, the notion of trying out Szechuan food was never high on my "what-to-eat" list. Then, when I wanted to have Chinese food, I would go for Dim Sum, Malaysian Chinese food, or typical Cantonese-style BBQ or seafood meals.
It all changed when I went to China and had my first real Szechuan meal in a popular restaurant called Xiao Lu Lu (小鹭鹭) in Shanghai. I fell under the spell of this exquisitely flavorful cuisine immediately; it was indeed love at first bite. I was marveled by the depth and the spice structure of the cooking and wished only that I'd discovered Szechuan cuisine earlier. In a way, my trip to China opened up a whole new chapter in my culinary world and gave me access to ingredients and flavors that I've never thought possible. In my opinion (without sounding too cliché), Szechuan food is the new Thai, but more complex and more explosive in flavor…
The secret ingredient of Szechuan food is Szechuan pepper (花椒)–the medium that gives Szechuan food the staple tingly numbing effect (麻). Szechuan pepper exudes rich aroma and exotic scent to dishes and together with dried chili pepper, they give the Ma La (麻辣) flavor that is signature to Sichuan food. And believe me when I say this, once you've tried Ma La (麻辣), there is no turning back.
One of the Szechuan dishes that I absolutely love is Szechuan wok-fried chicken and I made it this past weekend. This chili-laden dish was alluringly tongue-numbing, explosively fiery, and pleasantly addictive. However, it's just not the easiest dish to make at home (my smoke alarm went off while I was trying to wok hei (鑊氣) this dish!), but the result and experience were certainly satisfying.
So, do you like Ma La (麻辣) Szechuan food?
Click Images Below for Similar Recipes:
LOVE THE RECIPE & PHOTOS? PLEASE SHARE:
Sign Up for Email Updates
Enter your email for new updates: recipes, giveaways, and more!