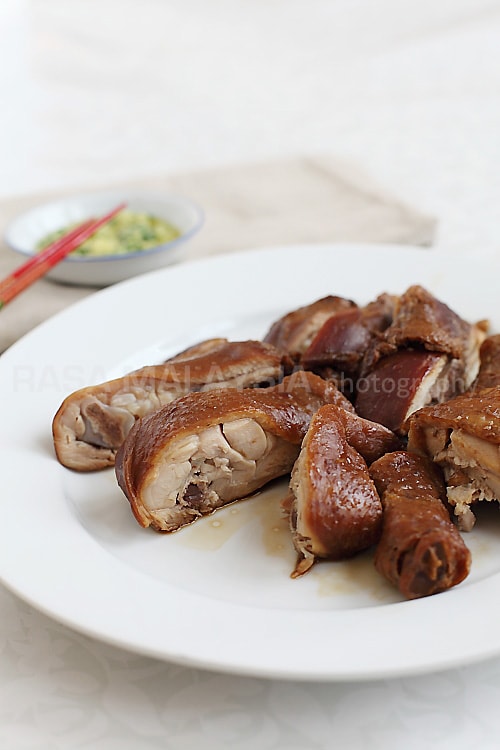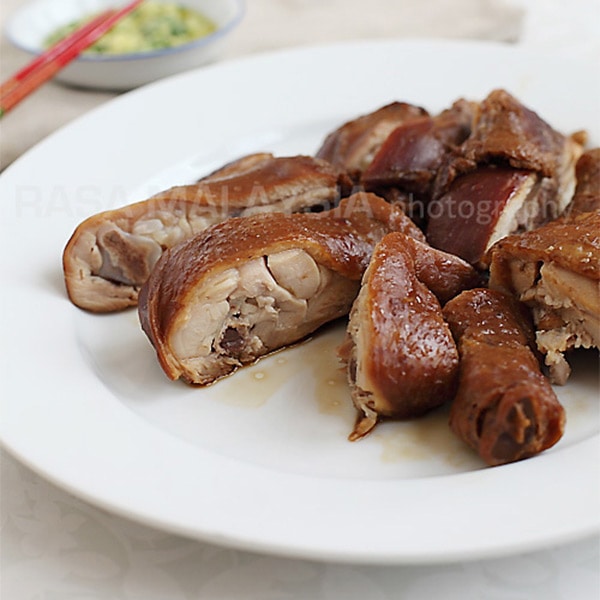 Soy Sauce Chicken (豉油鸡)
Soy sauce chicken is a typical Cantonese recipe commonly found at Chinese BBQ restaurants at Chinatown. Easy soy sauce chicken recipe to make at home.
Ingredients:
3 chicken leg quarters (about 2 lbs)
2-inch ginger (skin peeled and lightly pounded)
4 cloves garlic (lightly pounded)
2 stalks scallions (cut into 2-inch lengths)
2 star anise
1 cinnamon stick (about 2-inch length)
1 dried honey dates (optional)
1 cup soy sauce
1/2 cup dark soy sauce
1 tablespoon Chinese rose wine (preferred) or Shaoxing wine
3 dashes white pepper powder
4 oz. rock sugar
4 cups water
Ginger and Scallion Dip:
1 oz. ginger (skin peeled, pounded, and finely chopped)
1 scallion (cut into thin rounds)
1/2 heap teaspoon chicken bouillon powder
1/2 heap teaspoon salt
2 tablespoons oil
Method:
To prepare the ginger and scallion dip, place the ginger, scallions, salt, and chicken bouillon powder into a small bowl. Heat up 2 tablespoons of oil in a wok until it starts to smoke. Pour the oil into the small bowl and blend well. Set aside.
Add all ingredients (except the chicken) into a deep pot and bring it to boil on high heat for 15 minutes. Add the chicken quarters into the pot and boil over high heat for about 10 minutes. Lower the heat to simmer for about 30 minutes. Turn off heat and let the chicken steeped in the soy sauce mixture for a few hours to soak in the flavor. Dish out the chicken quarters, chop into pieces and serve immediately with the dipping sauce. (Soy sauce chicken is usually served cold or at room temperature.)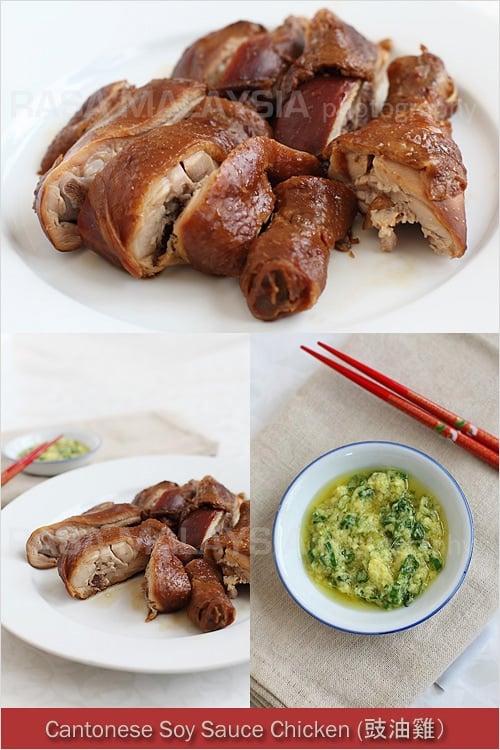 My Chinese New Year recipes continues today with everyone's favorite Cantonese Soy Sauce Chicken (豉油鸡)—a staple chicken dish commonly found at Chinatown BBQ joints here in the United States and around the world—dark and glossy whole chicken dunked in a soy sauce mix with meat so tender, silky, and juicy that they are one of the must-have's for Cantonese-style BBQ rice plates. If you have been to a typical Cantonese BBQ restaurant, I am sure you have had soy sauce chicken. I can hardly resist the tempting looking chicken with the perfect sheen, hanging at the display window calling my name! Soy sauce chicken is utterly delicious, especially when you dip it with the ginger and scallion condiment. The thought of it just sets my mouth watering.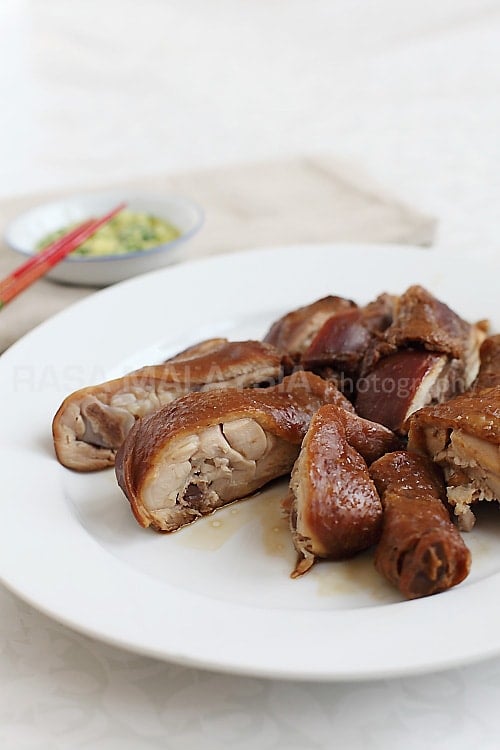 Chinese love chicken and there is always a chicken dish on the Chinese New Year menu, so what about serving soy sauce chicken this year? Soy sauce chicken (豉油鸡) is really not so hard to make, and you don't have to use a whole chicken. I didn't because I didn't have a pot big enough to contain a whole chicken, plus, I must confess that I don't have great knife skills (I didn't go to culinary school!) to make perfect chops. I used chicken leg quarters but you can use cut up whole chicken, too. Of course, if you have all it takes, by all means, use a whole chicken.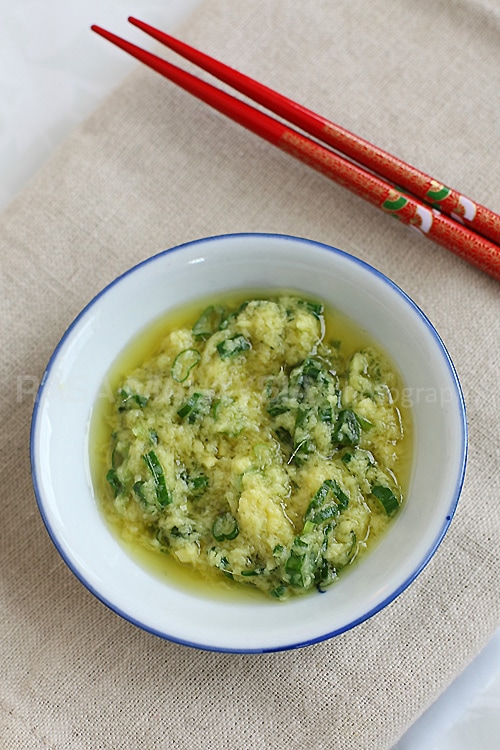 Do try out this soy sauce chicken recipe (豉油鸡), it's pretty darn close to the ones at my favorite BBQ joint here in SoCal. I saved the soy sauce mix to make various accompanying dishes such as Chinese soy sauce eggs (滷蛋) and soy sauce fried tofu (滷水豆腐). Super yummy!