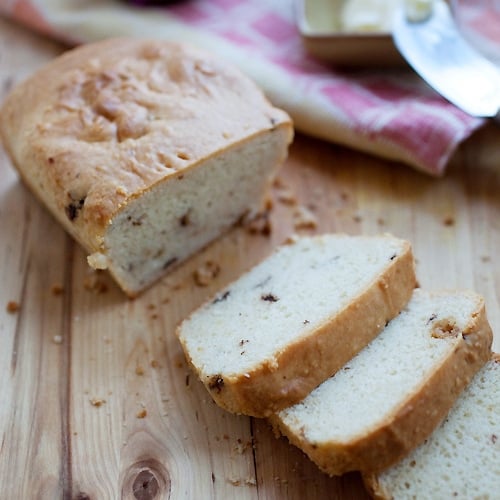 Chocolate Chip Cookie Dough Bread
2-ingredient chocolate chip cookie dough bread – YES. Just buy your favorite ice cream and mix with flour and you have a bread, and it's good
Prep time:
Cook time:
Total Time:
Ingredients:
2 cups chocolate chip cookie dough ice cream (or your favorite flavor of ice cream)
1 1/2 cups self raising flour, sifted
Method:
1. Preheat your oven to 350 Fahrenheit. Butter a 8 x 4 loaf pan, or line it with parchment paper.
2. In a medium bowl, mix softened ice cream and flour together until well combined.
3. Scoop the mixture into the loaf pan and smooths out the surface.
4. Bake for about 45 minutes or until a toothpick inserted into the loaf comes out clean.
5. Remove from the pan, allow to cool slightly, slice and serve immediately.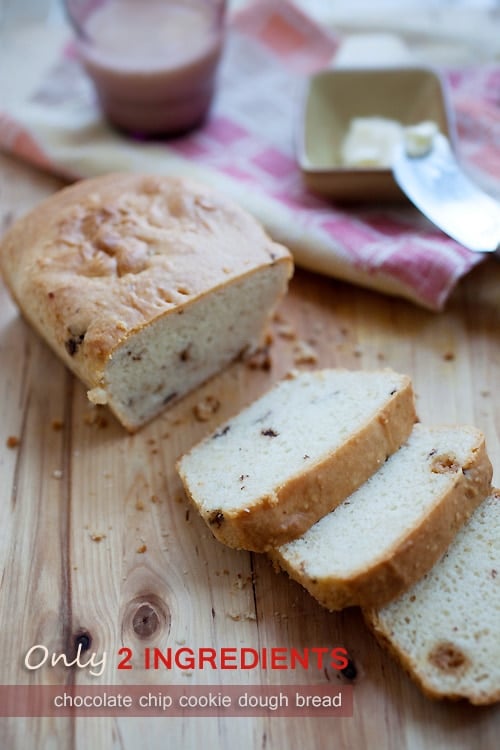 This chocolate chip cookie dough bread takes only two ingredients.
Two. Ingredients.
Yes, you heard it right.
If there is a genius recipe award, I'd give this to my friend Javan at The Dining Table (Singapore Food Guide). This recipe is made of two ingredients: your favorite ice cream (not low fat) and self raising flour. Two ingredients, 5 minutes of mixing time, and 45 minutes of baking time, and you have a loaf of sweet, tasty, and aromatic bread that tastes like you had a very complicated recipe and spent the whole afternoon baking. And the best of it all, you can make just about any flavor of this bread using your favorite ice cream. Dark chocolate chip bread? Sure. Peanut butter S'mores bread, not a problem. Salted caramel truffle bread? Check. You can make just about any bread you like, using your favorite brand of ice cream. It's magic!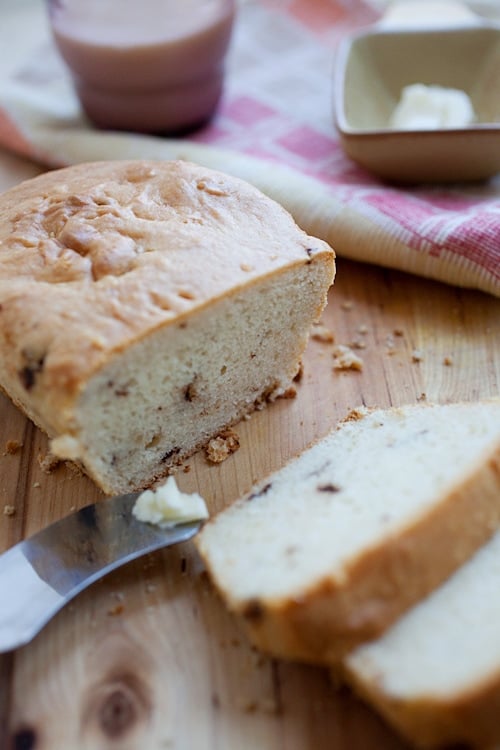 Fresh off the oven, this Chocolate Chip Cookie Dough Bread tastes so delicious. It's got all the flavors and perfect sweetness. You don't even need any jam. You can just eat it as is, or if you like, with a spread of butter. This recipe is also toddlers and kids friendly. Who doesn't like their favorite ice cream in the form of a bread? Try the recipe today and I am sure you will love this effortless and easy baking recipe.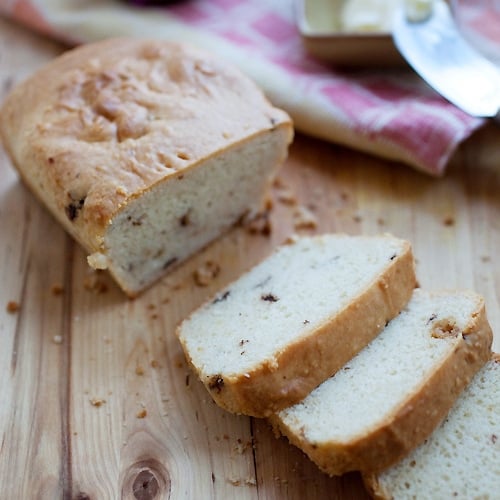 Rate This
Recipe Name
Chocolate Chip Cookie Dough Bread
Preparation Time
Cook Time
Total Time
Average Rating

Based on 3 Review(s)