Click Here to Print without Pictures (Ads will not print)
Click Here to Print with Pictures (Ads will not print)
IMPORTANT: If you have problems with printing, for example: non-English garbage text, please save the recipe as a PDF on your computer and then print from the PDF.
Note: The print dialog box will appear once the advertisements have completely loaded, if not please open the browser menu and select "Print..." to print the recipe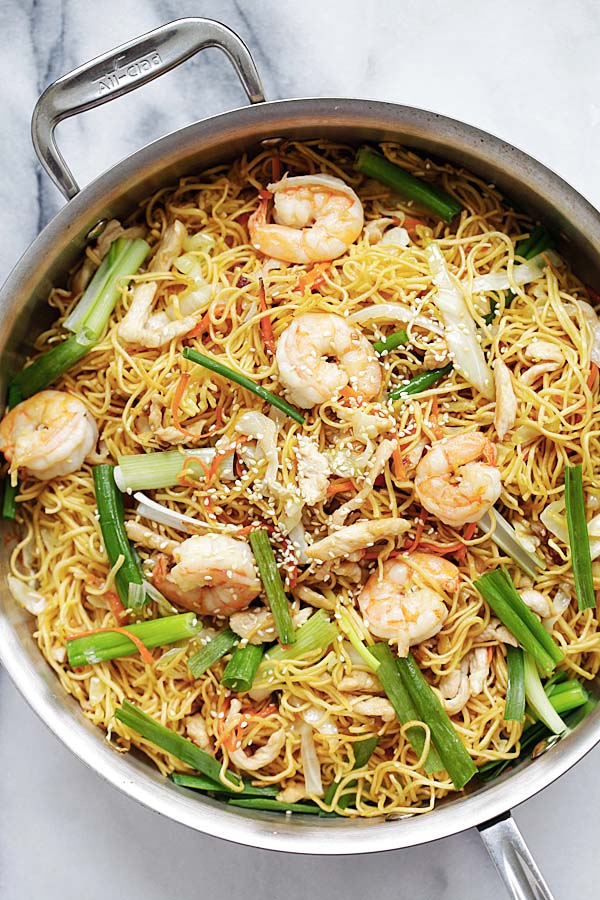 Chow Mein
Chow Mein – quick and healthy Chinese fried noodles Chow Mein recipe that anyone can make at home. Tastes so much better than takeout!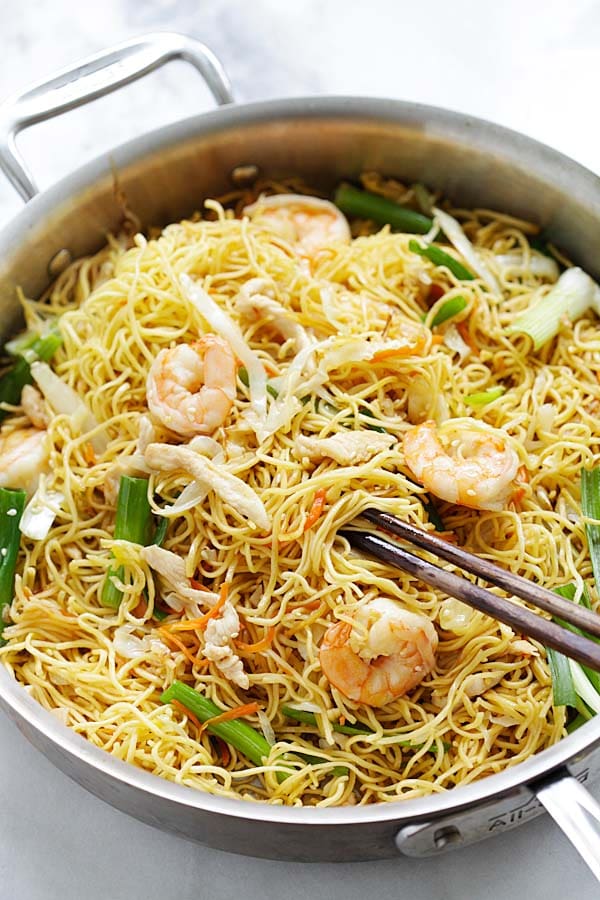 Everyone loves Chow Mein, or Chinese fried noodles with an assortment of ingredients such as meat, shrimp, vegetables, and seasoned with savory sauces. I love chow mein, it's my comfort food and it's something that I never get bored of eating.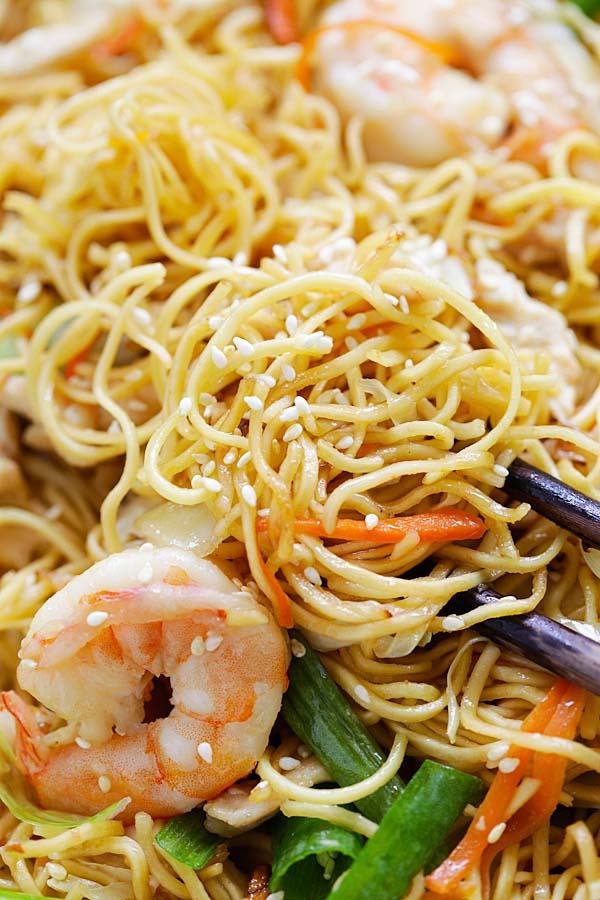 Unfortunately, most chow mein found at regular Chinese restaurants or takeouts are inferior. It's always soaked in oil, unappetizing and not very tasty. Chow mein is absolutely delicious, healthy and mouthwatering if done right and I am going to teach you how to make a good homemade version with my recipe.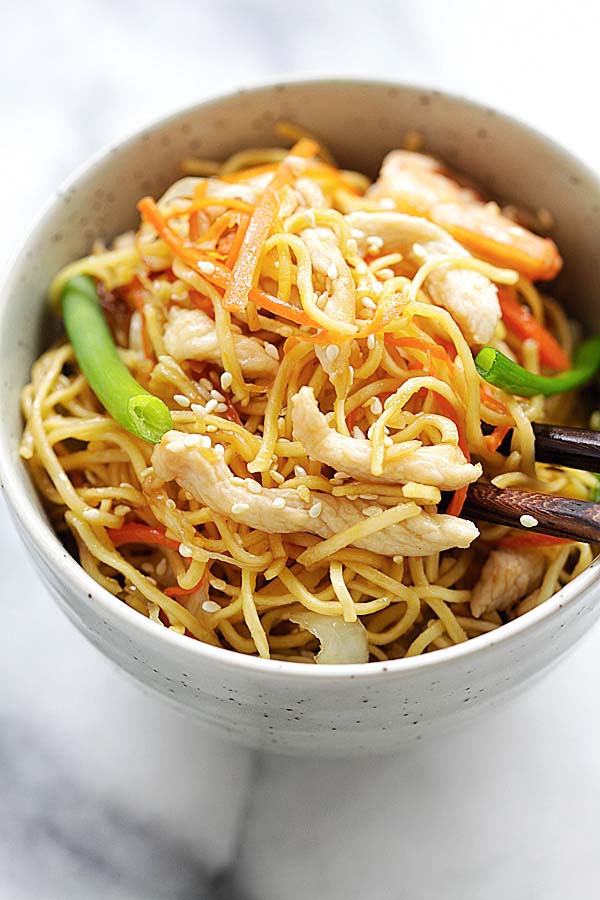 You can find Chinese-style fresh chow mein at Asian stores, but if you can't, dried noodles you find at regular supermarkets work just fine. My recipe is very versatile, you can use just about any protein you like. Make a big serving for the family and I guarantee you that you don't have to order takeouts again!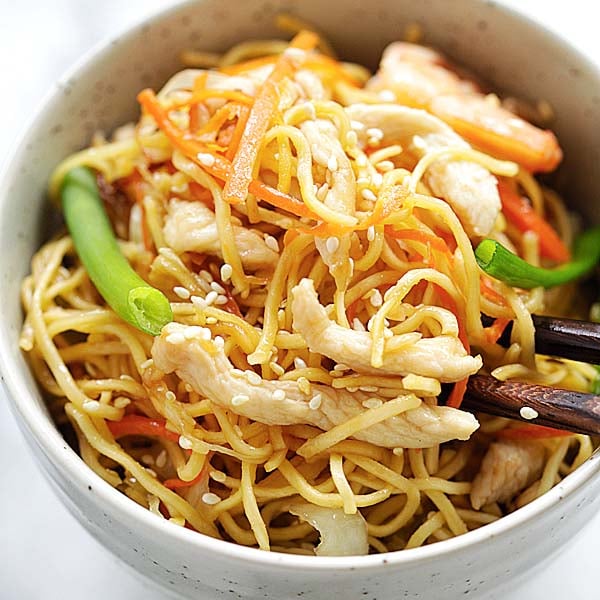 Rate This
Recipe Name
Chow Mein (Chinese Noodles)
Preparation Time
Cook Time
Total Time
Average Rating

Based on 30 Review(s)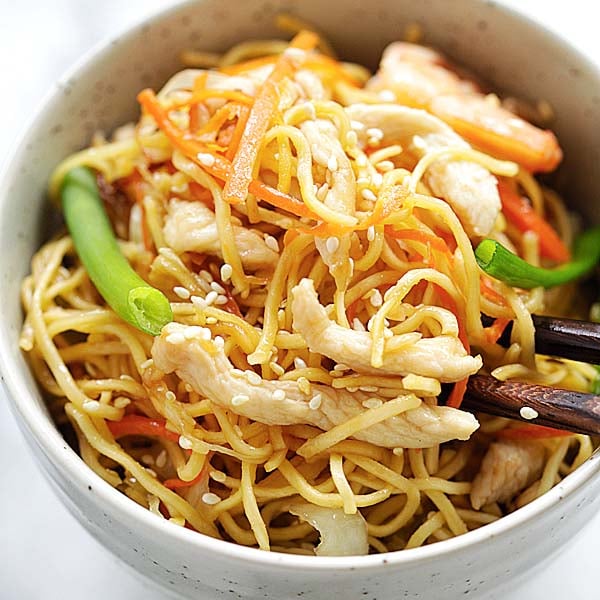 Chow Mein
Chow Mein – quick and healthy Chinese fried noodles Chow Mein recipe that anyone can make at home. Tastes so much better than takeout!
Prep time:
Cook time:
Total Time: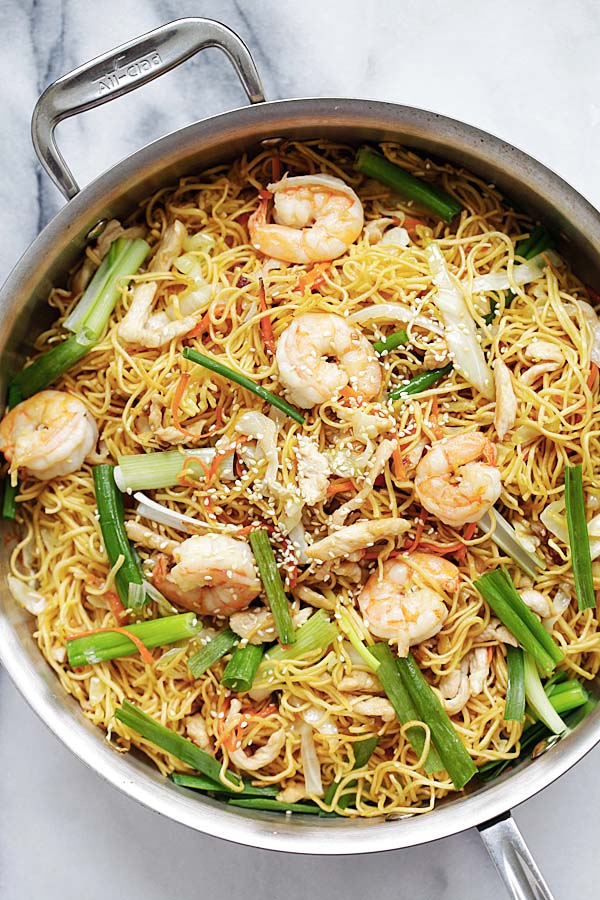 Yum
Chow Mein Recipe
Serves 2 | Prep Time: 10 Minutes | Cook Time: 5 Minutes
Ingredients:
8 oz. steamed chow mein
1 tablespoon soy sauce
1 tablespoon oyster sauce
1/2 teaspoon sugar
1/2 teaspoon Chinese dark soy sauce
2 tablespoons water
2 tablespoons oil
3 garlic cloves, finely minced
2 oz. chicken, cut into thin strips
6 shrimp, shelled and deveined
1/2 cup shredded cabbage
1/4 cup shredded carrot
2 stalks scallions, cut into 2-inch strips
Method:
Soak the steamed chow mein in cold water for about 5 minutes. Rinse a few times until the water turns clear and the chow mein is soft. Drain the excess water and set aside. (Don't over soak the chow mein or the noodles will get limpy and soggy.)
In a small mixing bowl, mix the soy sauce, oyster sauce, sugar, dark soy sauce and water together. Set aside.
Heat up a skillet or wok with the oil. Add in the garlic and stir-fry until light brown or aromatic. Add the chicken and shrimp and stir fry until they are half cooked. Add the shredded cabbage and carrot into the wok and do a few quick stirs. Add the noodles and the soy sauce mixture. Continue to stir fry until the noodles are well combined with the soy sauce mixture and completely cooked through. Add the chopped scallions, do a few final stirs, dish out and and serve hot.

Copyright © 2017 Rasa Malaysia. All rights reserved.