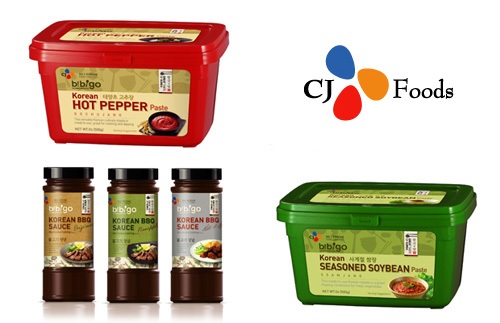 Update: The winner is Stefani L.
I love Korean food and I am glad to bring you this CJ Foods Giveaway.
One (1) lucky winner will win the following:
Bibigo Gochujang (Korean Hot Pepper Paste): This signature ingredient for Korean cooking is made from a cultured soy bean base, combined with premium red chili powder, fresh garlic and onions, to create a balanced blend of savory, spicy and sweet. Gochujang is traditionally used as a topping, a dipping sauce for vegetables or sashimi, or as a cooking sauce for stir-fry dishes with chicken or vegetables.
Three Bibigo Korean BBQ Sauces: Original, Pineapple and Hot & Spicy. Each variety can be used as a marinade for traditional Korean BBQ (like bulgogi and kalbi), or as a stir-fry sauce to create a delightful culinary experience. No MSG or trans fats.
Bibigo Ssamjang (Korean Seasoned Soybean Paste): A Korean staple made with cultured soybean base and pepper paste, combined with fresh garlic, onion, scallions and sesame oil.  This condiment can be used as a dip for Korean BBQ lettuce wraps or vegetables, or combined with mayonnaise to create a unique and flavorful sandwich spread.
To enter, just leave a comment below.
To maximize your odds of winning, you can leave a comment every day (one comment per day strictly enforced), plus the bonus entries below:
Four (4) Bonus Entries:
This giveaway opens to US only and closes on Oct 30, 2011 11:59 pm PST. Winners will be randomly selected and contacted on Oct 31, 2011. Good luck!
The prize is proudly sponsored by CJ Foods.