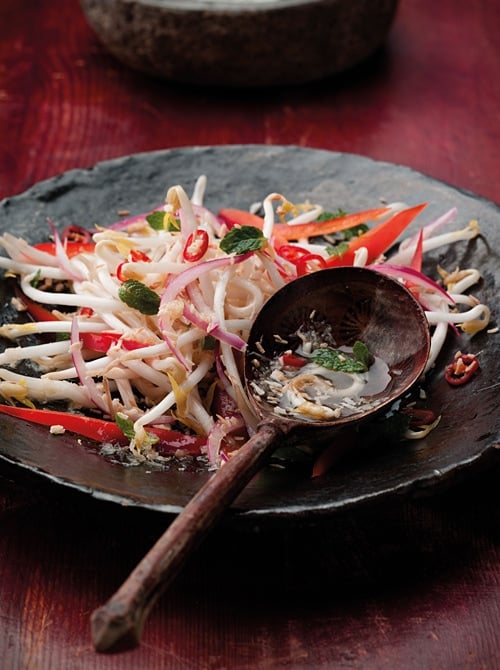 Today, we have a guest post from rising celebrity chef John Gregory Smith who is based in London. He is a cookbook author and also a TV chef, with a new YouTube Hungry show. John and I connected a few years ago when he was on a spice trip to Penang and joined my brother's Penang Culinary Tour. Anyway, John has a few cooking segments on YouTube Hungry and I just love watching him, listening to his perfect English accent (swoon). Please welcome John to Rasa Malaysia with his Malaysian Coconut and Chili Kerabu salad. You can check out his cooking video of this kerabu salad here.
This vibrant fresh Malaysian salad was inspired by my trip to Penang several years ago. After a busy day eating Dim Sum in Chowrasta market in Chinatown and delicious roti canai in Little India we stopped off for a proper meal at a wonderful restaurant called Minah.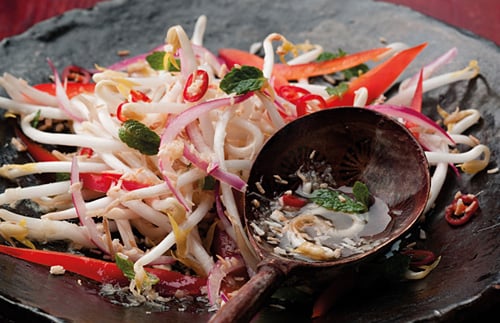 Minah was a typical Malay style restaurant, where fabulous food was cooked and presented buffet style. We ate so well; grilled fish with a tamarind dip, rich beef rendang, Ulam salad that had juicy cucumber and pineapple and lastly a wonderful beansprout salad – Kerabu. It was crunchy, hot and so delicious and worked so well with the beef curry, absorbing all the rich flavours.
My version is all raw, so it's super quick to make. It tastes fantastic with any grilled meat or fish and works beautifully with a creamy S.E. Asian curry.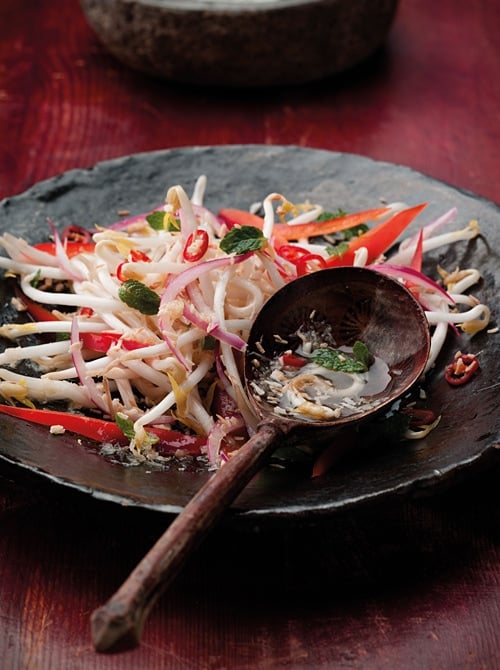 Coconut and Chili Kerabu Salad Recipe
Serves 4
Ingredients:
1⁄2 red onion, thinly sliced
2 tablespoons shredded coconut
1 red bell pepper, seeded and thinly sliced
2 1⁄4 cups bean sprouts
1⁄2 red chili, seeded and finely chopped
1 small handful mint leaves, roughly chopped
FOR THE DRESSING:
4 tablespoons fish sauce
juice of 2 limes
2 teaspoons sugar
1-inch piece gingerroot, peeled
Method:
1. To make the dressing, whisk the fish sauce, lime juice and sugar together in a large bowl. Grate the gingerroot into the bowl, discarding the fibrous bits, and mix well.
2. Scatter the onion over the dressing and mix well, then set aside 5 to 10 minutes. This takes the rawness out of the onion.
3. Meanwhile, toast the coconut in a small skillet over medium heat, stirring continuously, 
30 to 40 seconds until the coconut turns a lovely golden brown. Tip it onto a plate and 
set aside.
4. To assemble the salad, add the red pepper, bean sprouts, red chili and mint to the 
onion mixture and toss until all the ingredients are well coated. Transfer to a serving bowl, scatter the roasted coconut over the top and serve immediately.
Most-Pinned Recipes
Ginger Garlic Baked Chicken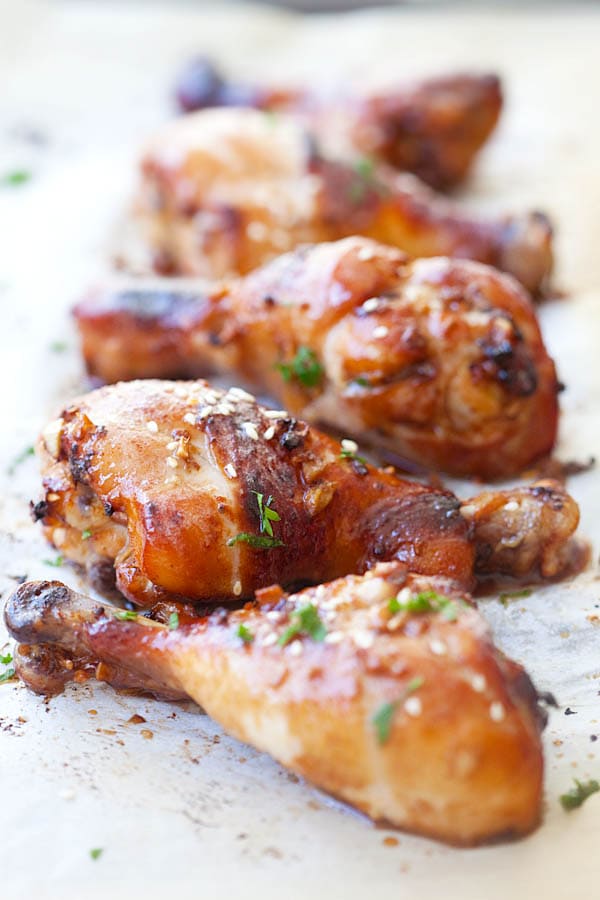 Crab Rangoon (Cream Cheese Wontons)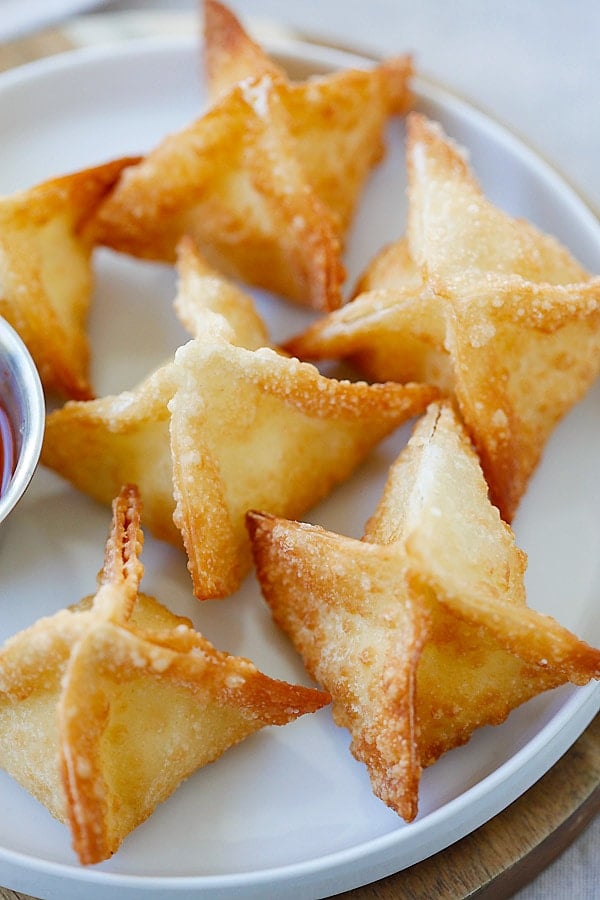 Chicken Wontons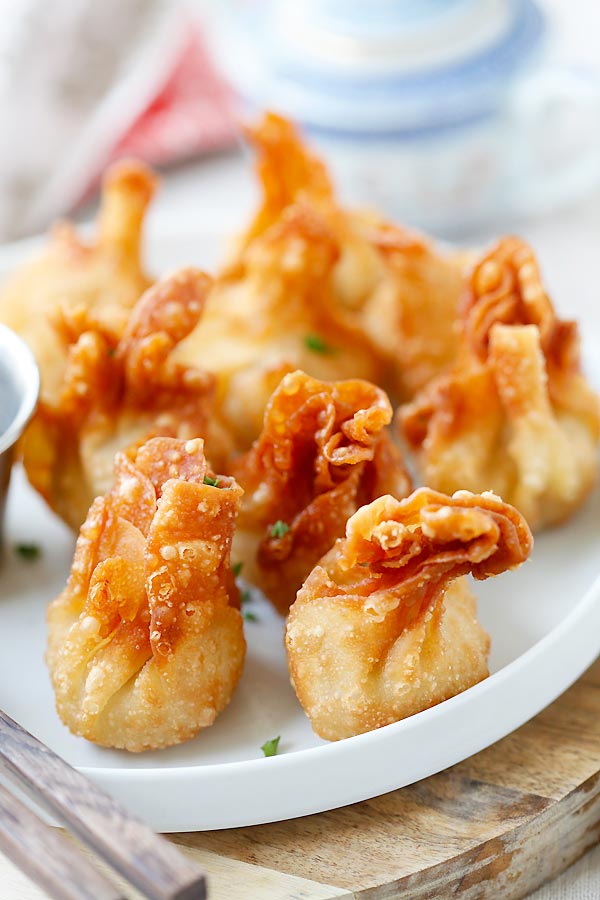 Onion Scallion Beef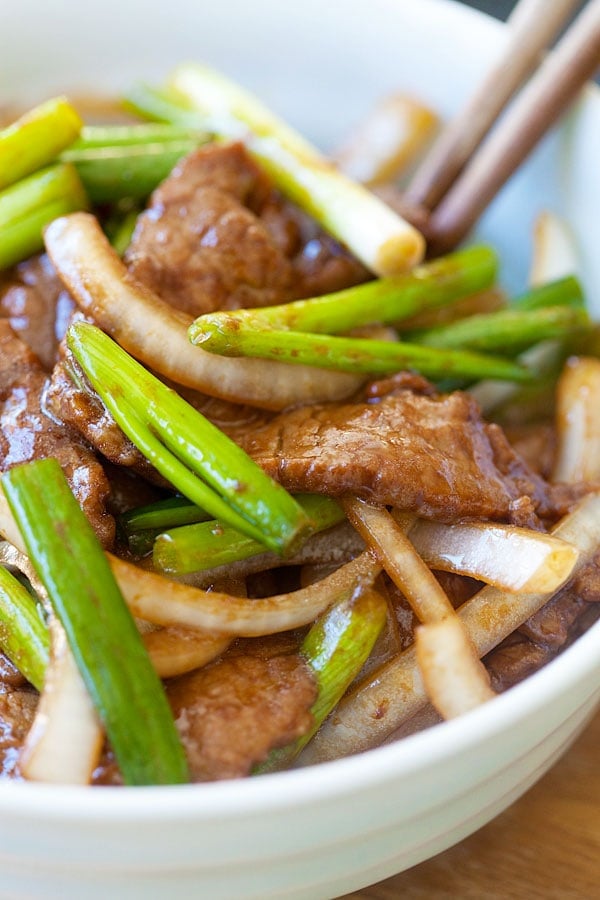 Thai Chicken Sate with Peanut Sauce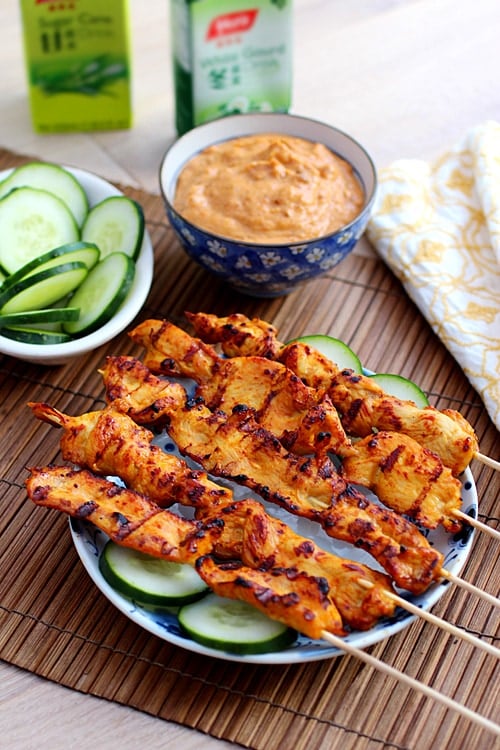 Thai Peanut Sauce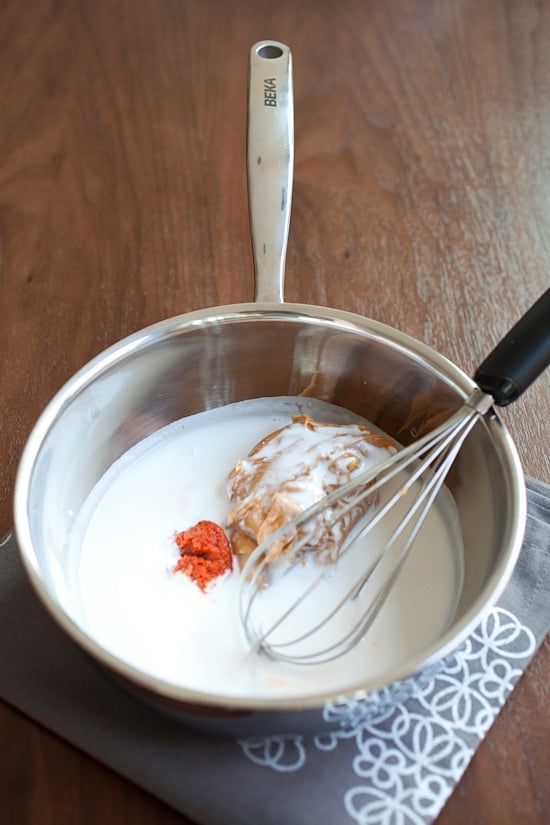 Limited Time Offer: $5.99 only. Available for download WORLDWIDE!
**Use it on Your Tablet, Mobile Phone, Desktop or Laptop**
Copyright © 2016 Rasa Malaysia. All rights reserved.