Cookbook Promo Video (and Blooper Reel)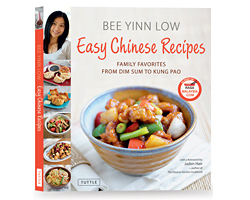 http://rasamalaysia.com/cookbook-promo-video/
Cookbook Promo Video (and Blooper Reel)
A few weeks ago, my friends at Eat A Duck I Must came to Irvine to shoot a sizzle video for me. The video is mostly about what I do on a daily basis, with a heavy emphasis on my cookbook. If you have been curious about my "gourmet kitchen," "professional photo studio," and the "huge mansion I live in," you will get a glimpse of them, plus bloopers! *wink*
Cookbook update:
Easy Chinese Recipes is now available on Amazon.com. The book will officially hit the book stores in the US on Sept 10, 2011. For the complete list of book stores selling my book, please refer to the cookbook official page (scroll down to the bottom).
Thanks so much to Alice and Jared for shooting and editing the video, and for putting up with my "creepy" facial expressions during the shoot. If you are interested in hiring them, check out their portfolio at Zhao Photography. They also shot the ingredients shots in my cookbook.
Click Images Below for Similar Recipes:
LOVE THE RECIPE & PHOTOS? PLEASE SHARE:
Sign Up for Email Updates
Enter your email for new updates: recipes, giveaways, and more!