Cooking Classes in Los Angeles, featuring Rasa Malaysia!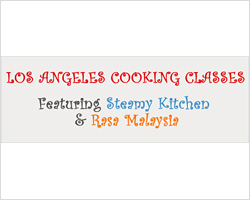 http://rasamalaysia.com/cooking-classes-in-los-angeles/
Cooking Classes in Los Angeles, featuring Rasa Malaysia!
I have a big announcement: my cook buddy Steamy Kitchen will be teaching two classes in Los Angeles in December and she kindly invited me to co-teach the Southeast Asian class with her. Now, this is the most exciting news to hit Rasa Malaysia this year, don't you think?
This will be my virgin cooking class so I am very excited about it. Together with Jaden of Steamy Kitchen, we will teach you how to whip up the following exotic dishes from Southeast Asia.
Southeast Asian Class $90
Date: Saturday, December 15th
Time: 6:30pm – 9:30pm
Venue: Epicurean School of Culinary Arts
1) The world famous Rasa Malaysia Butter Prawns
2) Thai Panang Curry with Jasmine Rice
3) Indonesian Lemongrass Beef Satay with Peanut Sauce
4) Vietnamese Fresh Summer Rolls
Class is very small (15 people max) and completely hands on. Seats are limited so call Epicurean now to register: (310) 659-5990. Other than this class, Jaden will also be teaching a Dim Sum class (where I will be lurking!). For more information, please click here to check out Steamy Kitchen's post.
See you there!
You Might Also Like These Recipes Below:
LOVE THE RECIPE & PHOTOS? PLEASE SHARE:
Sign Up for Email Updates
Enter your email for new updates: recipes, giveaways, and more!