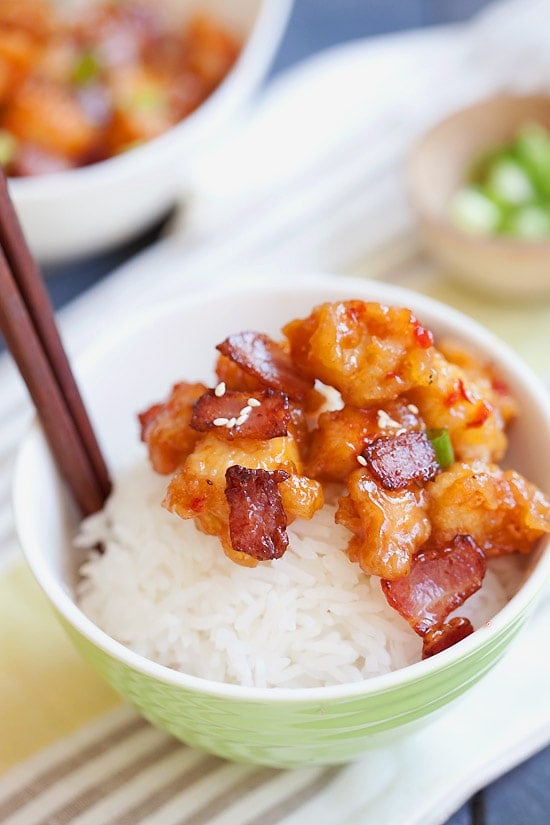 Copycat Panda Express Orange Chicken With Bacon Recipe
Serves 2 | Prep Time: 20 Minutes | Cook Time: 10 Minutes
Ingredients:
8 oz boneless chicken breast, cut into bite-sized pieces
2 teaspoons cooking oil 2 cloves garlic, minced
3 thick slices Applewood-smoked bacon (pan-fried/baked till crisp), cut into pieces
Oil for deep-frying
Salt and sugar, to taste
Frying Batter:
1 egg
1/4 cup all-purpose flour, sifted
2 tablespoon cornstarch
1/2 teaspoon baking powder
1/4 cup water, ice cold
1/2 tablespoon cooking oil
Pinch of salt
Orange Sauce:
1/4 cup orange juice
1 teaspoon chili garlic sauce sauce (Huy Fong "Rooster" brand), optional
3 tablespoons water
2 tablespoons soy sauce
5 teaspoons sugar
1 teaspoon Apple cider vinegar, red wine vinegar or Chinese white vinegar
1 teaspoon corn starch
Method:
In a bowl, mix in all the Orange Sauce ingredients. Set aside.
Make the Frying Batter. In a large bowl, whisk eggs and mix in the rest of the Frying Batter ingredients until batter is smooth. Drop in the chicken cubes and mix well. Heat up a pan or wok with deep-frying oil. Gently drop in the battered chicken cubes, one by one, making sure it is spread out to prevent sticking and overcrowding the wok. Deep-fry until color changes to golden brown and completely cooked. Dish out and drain on paper towels.
Heat up the pan/wok or over medium-high heat with 2 teaspoons of cooking oil. Stir-fry the garlic until fragrant.
Gently pour in the Orance Sauce mixture, stir until the sauce thicken. You may adjust additional seasoning as per taste, ie. water (if sauce is too thick, cornstarch solution, to thicken the sauce), add salt, sugar, chili sauce, to taste. Toss in the deep-fried chicken and bacon, stir well, dish out and ready to serve with warm steamed white rice.
Most-Pinned Recipes
Ginger Garlic Baked Chicken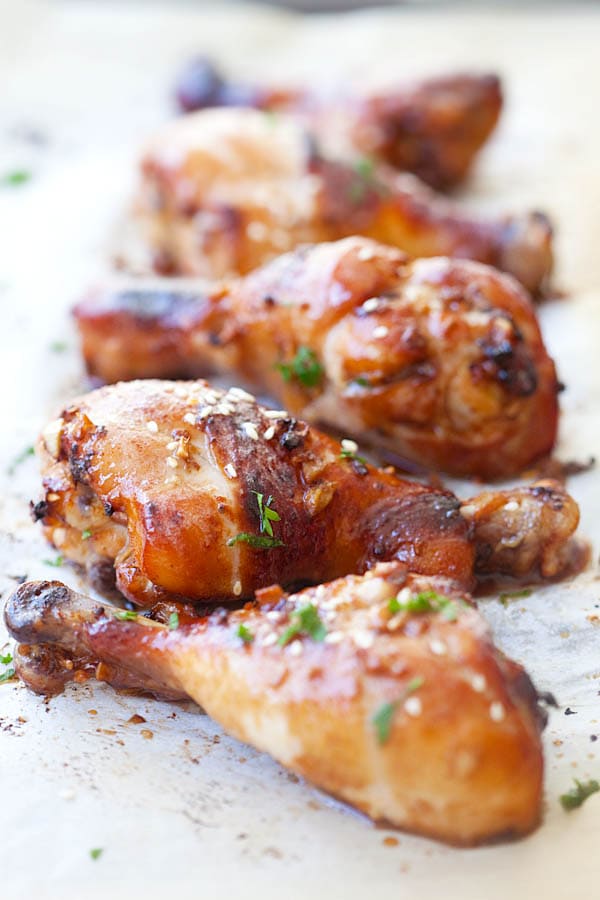 Crab Rangoon (Cream Cheese Wontons)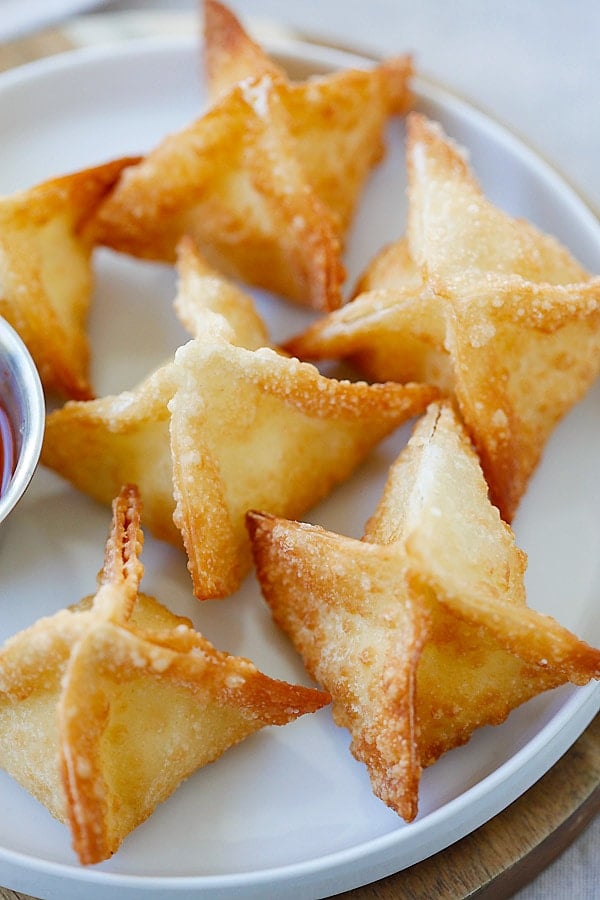 Chicken Wontons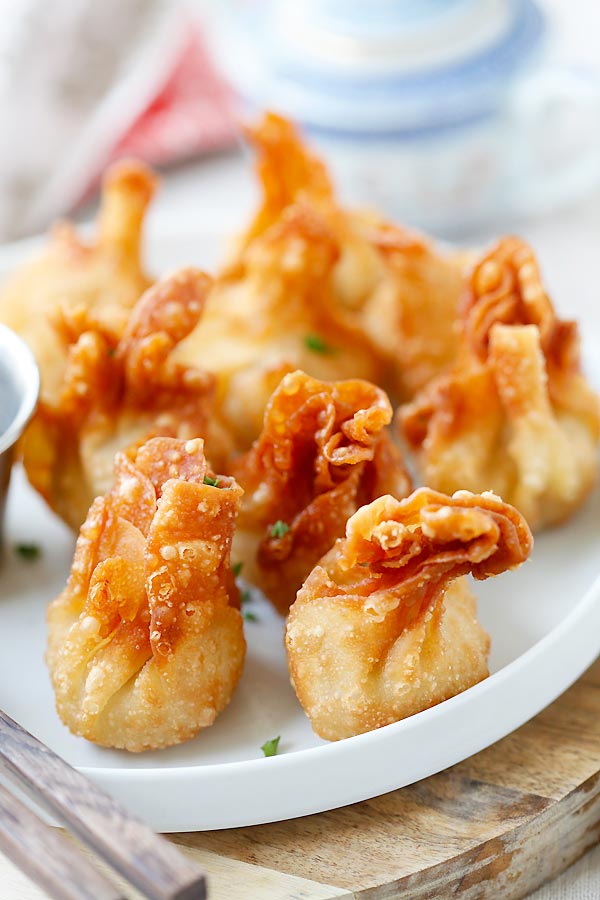 Onion Scallion Beef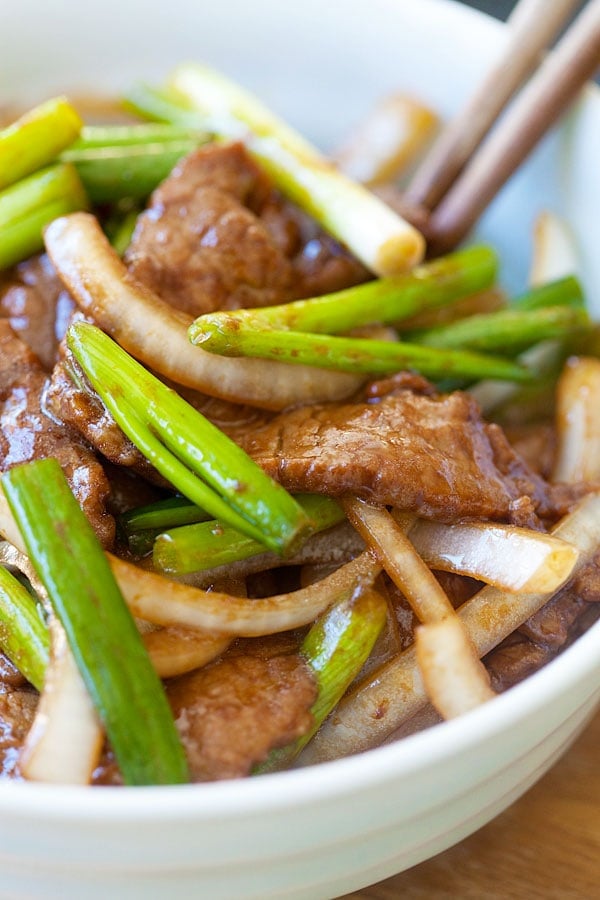 Thai Chicken Sate with Peanut Sauce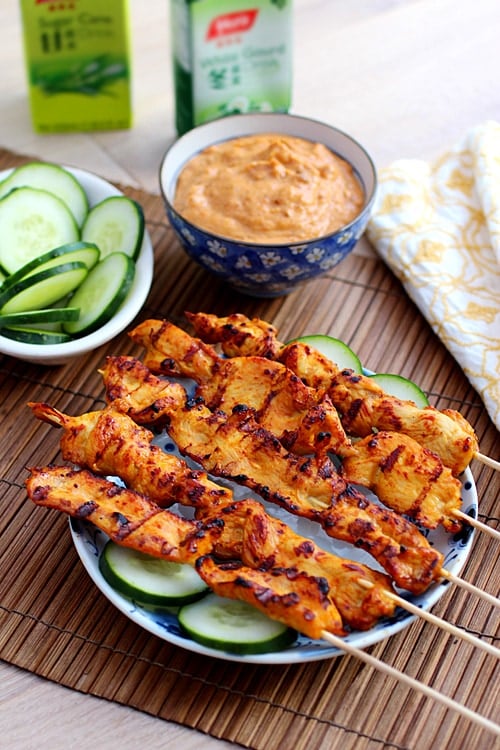 Thai Peanut Sauce