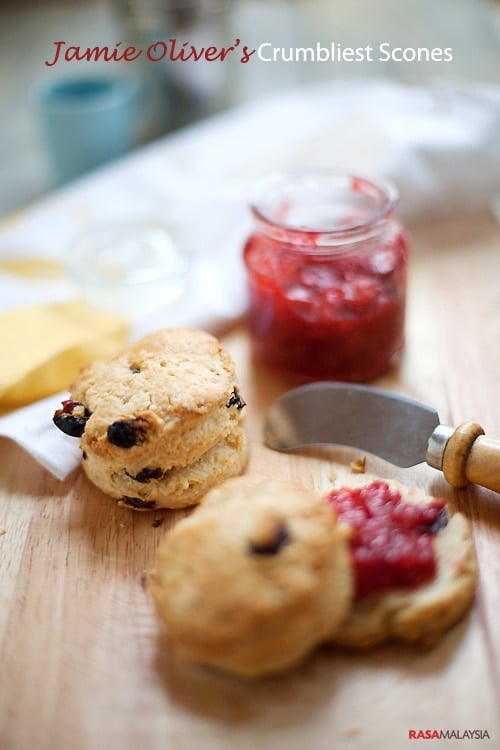 A few months ago, my friend B took me to a traditional English tea at The McCharles House in Tustin, not too far away from where I am. We had English tea, delectable soups, refreshments, cucumber sandwiches, and the best—and crumbliest—scones, made fresh, and from scratch in its kitchen. I couldn't get enough of the scones, asking for refills a couple of times.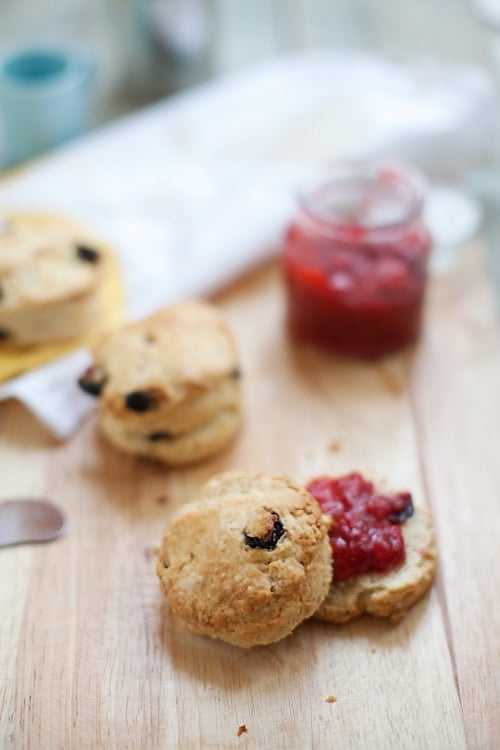 I love scones, probably because of the English afternoon tea culture in Malaysia, which is a Commonwealth country and an old English colony. One of the things I loved and missed most about living in Malaysia was the many afternoon tea or high tea served at hotels, where there are assortment of scones, pastries, cakes, and sandwiches, served on traditional 3-tier stand. Having afternoon tea with good friends was always so delightful; we sipped our coffee or tea, nibbling away the scones, cakes, and having great conversations. I truly enjoy English afternoon tea.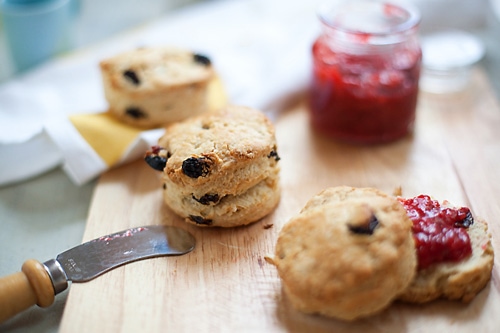 Last week, on Facebook, my friend B shared a link that leads to Jamie Oliver's Crumbliest Scones recipe. I saved the link right away and got all the ingredients to try out the recipe. Scones are really quite easy to make, as I had made it previously: glazed lemon ginger scones and raisin scones. Both recipes were tasty and good but they didn't rise as high, thus not as crumbly as I had wanted. I had high hopes for Jamie's crumbliest scones recipe.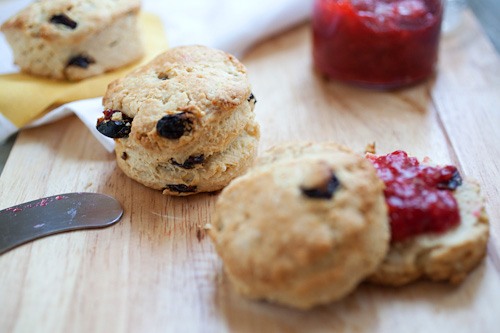 The recipe was very easy and straight forward. The end result was just like what Jamie Oliver claimed. They were crumbly, and the dough had risen taller than usual. The scones tasted so good when they were hot off the oven. I served them with some homemade strawberry jam and butter. However, for the best testing and most traditional scones, serve them with clotted cream.  This crumbliest scone recipe is a keeper and now you can throw your own English afternoon tea party!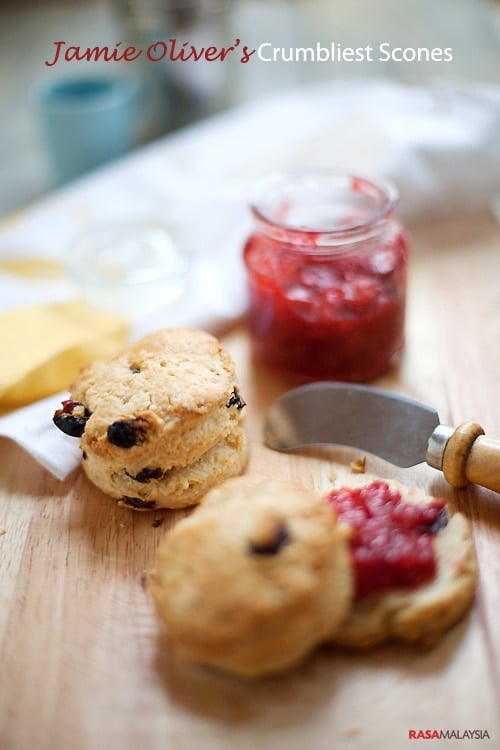 Crumbliest Scones Recipe
Makes 6 | Prep Time: 30 Minutes | Bake Time: 20 Minutes
Source: Jamie Oliver
Ingredients:
75 g dried fruit, such as sour cherries, raisins, sultanas, chopped sour apricots, blueberries, or a mixture
Orange juice, for soaking
75 g cold unsalted butter
250 g self-raising flour, plus a little extra for dusting
1 level teaspoon baking powder
1 heaped teaspoon golden caster sugar
Pinch of salt
1 large egg
2 tablespoons milk, plus a little extra for brushing
Optional:
Jersey clotted cream, good-quality jam or lemon curd, to serve
Method:
Put the dried fruit into a bowl and pour over just enough orange juice to cover. Ideally, leave it for a couple of hours. Preheat the oven to 200°C/400°F.
Put your butter, flour, baking powder, sugar and a pinch of salt into a mixing bowl and use your thumbs and forefingers to break up the butter and rub it into the flour so you get little cornflake–sized pieces. Make a well in the middle of the dough, add the eggs and milk, and stir it up with a spatula. Drain your soaked fruit and add that to the mixture. Add a tiny splash of milk if needed, until you have a soft, dry dough. Move it around as little as possible to get it looking like a scruffy mass – at this point, you're done. Sprinkle over some flour, cover the bowl with cling film and pop it into the fridge for 15 minutes.
Roll the dough out on a lightly floured surface until it's about 2 to 3cm thick. With a 6cm round cutter or the rim of a glass, cut out circles from the dough and place them upside down on a baking sheet – they will rise better that way (so they say). Re-roll any offcuts to use up the dough. Brush the top of each scone with the extra milk or some melted butter and bake in the oven for 15-18 minutes, or until risen and golden. At that point, take them out of the oven and leave them to cool down a little. Serve with clotted cream and a little jam or lemon curd.
Cook's Note:
I halved the original recipe and made 6 scones. Double the recipe and you will make a dozen.
Most-Pinned Recipes
Brownie Butter Cake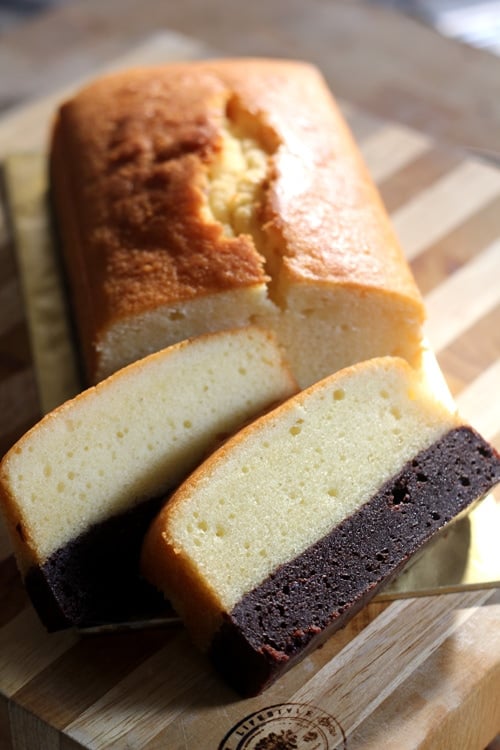 Nutella Cheesecake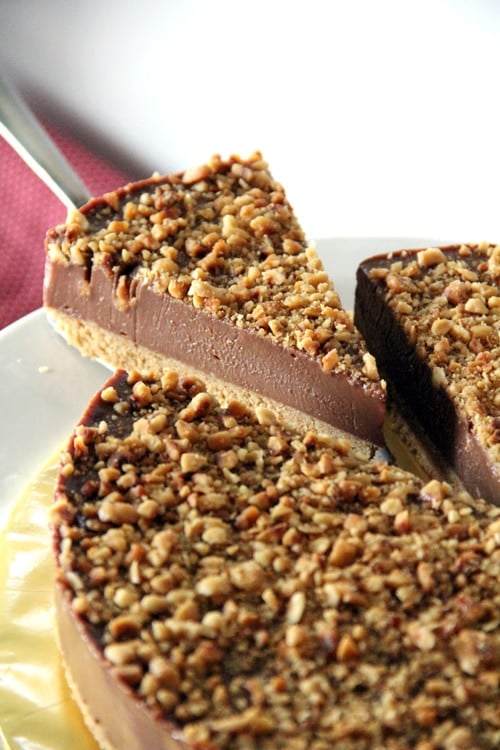 Chocolate Chip Cookie Dough Cheesecake Bar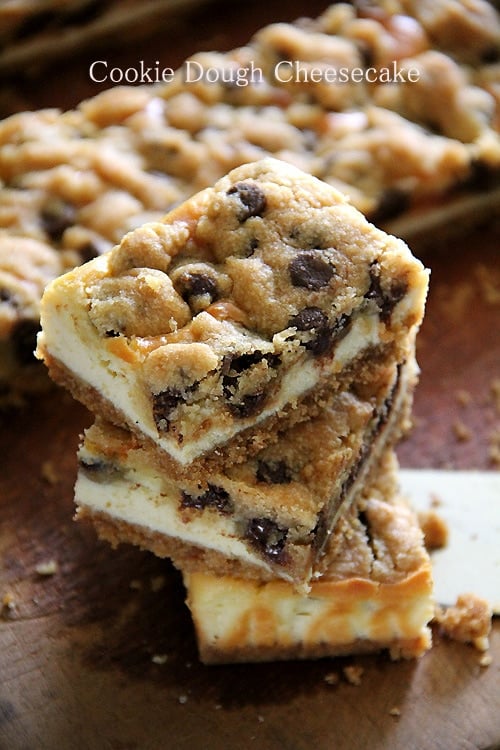 Butter Cake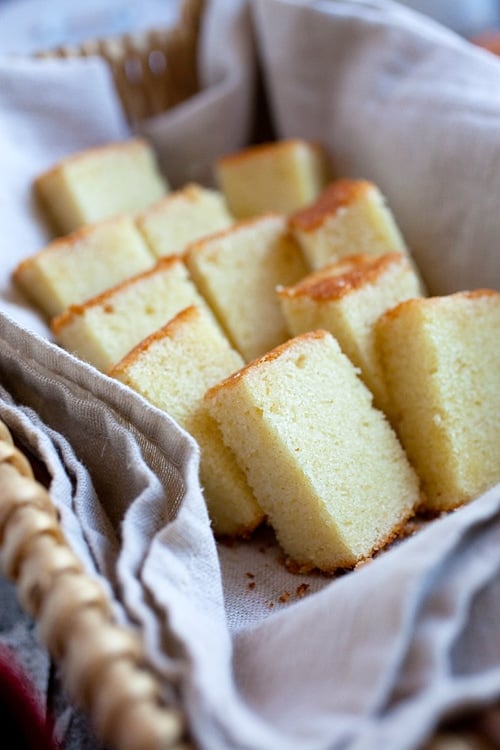 Peanut Butter Cheesecake Brownies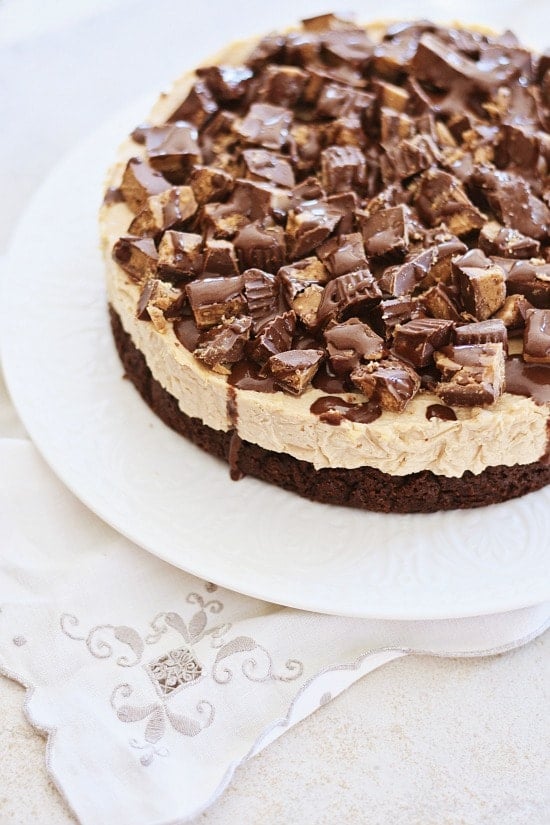 Meyer Lemon Pound Cake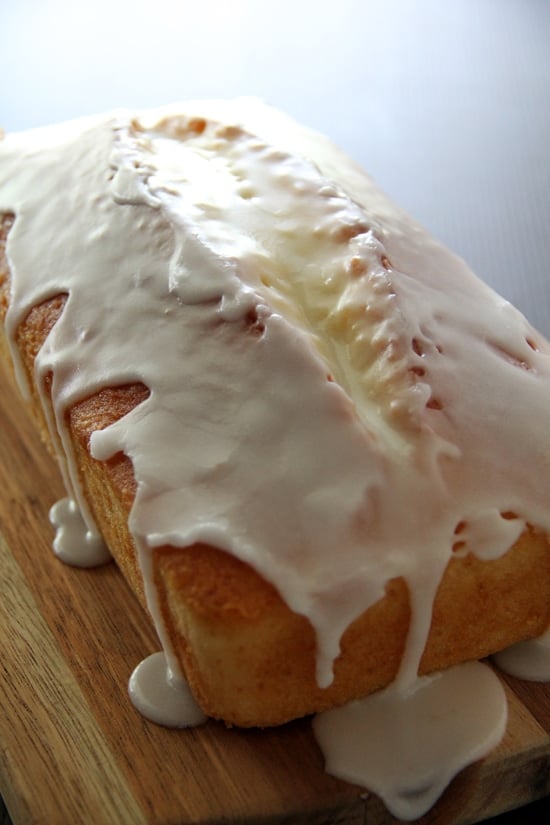 Copyright © 2016 Rasa Malaysia. All rights reserved.