DMBLGiT June: Overall Second Place Winner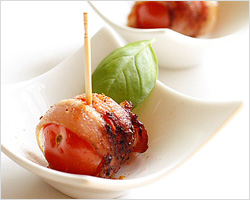 http://rasamalaysia.com/dmblgit-june-overall-second-place/
DMBLGiT June: Overall Second Place Winner
I won again! This time as the "Overall Second Place Winner," second only to food photography extraordinaire and BlogHer mega guru Bea at La Tartine Gourmande.
W00t!
Thanks to Food and Paper and the judges for my winning shot. And special thanks to my food buds Steamy Kitchen and Melting Wok for helping me with my entry selection. (Yeah, I am lame and blind like that, I can't tell the difference between a good picture and a GREAT picture.)
Anyway, I am too excited. The investment on my camera does pay off. To view more pictures and the recipe of my bacon-wrapped cherry tomatoes, please click here…
You Might Also Like These Recipes Below:
LOVE THE RECIPE & PHOTOS? PLEASE SHARE:
Sign Up for Email Updates
Enter your email for new updates: recipes, giveaways, and more!