Eating Hong Kong: Wonton Noodle Soup & Dim Sum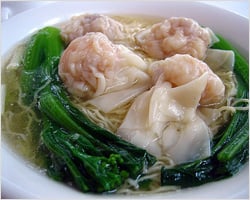 http://rasamalaysia.com/eating-hong-kong-wonton-noodle-soup/
Eating Hong Kong: Wonton Noodle Soup & Dim Sum
I had the best Wonton Noodle Soup a few years ago while I was transiting in Hong Kong. My flight arrived at 6:00 AM and I hopped on the Airport Express to Hong Kong Island. I walked on the empty streets that morning and stumbled upon this little hole-in-the-wall noodle shop between Central and Sheung Wan that was just opening up for business. I was their first customer. Their Wonton Noodle Soup was simply delectable with generous offerings of succulent, fresh, and juicy shrimp wontons. Pure shrimp wontons heaven; not the typical minced pork and shrimp "cheated" kind. One bowl of noodle soup plus a cup of hot chocolate, I was a happy camper even though I was sleep-deprived and utterly jet-lagged that morning.
Often in life, the best things and experiences (dining included!) happen because of chance encounters; I am still searching and hoping to find that little shop that sells the best wonton noodle soup in the world…
If you travel to Asia a lot, there is a high possibility that you will lay over in Hong Kong International Airport. I am not a big fan of airport food, but HKIA offers some very decent food. Maxim's Chinese Restaurant (a popular Hong Kong chain) in the Departure Hall serves good Wonton Noodle Soup. Although their wontons aren't pure shrimp, they still taste delicious.
Other than noodles, they also serve Cantonese Dim Sum such as Egg Tarts, Steamed Fish Balls, Har Gow (Shrimp Dumplings), Siu Mai (Pork Dumplings), Char Siu Bao (Roast Pork Steamed Bun), etc. It's not a bad place to have a light meal before your flight.
Note: Maxim's Chinese Restaurant is located on the second floor at the Departure Hall before the immigration gate.
Click Images Below for Similar Recipes:
LOVE THE RECIPE & PHOTOS? PLEASE SHARE:
Sign Up for Email Updates
Enter your email for new updates: recipes, giveaways, and more!