Eating London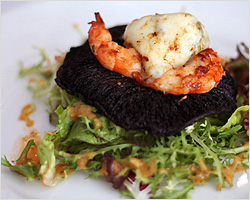 http://rasamalaysia.com/eating-london/
I just came back from London and can't wait to share with you the foods I devoured. This is my second trip to London (the first trip was in 2000) and all I can say is London rules.
Who says London has no great restaurants and don't have much to offer in the food department? I disagree. If you are a Londoner, I envy you because I think you live in a food mecca (grass is always greener?!) where great restaurants are within walking distance, much to the contrary to, say, Los Angeles, where I have to drive an average of an hour or more just to get some decent chow…
Anyway, here are just a fraction of the great food I enjoyed. I recommend the following restaurants–nothing too frou-frou or pretentious so anyone can just pop in and have a great meal without costing an arm and a leg.
London Restaurant Recommendations
Belgo – Belgo serves the best mussels and best Belgian beer. Period. Don't miss out the steamed mussel pot (I love the traditional flavor and the baked mussels with cheese and spinach). For beer, I luuuuurve the fruity beer, especially the one with mango. Now, when can we get those booze in the US?!
La Tasca – La Tasca offers great Spanish tapas in a casual environment. Sit by the stools facing St. Martin's Lane for some people-watching while taking in some exceptional small plates of Spanish delicacy.
Le Palais Du Jardin – French food with impeccable service (the manager came twice to check on me!). The seafood platter with lobster, crab, tiger prawns, oysters, almandes, mussels, cockles and langoustines swept me off my feet…so much so that I totally forgot about taking pictures!
Crab noodles at a Chinese restaurant which I forgot the name!
A special note to an old friend C, with whom I had lost touch with. Thanks for introducing me to Belgo and other fun places years ago. London remains a very special place in my heart.
If you live in London, do leave me comments and tell me your favorite restaurants!
Click Images Below for Similar Recipes:
LOVE THE RECIPE & PHOTOS? PLEASE SHARE:
Sign Up for Email Updates
Enter your email for new updates: recipes, giveaways, and more!