Eating Penang: Nyonya Kuih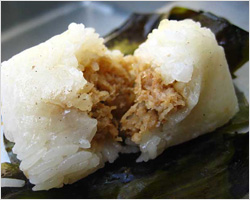 http://rasamalaysia.com/eating-penang-nyonya-kuih/
Eating Penang: Nyonya Kuih
While I had planned to share every single meal of my Penang culinary adventure with you, alas, my initiative and enthusiasm has been dampened by one unsurmontible obstacle: the painfully slow dial-up connection at my parents' home…
Thus I am sharing my adventure with you in small tastes, i. e. a few pictures at a time — sort of like stealing a bite from a friend's plate when they turn away…
This morning I woke up craving for sugar so I headed straight to the morning market at Jelutong and got myself some beautiful, colorful, and tasty Nyonya Kuih and other small treats as breakfast. Total damage was approximately US$1.00 (US$1.00 = RM3.60).
Life is just sweet!
Note: Kuih Ko Sui, Rempah Udang, Kuih Beng Kang, Pulut Tai Tai, and Pulut Inti.
Pictures of mouthwatering Penang hawker food:
– Photo Blog: Penang Hawker Food
– Photo Blog: Penang Hawker Food – Part II
– Eating Penang: A Quick Snapshot
Click Images Below for Similar Recipes:
LOVE THE RECIPE & PHOTOS? PLEASE SHARE:
Sign Up for Email Updates
Enter your email for new updates: recipes, giveaways, and more!