Eating Shanghai: Guyi Hunan Restaurant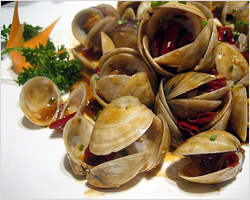 http://rasamalaysia.com/eating-shanghai-guyi-hunan-restaurant/
Eating Shanghai: Guyi Hunan Restaurant
I'd wanted to dine at Guyi for the longest time but I'd never had a chance to go since there are so many good restaurants in Shanghai. After reading multiple articles on various blogs, food magazines, and most recently on "My Shanghai is Better than Yours" on Budget Travel, I finally made it there during my last trip to Shanghai.
I was warned by a friend that the wait is long, unless you go really early like 5:30 PM. Arriving at 6:00 PM, I was amazed that people were already in line to get into the restaurant! After a good 40 minutes wait (well, I reckon it's better than the typical 1 – 1.5 hour wait), I was finally seated.
The restaurant was noisy, loud, smoky and full of patrons, but overall the decor was simple and nice. At a glance, the food served all looked great and there were a lot of expatriates there – thanks to the publicity on various English websites, I suppose. I saw a few tables with stir-fried clams and I knew that I had to try it as I love clams…
The dish was beautifully presented; the clams were fresh and the taste delightful. These clams are different from the Manila Clams that we usually get in the States, but they are equally succulent and juicy. The spices and dried chilies used were just right – not overly spicy yet you get the fiery sensation in the mouth – without the typical numbing effect of Szechuan cuisine. These clams wouldn't have paired well with Szechuan style cooking anyway.
Next up was stir-fried frogs with dried chilies (yes, I eat frogs and yes, they taste like chicken!). Overall, the dish was also excellent, although it got a little soggy towards the end of the meal. Somehow, the sauce wasn't drying up despite that little candle below the serving pan.
All in all though, I enjoyed the food at Guyi and would definitely go back there and try out more dishes. As my local friends put it: they never have bad food at Guyi; everything on the menu is simply lovely.
Guyi Hunan Restaurant,
89 Fumin Lu, Shanghai
(86)21-6249-5628
Click Images Below for Similar Recipes:
LOVE THE RECIPE & PHOTOS? PLEASE SHARE:
Sign Up for Email Updates
Enter your email for new updates: recipes, giveaways, and more!