Eating Shanghai: Moon Shanghai Restaurant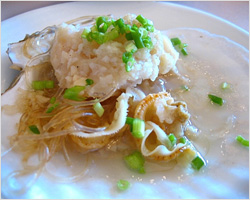 http://rasamalaysia.com/eating-shanghai-moon-shanghai/
Eating Shanghai: Moon Shanghai Restaurant
Serving authentic Shanghainese cuisine and open 24 hours, Moon Shanghai Restaurant is my favorite restaurant in Shanghai. Located on the 11th floor of the old Jin Jiang Hotel in Luwan district, this restaurant is very popular with local Shanghainese. The price is very decent and affordable, for example: a fresh scallop steamed with glass noodle and garlic on its shell is priced at RMB$8, which is only US$1. You just can't beat the price and the quality of food served here.
One thing I really like about dining out in Shanghai is the complimentary small plates. These little delicacies range from roasted peanuts with dried seaweeds, cherry tomatoes coated with sugar (shown above), green beans, spicy tofu, or other edible treats. Tasting them out offers diners a glimpse into what they would expect from the restaurant. Usually, if the small plates are good, it's almost certain that your entrees will be great…
I love Shanghainese Dim Sum. I don't know what I have missed out all these years until I visited Shanghai the first time last September. I have always been a fan of Cantonese cuisine and hence Hong Kong style Dim Sum is one of my favorites. However, now that I am fortunate enough to sample out Shanghainese Dim Sum, I have to say that Shanghainese Dim Sum is probably better and healthier as they are less greasy. The picture shown above are these "pastries" baked in oven and filled simply with chopped spring onions. Yes, the plain old and boring spring onions; they certainly taste good in spite of the pale and uninteresting ingredients. Sometimes, good food is all about simplicity and the most basic ingredients. These tiny bits are small and just a mouthful – the aroma of sautéed spring onions mixed with the texture of the crust and roasted white sesame seeds – pure food heaven.
Foodies in Shanghai are big on "Xie Fen", meaning the use of crab meat and crab roes in Shanghainese cooking. One of the most well-known form of "Xie Fen" is Shanghainese Xie Fen Xiao Long Bao. However, Xie Fen is used in a lot of Shanghainese food, for example, the Shanghainese Pan-fried Bun above. These buns are steamed and then pan-fried so they form the crust at the bottom. The texture is both soft and crispy at the same time. Biting into the bun fills your mouth with minced pork and crab meat plus the juicy, meaty broth. This is a must try at Moon Shanghai Restaurant.
When you are in Shanghai, you ought to try out the "river seafood,"meaning seafood from the river such as these baby shrimps below. Tossed in the wok with cooking oil and some seasoning of soy sauce, they are absolutely delicious and addictive. As they are small, it takes some work to un-shell them but these baby shrimps are sweet and tender. Without you knowing it, they will be gone in no time and you'll be craving for more.
While you are at Moon Shanghai, you should also try out Egg Tarts. Unlike other Egg Tarts, their custart fillings are mixed with coconut milk so they are creamier and richer in taste, yet not over-powering, and pair well with a hot pot of Jasmine Tea.
Happy eating in Shanghai!
Moon Shanghai Restaurant
11F, Cathay Building
Jin Jiang Hotel
59 Mao Ming South Road
Tel: 32189888
Click Images Below for Similar Recipes:
No similar posts.
LOVE THE RECIPE & PHOTOS? PLEASE SHARE:
Sign Up for Email Updates
Enter your email for new updates: recipes, giveaways, and more!