Eating Shanghai: Xiao Long Bao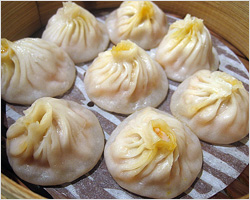 http://rasamalaysia.com/eating-shanghai-xiao-long-bao/
Eating Shanghai: Xiao Long Bao
These days, Shanghai is in. Its popularity as a "happening" metropolitan has been raising, much like the never ending high-rise buildings that are going up in the city. And there is another kind of in that I notice about Shanghai – its light yet very pleasing and sumptuous food. I am talking about Shanghainese cuisine that is setting the culinary world on a trend that is brewing across Asia now – from the many "speakeasies" or private kitchens that specialize in Shanghainese cooking in Hong Kong to the growing numbers of Shanghainese restaurants in KL and Singapore, Shanghai is just in…
Most recently, I had an opportunity to savor the food of Shanghai again and managed to capture most of my meals. I have to say that I haven't had any bad food in Shanghai. Everything from prestigious restaurants to unknown food stalls has been delicious. During this trip, I went to at least 6 different restaurants and there is one thing I just have to say – sorry Hong Kong, you no longer reign supreme when it comes to food!
When in Shanghai, don't miss trying out the famous Shanghai Xiao Long Bao. I have had a lot of them this time, almost every meal; they are really a treat to the taste bud.
Xiao Long Bao or soup dumplings (as they are commonly known in English) are basically pork dumplings with hot broth inside them. There is this skill as to how to best savor the juicy broth so it bursts into your mouth, not all over you! First of all, you have to pick up the delicate dumpling with a pair of chopsticks, then you dip it into the rice vinegar with young shredded ginger, then you nibble the dumpling skin, sip the broth, and then eat it. It's quite complicated, but the broth really is the essence of Xiao Long Bao. The best of these soup dumplings are certainly Xie Fen Xiao Long Bao which are filled with crab meat / roe and minced pork, and the broth tastes even better with the tint of the crab meat / roe.
Best places to have Xiao Long Bao in Shanghai:
Jade Garden

Wang Jia Sha

Shanghai Uncle
Click Images Below for Similar Recipes:
LOVE THE RECIPE & PHOTOS? PLEASE SHARE:
Sign Up for Email Updates
Enter your email for new updates: recipes, giveaways, and more!