Eating Taipei: Classic Taiwanese Dishes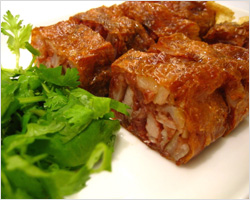 http://rasamalaysia.com/eating-taipei-sweet-treats-desserts-2/
Eating Taipei: Classic Taiwanese Dishes
Fried Oysters with Basil Leaves is a classic Taiwanese small eat, what in the US would be called hor'deurves. Big, fat, succulent oysters coated with flour, deep fried in oil, and garnished with fried basil leaves. A very simple delicacy great for your next party.
Even though they are made of practically all pork, these are called Chicken Rolls. Don't ask me why because I sure couldn't find any chicken meat inside the rolls (maybe they call them Chicken Rolls to fool the pigs. "Invite Piglet in for some Chicken Rolls!). The pork are cut into strips, seasoned with five-spice powder and some other seasonings, then wrapped with tofu skin. Deep fry these rolls to golden brown and you have Pork Rolls Chicken Rolls…
In fact, Malaysia has exactly the same dish, but our version is called "Lo Bak." Lo Bak is particularly popular in Penang; they are usually served with chili sauce and a sweet and sticky brown sauce flecked with threads of egg.
I tried out the Taiwanese version of Shrimp Fritters two times while I was there recently. As you can see below, there aren't really any shrimp inside; justchopped vegetables, spring onions, and more chopped vegetables. Probably named by the same person who came up with "Chicken Rolls." I was disappointed. TheMalaysian version of Shrimp / Prawn Fritters are certainly better. They have shrimp in them for one thing.
All the above Taiwanese classics can be found at food stalls at the popular Shilin Night Market or the many Chinese restaurants serving authentic Taiwanese Cuisine. I particularly like Shin Yeh Restaurant.
Shin Yeh Restaurant
34-1, Shuang Cheng Street
Taipei, 104
Tel: +888 (0) 2 2596 3255
Click Images Below for Similar Recipes:
LOVE THE RECIPE & PHOTOS? PLEASE SHARE:
Sign Up for Email Updates
Enter your email for new updates: recipes, giveaways, and more!