Eating Taipei: Sweet Treats & Desserts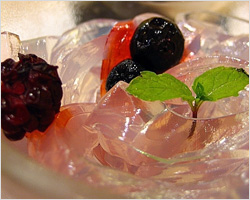 http://rasamalaysia.com/eating-taipei-sweet-treats-desserts/
Eating Taipei: Sweet Treats & Desserts
If you have a sweet tooth or can't live without dessert after meals, Taipei is the place for you. This city is loaded with lots of sweeeeeet stuff: ice cream, shaved ice, candies, too-beautiful-to-eat jello, gelatin desserts, pastries, cakes, and endless varieties of sweet treats. Walking along the bustling streets in Taipei, wandering around the labyrinth small alleys, or maneuvering through the crowded Shilin night market, you are bound to run into these hard-to-resist tidbits. Taipei is, put simply, a heaven for sugar lovers!!
Another picture of mouth-watering dessert you can find at the many cafes in Taipei…
Crushed ice or shaved ice is very popular in Taiwan. The very principle is simple – fresh fruits, sweet syrup, condensed milk – and you have this refreshing, cold treat above. They are perfect for hot summer days!
More sugary treats on sticks; just pick what you want: cherries or strawberries.
Now, how can one resist boba? Served on top of the ever-delightful sweet tofu dessert and some crushed ice, it offers both the smooth texture of sweet tofu plus the chewy bobas.
They are not what you think they are. These little munchies are filled with sweet taro paste. Steamed to perfection, they are great after your typical Xiao Long Bao meal.
Little glutinous rice balls coated with ground peanuts and sugar. You can choose the plain ones with no fillings inside or you can go with red bean paste, black sesame, peanut fillings, or a combination of all three of them. They are my absolute favorite and you can get them in Malaysia too.
Click Images Below for Similar Recipes:
LOVE THE RECIPE & PHOTOS? PLEASE SHARE:
Sign Up for Email Updates
Enter your email for new updates: recipes, giveaways, and more!