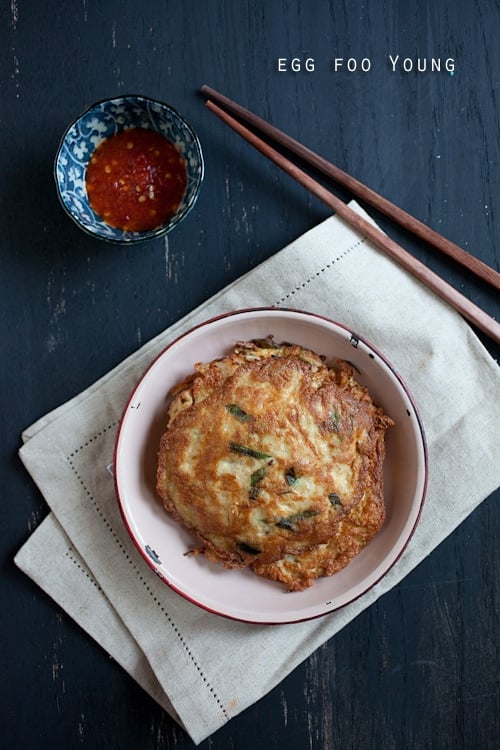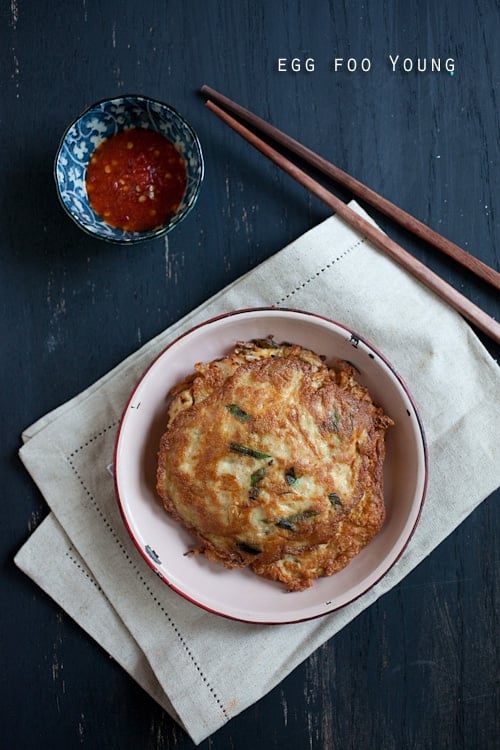 I have a story to tell you about my first encounter with egg foo young, the quintessential Chinese-American dish.
A long time ago, when I first set my foot on the US soil for higher education, I went straight to the middle America. After 36 hours of tiresome journey from my hometown of Penang, Malaysia, I arrived in the state of Iowa. Starved to death and completely disoriented, Mr. Rasa Malaysia (then my boyfriend) chauffeured me to the best Chinese restaurant for a welcome lunch. Among the dishes I ordered, there was egg foo young, or 芙蓉蛋, an egg dish that I love and enjoy very much.
When my food came, I was shocked to find out that my egg foo young didn't look much like what I had back home in Malaysia (where great and authentic Chinese food is plentiful and popular). The egg foo young was puffy, almost shaped like an UFO, doused and drowned in a gloppy brown sauce. There was a thick filling of various and random vegetables: bean sprout, carrot, water chestnut, celery, and scallion. However, the most horrid thing of it all was the taste—completely bland, utterly insipid, loaded with flour (where were the eggs?), and the starchy brown sauce was simply adding salt to the wound, rendering the whole dish completely undesirable, and simply….inedible. That was my first (sad) reality about Chinese food in America. I was stunned and speechless, after that first encounter with egg foo young, or American Chinese food.
Fast forward many years to present time, egg foo young is one of the most requested recipes from my American readers. I have received numerous emails, messages, comments about my egg foo young recipe. The truth is, I don't really have a recipe, until today. The egg foo young I cook and eat is something like this, but nothing EVER like this.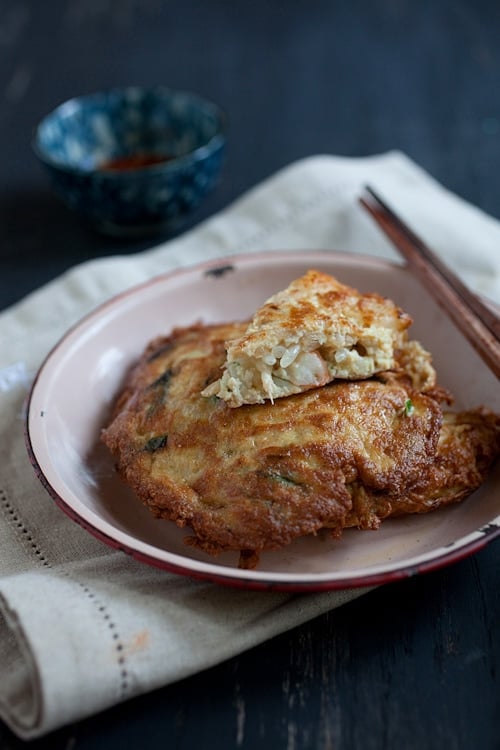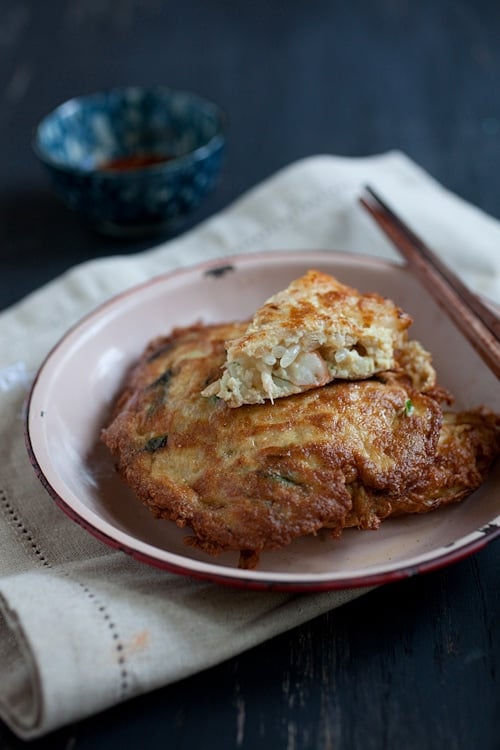 Since my readers want to make egg foo young, I feel obliged to develop a decent and proper egg foo young recipe for them. And hence, I came out with my version of egg foo young, which is closer to the ones served here in the United States, but without the brown sauce. I also took out water chestnut and those random vegetables, and included only bean sprouts and some chopped scallions in the eggs. For the protein, I added some ground pork and shrimp. I combined the seasonings with the eggs, so there is really NO need to have the brown sauce on top of the eggs. And as the name suggests, this is egg foo young, not egg foo young pancake, so there is no flour or corn starch in this recipe.
If you are looking for the "real" Americanized egg foo young with the sauce, don't feel disappointed. Try my egg foo young recipe and soon you will realize that the brown sauce is really not that great. And trust me, Chinese food in the United States will be so much better off without them!
Rate This
Recipe Name
Preparation Time
Cook Time
Total Time
Average Rating

Based on 33 Review(s)
REMEMBER TO SUBSCRIBE TO RASA MALAYSIA NEWSLETTER AND GET EASY AND DELICIOUS RECIPES DELIVERED TO YOUR INBOX. If you try my recipe, please use hashtag #rasamalaysia on social media so I can see your creations! Follow me on Facebook | Instagram | Pinterest | Twitter for new recipes, giveaways and more.