Feeling Under the Weather…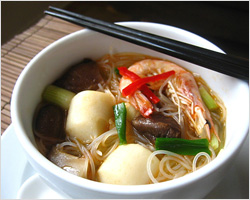 http://rasamalaysia.com/feeling-under-weather/
Feeling Under the Weather…
I've been feeling unwell since Monday and lost much of my appetite. My severe headache is killing me, my throat is scratchy, I have blocked nose and can't breathe. Arrrghhh!
Luckily this bowl of steaming hot beehoon/vermicelli soup came to my rescue. Unlike my mother's common belief that porridge/congee has magic healing power when one is sick, I opted for this dish instead. Ill or healthy, I've got to have my shrimp fix. A couple of head-on shrimps, a few dried shitake mushrooms, some fish balls plus the ultimate chili soy sauce, I think I am already feeling better.
Sign Up for Email Updates
Enter your email for new updates: recipes, giveaways, and more!