Five Things to Eat in Malaysia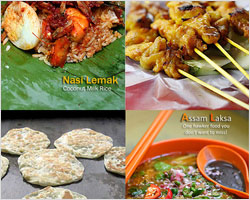 http://rasamalaysia.com/five-things-to-eat-in-malaysia/
Five Things to Eat in Malaysia
As a newbie food blogger, I am two steps behind when it comes to the hot happenings in the food blogosphere. About a week ago I requested Passionate Eater to tag me for "Five Things to Eat Before You Die" started by Traveler's Lunch Box — not knowing exactly what it meant by "tagging" (According to the rules of the kid's game, I quickly ran away).
After finding out that I had been tagged, I started to panic not knowing exactly what to do (OMG, I'm "it"). So for the next few days, I lurked around the blogosphere and finally realized that I needed to suggest my own "Five Things to Eat Before You Die" list in return (Passionate Eater – I am sorry this has taken so long!)…
As an insatiable foodie, it's a huge challenge to limit my choices down to just 5 foods. After much considerations and serious debate with others, I finally settled with the list of top 5 foods that I would like to share with you. As Rasa Malaysia is essentially a Malaysian food blog and the word "Die" is seemingly morbid in my dictionary, I have decided to take a lighter approach and give you "Top 5 Things to Eat (While Living) in Malaysia."
Nasi Lemak
And last but not least, at number 5, Grilled Stingray wrapped in banana leaves.
When live stingrays can prove to be fatal (well, you all should be aware of the sad incident by now), Malaysian Grilled Stingray is one of the best creations of Malaysian cuisine. Wrapped in banana leaves and seasoned with turmeric powder and other spices, this delicate fish is grilled to perfection and served with a condiment of Sambal Belacan with sliced shallots and lime juice.
There you have it — the top 5 foods to eat in Malaysia — remember, Malaysian food is not simply the five things I mentioned above. If you have the opportunity to travel through Malaysia, eat everything that looks interesting: not many places in the world have such varieties of food for your palate to experience.
OK, now you're it…
Click Images Below for Similar Recipes:
LOVE THE RECIPE & PHOTOS? PLEASE SHARE:
Sign Up for Email Updates
Enter your email for new updates: recipes, giveaways, and more!