Food Blogging in 2006?!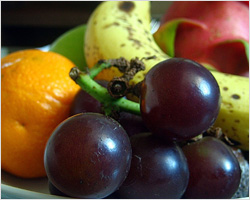 http://rasamalaysia.com/food-blogging-in-2006/
I know…it's so yesterday to have a food blog, for crying out loud, it's already the second half of 2006.
Well, I actually started a blog way back in 2002 (when Bloggers.com just came out!) but didn't find any good use of it. Lately, I have been busy redesigning ForeverBee.com and learning about food photography so I am willing to take another stab at this. I have some fresh ideas plus some finger-licking good food pictures this time around so hopefully it will blossom into something fun and delicious.
I intend to use Rasa Malaysia to share Malaysia's culinary delights, especially Penang food, with you. Rasa means "taste" in Malaysian language. Even though I am not physically in Malaysia now, I will do my best to write about them. After all, there are a lot of Malaysian restaurants around the world. In the United States alone, the very popular "PENANG" chain serves up authentic Malaysian and Penang food in the east coast. In Silicon Valley, San Francisco, and Southern California, Malaysian restaurants have flourished in recent years and foodies are slowly discovering this very special cuisine. Plus, I cook a lot of Malaysian food at home, so hang around and read on.
Click Images Below for Similar Recipes:
LOVE THE RECIPE & PHOTOS? PLEASE SHARE:
Sign Up for Email Updates
Enter your email for new updates: recipes, giveaways, and more!