Malaysian Chicken Satay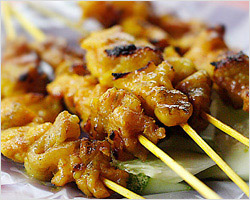 http://rasamalaysia.com/food-porn-malaysian-chicken-satay/
What do you do when you have 5 hours layover in Kuala Lumpur, Malaysia?
For me, as a foodie, and a true Malaysian, I hopped on the 28-minute KLIA Ekspres straight into downtown KL for some serious chow. Inflight food? No thanks! I have better grub for my stomach…(more picture after the jump)
3:30 pm–Arriving at KLIA (Kuala Lumpur International Airport)
3:35 pm–Calling up my fellow flogger Delicious Asian Food to make "makan" (means eating in Malay) plans
3:40 pm–Hopping on KLIA Ekspres
4:08 pm–Arriving at KL Sentral Station
4:10 pm–Meeting up with Delicious Asian Food and then onto KL's famed Chinatown, Petaling Street or in Cantonese "Wai Sek Kai" which aptly means Gluttons Street.
4:30 pm–Feasting on these yummylicious chicken satay and peanut sauce (I slurped it dry), fresh coconut juice, and more food–a dish that I have been missing for years…

…to be continued in my next post!
Click Images Below for Similar Recipes:
LOVE THE RECIPE & PHOTOS? PLEASE SHARE:
Sign Up for Email Updates
Enter your email for new updates: recipes, giveaways, and more!