Malaysian Prawn Noodles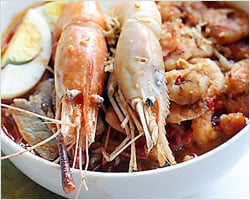 http://rasamalaysia.com/food-porn-malaysian-prawn-noodles-again/
I have written about this famed street food/hawker food dish (known locally as Penang Hokkien Mee) a couple of times; you can check out my previous entries here and here.
This time I added extra toppings on my prawn noodles with fresh water prawns. In Malaysia, we call this "加料"/"Gar Liew"/"Keh Liao"–which means you pay extra for more toppings…
This prawn noodles dish is the bestest hawker food dish EVER! The satisfaction of slurping down a bowl of this piping hot and prawnylicious noodles is simply beyond my English vocabulary.
Want to try out Malaysian hawker food? Check out the following recipes on Rasa Malaysia:
Enjoy!
You Might Also Like These Recipes Below:
LOVE THE RECIPE & PHOTOS? PLEASE SHARE:
Sign Up for Email Updates
Enter your email for new updates: recipes, giveaways, and more!