Nasi Lemak (Malaysian Coconut Milk Rice)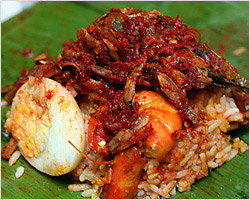 http://rasamalaysia.com/food-porn-nasi-lemak-malaysian-coconut/
Nasi Lemak (Malaysian Coconut Milk Rice)
My breakfast this morning–Nasi Lemak or Malaysian Coconut Milk Rice.
Nasi Lemak is the de-facto national dish of Malaysia. Nasi Lemak is usually served in the morning as breakfast. The toppings include anchovies sambal, hard-boiled eggs, fried fish and shrimp. Other common toppings include roasted peanuts and cucumber slices.
This pack of banana leaf-wrapped Nasi Lemak is fiery and very delicious–probably one of the best you can find in Penang. It's available at Sri Weld Hawker Center at Beach Street, Georgetown, Penang. By the way, Georgetown has just been declared a UNESCO World Heritage Site; other than lip-smackingly great food, there are lots of heritage buildings and hidden treasures in the city of Georgetown…
Too far away from Penang? Try my Nasi Lemak recipe here.
You Might Also Like These Recipes Below:
LOVE THE RECIPE & PHOTOS? PLEASE SHARE:
Sign Up for Email Updates
Enter your email for new updates: recipes, giveaways, and more!