Salt and Pepper Mud Crab at Sydney Fish Market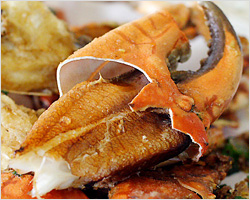 http://rasamalaysia.com/food-porn-salt-and-pepper-mud-crab-at/
Salt and Pepper Mud Crab at Sydney Fish Market
My bounty at Sydney Fish Market–salt and pepper Australian Mud Crab. I originally picked a live green-lip abalone but it was DOA (dead on arrival), but you can't go wrong with giant mud crab, deep-fried with salt and pepper batter.
If you like Chinese/Cantonese-style seafood, head over to Christie's Seafoods. You can't miss it as they are the first one to your left as soon as you enter the market; Christie's Seafoods is also the busiest one with throngs of hungry tourists (mostly Chinese naturally) lining up for their fresh catch.
Just pick your seafood–live mud crabs, yabbies, abalone, lobsters, pippies, vongole (clams), mussels, fish, etc.–then tell the waitress exactly how you wanted your selection(s) prepared, and voila, you're in seafood heaven. And oh, at a much decent price, too…
Sydney Fish Market is a seafood connoisseur's dream come true. :)
Sign Up for Email Updates
Enter your email for new updates: recipes, giveaways, and more!